You can create the best survey, but if you email it to respondents, there is a risk that your message will get lost in the maze of other notifications. How to deal with it? Crafting a catchy survey email subject line will attract the recipient's attention and provide higher open rates. This article will show you tried-and-tested tips to help you achieve this goal.
Why Is Writing Good Email Subject Lines So Important?
Every day we get dozens of emails and notifications. If we are not immediately interested in their content, they will be lost in a sea of deleted messages and spam. At this stage of communication, the email title should be the most important for the sender. If there are no catchy slogans, the chances that the recipient will read our message will decrease sharply.
While you should also follow phishing statistics and make your emails secure from attacks, understanding the elements of a successful email is also a priority. It's a subject for another article, but still, you need to keep it in mind.
Now, let's go back to proper email subject lines for your surveys.
Subject Lines Affect Response Rates
It is why optimization of the subject line of an email is so important. In the case of online surveys sent by email, intriguing survey lines affect the response rate of the recipient, thus determining the survey result. We should devote as much attention to them as to the content of the message and the questionnaire itself.
Limiting theory to a minimum, we'll move on to practice now.
Try one of the best online survey tools for free!
Start trial period without any credit card or subscription and easily gather impactful feedback via link, social media, email, and more.
No credit card required · Cancel any time · GDRP Compilant
Survey Email Subject Lines Best Practices
Ready? Let's begin! This section presents proven hints that should be considered when preparing engaging survey subject lines.
Personalize Your Subject Lines
Do you have a large group of subscribers to your newsletter? Or the e-mail addresses of customers or users of your software?
Great! You can send them a customer satisfaction survey.
However, remember that no one likes mass treatment. Use the information you have about your customers to prepare a personalized invitation to take part in the survey.
Group subscribers by interests, recent purchase or demographics to trigger emotions with your mailing & boost response rates.
Personalized subject lines for survey examples:
1. Hey James! Do you enjoy running in your new shoes?
2. Lilly, I can't wait to hear your opinion about last night's concert
3. What a game, Josh! How do you rate the ticket purchase process?
Each example is based on information we have about the customer (name, interests, previous purchases). It is an excellent practice to do A/B tests (select test group first) to choose the best performing subject line. Pay attention while crafting survey subject lines to personalize your copy.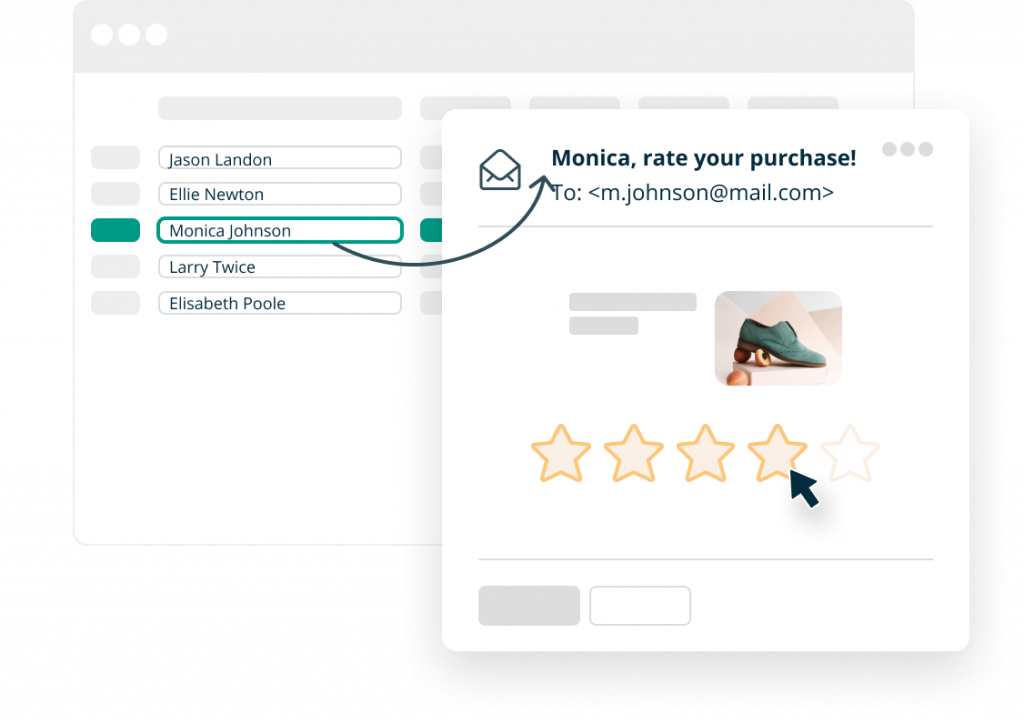 Use information about your customers to personalize survey subject lines.
Avoid Spam Trigger Words
According to the Email Tool Tester, 15.8% of emails are caught by spam filters. The probability that the recipient of the messages will not delete them but redirect to the inbox is small.
What to do to avoid being among the unfortunate senders who end up in the internet trash ex officio? Avoid spam words. Certain words or phrases act alarmingly on email services, signaling that they may hide junk content that no one like to read.
To avoid spam filters, try to minimize phrases in your email survey subject that may sound manipulating, pushy, shady, or desperate. Combine it with the DMARC report analyzer for more powerful outcomes
A few examples of spam words to avoid in Survey subject lines:
1. Act now
2. Click here
3. Hurry up
4. Urgent!
5. Order today
Add Symbols, Punctuation, and Emojis
We absorb the world with our senses. The smell of mowed grass, the sound of the waves, and the sight of the setting sun evoke memories and affect our mood. We operate similarly on the Internet, first focusing on what differs from the uniform background.
Catchy subject lines love emojis. According to Experian, they increase email marketing open rates by 56%.
Using some of them in survey emails while asking for customer feedback is extremely important. Equally critical is the use of symbols and punctuation (but without exaggeration) that will make your email subject lines stand out.
Select emojis and symbols to match the email subject line (like NPS related emoticons for net promoter score, customer experience or other type of customer surveys).
Do not overdo exclamation points and markings as they may mislead email survey recipients. It is a simple way for the reader to unsubscribe from the monthly newsletter instead of providing you with valuable feedback.
Ask Questions
Good email survey subject lines need to catch the target audience's attention. It is essential when requesting feedback. If we do not interest the recipient, the survey response rates will be low. You don't want that as every opinion matters. More feedback is just more critical data to analyze within the company.
A proven way in marketing communications and email surveys is asking open-ended questions on subject lines. Such catchy headings focus readers' attention and may inspire them to open the email to provide (in case of a quick survey) or search for the answer.
Questions to ask in survey email subject lines
1. Harry, how do you rate your latest Uber ride?
2. Ron, how can we improve for you our cleaning service?
3. Hermione, what went wrong during your flight?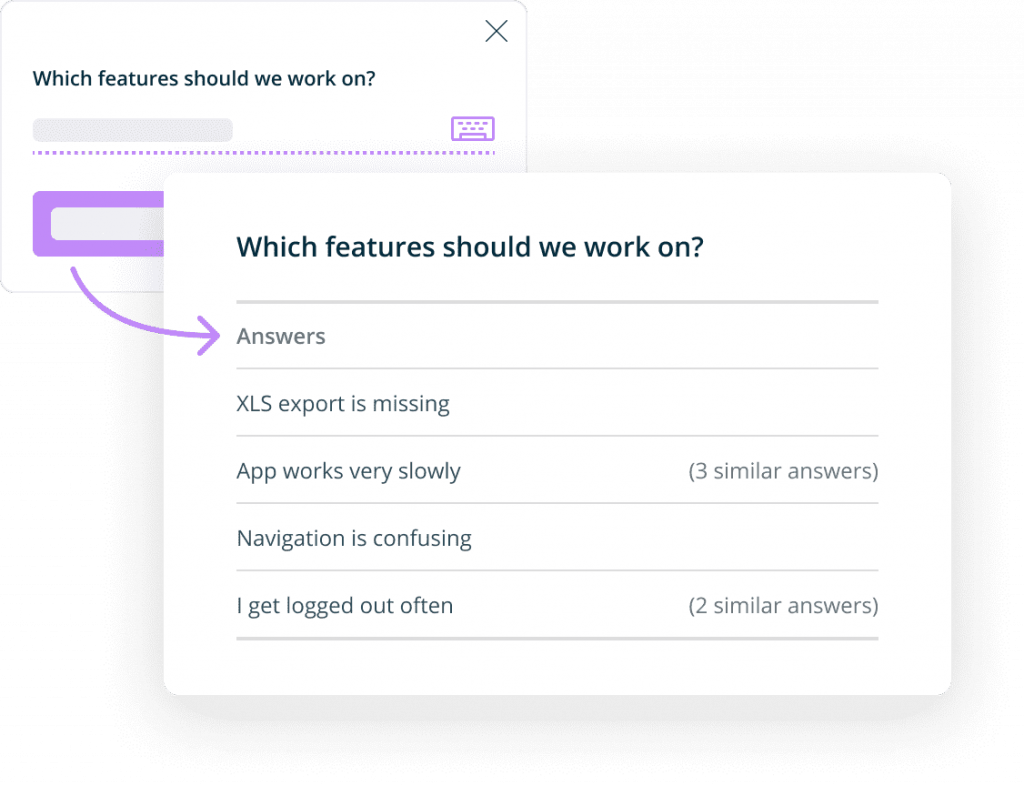 Ask questions & use feedback to change respondents' experience for the better.
Make Subscriber Feel Valued and Important
A customer's time is an invaluable resource. If you are asking for feedback, explain why you are doing it.
Each day we are exposed to dozens of notifications and advertisements on the Internet. If you want email recipients to respond to your request, be honest and be of value to completing the survey.
You can find detailed explanations in the body of the email inviting you to take part in the survey. However, if you are counting on a high response rate, you know perfectly well that you must act in advance by choosing the right words in the subject of the survey email.
Explain in a few words why you need this feedback. And how this will affect the customer or user experience in the future.
Be honest. Because, above all, it is about valuable feedback, trust, and good relations with the client in the future, right?
Examples of highlighting the value in the survey email subject line:
1. Tell us how we can improve our offer for you
2. What kind of features you'd like to add to our software?
3. Help us choose the best benefits for our employees' kids
Offer Benefits
Do you like spending time completing online surveys?
I thought so.
Nobody likes it unless they think it makes sense or is in the middle of a boring meeting at work or a boring lecture at the university. Otherwise, there is a high probability that the email survey response rate will remain low.
Thanking for completing the questionnaire is the basic savoire-vivre principle of the authors of online surveys. You can go a step further and reward your respondents. If possible, offer a rebate on your next purchase or a free account for a week or two.
Of course, remember to inform about the benefits already in the survey subject line.
Keep It Short!
Due to Hubspot data, people tend to open 46% of emails on mobile devices. Mobile screens like brevity. Less than 50 characters are the ideal length for an email's subject line. If the title is too long, the Internet user will only read part of it and rarely bother to open the email and learn the missing words.
That's why keep it short: clear email subject lines like concrete, personalization and emojis. This way, you will increase your chance of reaching the hearts and minds of mobile phone users. Why is it so important? According to our research, up to 70% of Webankieta clients' respondents complete surveys by clicking on their mobile phones.
Customize your message to their needs. Otherwise, you will lose them, already at the subject line stage.
Create Sense of Urgency
It's a tricky one.
Remember when we said about the need to avoid spam words? Well, artificial creating a sense of urgency can make us spammers quickly.
However, suppose we do it wisely, and our email survey subject line is not misleading. In that case, we can distinguish the message from other messages and increase the chances of reaching our dream target audience.
How do I create a sense of urgency in a subject line well?
It's easy. Only use this method when it is accurate. Imagine you are selling airline tickets. You have 100 tickets for tomorrow's flights and want to sell them at a 70% discount. Is that a good reason to act now? Of course!
However, don't do this when today's offer is no different from what you will offer your customers in a week or two. Once they can get fooled, later – you will only lose in their eyes.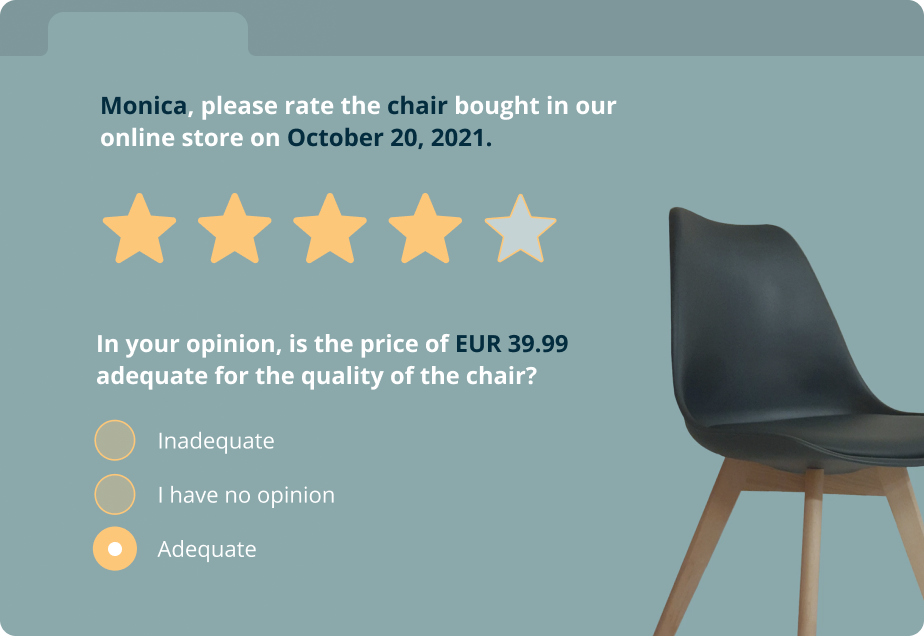 Show respondents that you care about their voices.
Subject Lines A/B Testing
No one effective tactic will work for all email campaigns (or any email survey). If you don't know what will work best for you, brainstorm with your team, write down the best suggestions, and try them out.
Test subject lines that work for your survey and help you boost response rates and collect valuable feedback.
Be patient. It may take some time to optimize your efforts but conducting A/B testing is an excellent investment that will allow you to save time and don't waste money on actions that are ineffective in the future.
Working on the best email survey subject lines is like developing your skills in Google Ads. Once you become an expert in those mighty little pieces of content, you'll get a reward.
Survey Email Subject Lines – Key Takeaways:
If you want your email surveys to reach respondents, take the time to optimize the subject lines in your communication. Thanks to this, you will increase the chances that recipients will open your emails and reach the questionnaire.
Quick Tips for Survey Subject Lines Authors
Work on catchy titles but stay trustworthy at the same time
Be creative. Use emojis and symbols to interest the recipient
Personalize email surveys, starting with short subject line copy
Never promise anything you can't give to your respondents
Avoid spam words; it's not a good way to keep clients happy
Use "act now" type of phrases only when you mean it
Always test your work to select the best survey subject lines