What is the user experience research survey? How to prepare the questionnaire? And what questions to ask to obtain quantitative and qualitative data? If you're looking for answers to these questions, you couldn't have found a better place. We have prepared ready-made solutions to help you prepare user experience survey templates tailored to your needs.
Learn How to Conduct Website UX Survey
UX research is a process of collecting information on the behavior, needs, and expectations of users of websites, applications, products, or services. We conduct them to improve the experience of Internet users or increase customer satisfaction.
In this article, we will concentrate on a practical approach to UX research. We will show you how to create an online survey for conducting website UX studies and discuss the most crucial components of the questionnaire and the types of questions that work best in the UX research survey to provide valuable user feedback.
Try one of the best UX survey tools for free!
Start trial period without any credit card or subscription and easily gather user experience feedback via link, social media, email, and more.
No credit card required · Cancel any time · GDRP Compilant
What Is a User Experience Research Survey?
Before we go into practice and collect UX feedback, let's get to know the definition of this issue. For the development of a product or service (to increase sales, online shoppers, or user interactions on our website), it is crucial to understand the recipient's view, learn about their problems and challenges, and then solve their problems to improve the UX of most users. Why the most of them? Because we'll never satisfy everyone, right?
User Experience Research Survey is a tool that allows you to gather the data necessary to collect key information for this process. With the help of a well-crafted questionnaire and surgically precise questions, we can obtain quantitative data and meaningful insights into change and development. The survey gives us an insight into the view of users. It is an opportunity to learn their natural reactions in contact with our product, service, or program.
Gathering feedback requires the right questions, as there is no one ready-made template. Every situation is different. However, within the next few minutes, we will show you how to create a questionnaire to increase your chances of getting valuable insights.
Why survey? Because it helps you save time and money, automatically collecting quantitative data. The professional survey tool, like Startquestion, also provides analytics. You can prepare questions and send them to respondents, collect the results, prepare reports and draw impactful conclusions.
Ready to move forward? Let's check what we need to keep in mind when preparing the User Experience Research Survey.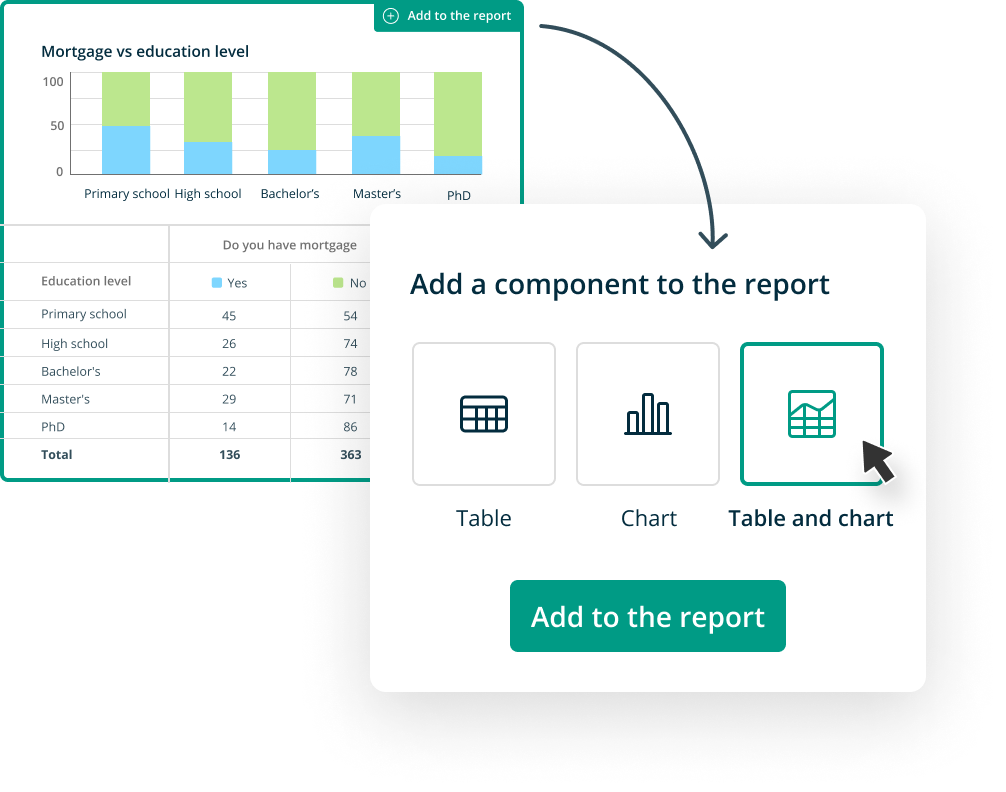 Use analytical tools for your UX research.
Things to Consider When Preparing UX Survey
In this section, we will present the seven main principles of a good UX feedback questionnaire. Grab a cup of coffee and enjoy your reading.
Introduce Yourself to the Audience
Introduction to the UX survey is a place to encourage respondents to take part in the survey. If we send our questionnaire by e-mail, it is worth informing the respondents about the subject and purpose of the study at the beginning.
Good practice also suggests providing the approximate time needed to complete the user survey and explaining what we will do with the collected data. The introduction to the questionnaire also includes the basics of netiquette. The more polite and helpful we are to the respondents, the greater the chance they will repay us by devoting their time to providing reliable user insights.
Keep UX Survey Questions Simple
It is one of the most important rules for a good questionnaire. Each question or instruction must be understandable to the respondent. Besides – the name obliges. Since you are sending a survey on improving user experience, make sure that completing it is also a pleasure, not a chore.
How to check if the questionnaire is user-friendly? Conduct a pilot study. Send the survey to colleagues at work, and see how they cope with it. Ask if anything was incomprehensible to them. If so, please correct the questionnaire before sending it to respondents. Remember to keep your language simple and consistent in every question or instruction.
Choose the Right Type of Survey Question
Each questionnaire should ask the right questions to the right people at the right time. Therefore, in creating a survey, the way you ask is so important. The format should be appropriately adapted to the examined issue to facilitate the respondent's task.
The rule is simple: take care of the positive experiences of people completing the survey for a greater chance of a high response rate.
In the Startquestion platform, you will find 19 types of questions, from open-ended questions; closed questions; single, or multiple-choice questions; scale; matrix; net promoter score; drag and drop; to the text box to type the answer, or overall rating.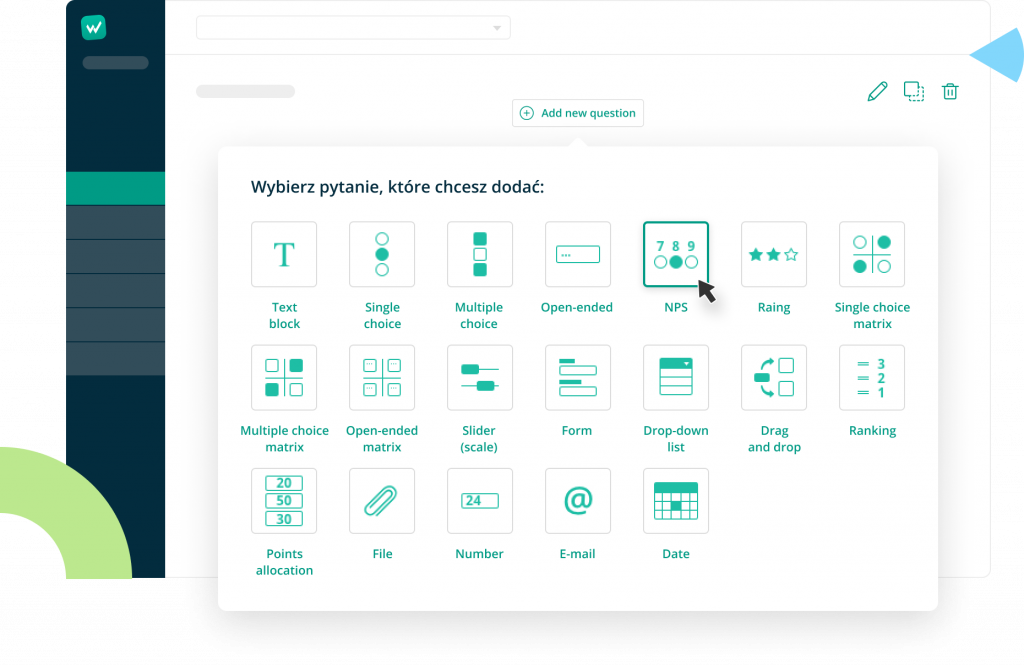 Choose the best user experience survey questions to ask.
Avoid UX Survey Questions Bias
A questionnaire bias is a serious trap in user experience surveys. We unconsciously put it not so much on the respondent but ourselves. Incorrectly constructed questions, even with good faith and willingness of the respondent, may yield worthless answers that will not bring us meaningful data. And thus, we will have to repeat our UX research.
What to keep in mind hoping for qualitative data?
A question bias in a user survey is related to suggesting possible answers. For a better understanding of the issue let's take a look at an example.
Suppose you'd like to ask such a question: "What problems did you encounter when installing our application?". It's not a good one for a UX feedback survey. It suggests looking for troubles only. To evaluate the whole process, ask the following question: "Was installing the application easy or complicated for you?"
It is just one example of a bias in a questionnaire. Others may concern, i.a., looking for confirmation of your hypotheses (confirmation bias), favoring selected issues, the tone in questions, or closing answers only to those specified by us, not by the user. Hint: UX survey is about to address pain points, not collect positive responses only.
Use Clear and Concise Language
"If you can't explain it simply, you don't understand it well enough."
Keep in mind Albert Einstein's words. And remember a simple rule: if respondents have to check on the Internet what the author of the question meant, they will lose not only time but also patience. Simple, understandable language is the basis of a good user research questionnaire, even if we want to get answers to complex questions and problems.
Design for Conditionality
A good questionnaire is based on logic.
When working on the perfect template for your research, keep in mind the correct question format and avoid bias. The order of the questions is equally important, especially when they are related, and the answer to the first affects the sound of the second. Do not place them randomly on the questionnaire.
Survey software helps to control the logic of the survey by displaying the questions conditionally to the respondents. Thanks to this, you will ensure a higher user experience, which will help provide you with a higher response rate and more qualitative data.
Reward Respondents for Their Time & Feedback
Finish your questionnaire with a thank you note. Explain (or remind) respondents how you will use their feedback. Inform them if you intend to share your survey results with them. We recommend doing so.
It is a good practice to reward respondents for their feedback. It is especially true of time-consuming studies. The rewards may be financial (e.g., free access to online courses or webinars, ebooks, discount coupons) or non-financial (e.g., to provide a sense of influence).
A personalized thank you note (add name, surname, or job title) for participating in the UX survey will show your appreciation and encourage respondents to participate in your further client or customer feedback studies.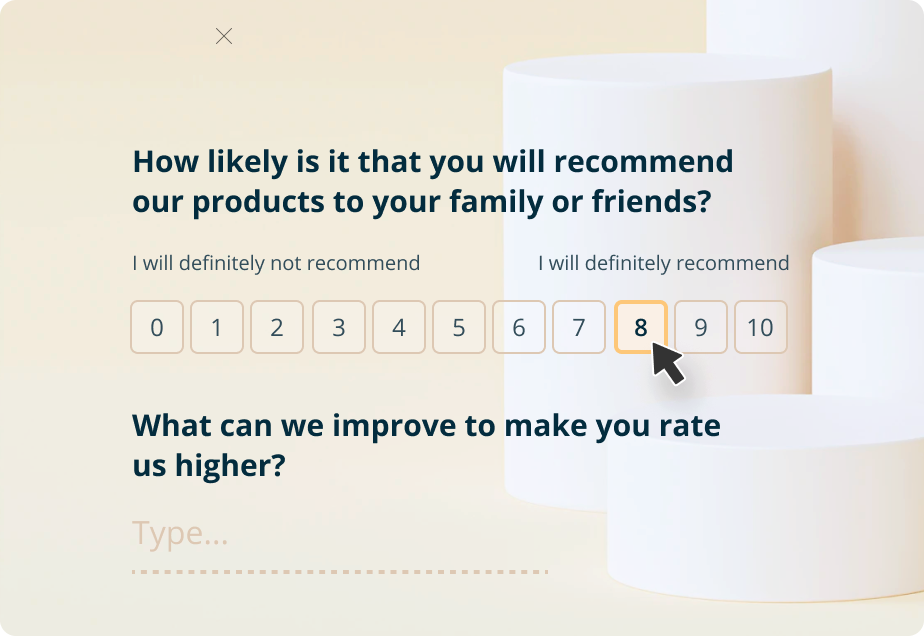 An example of a Net Promoter Score (NPS) question.
Popular UX Research Survey Questions Examples
We already know what to consider when preparing our questionnaire. We now take a look at what UX design research questions should be in it. Here are the most popular user experience survey questions types and specific examples that will help you create perfect user surveys.
User Expectations and Impressions Questions
This type of UX research question is closely related to users' expectations and impressions. First impression matters, right? We want to know the feelings (related to customer satisfaction) of respondents in contact with our features, website, product, or service. This stage of the study also allows you to verify the expectations of users in comparison with the solution we propose.
Here are sample questions to ask in that part of a user survey:
Have you come across a similar new feature on the market?
Would this feature be useful for you and in what way?
How would you start your first project in this program?
Do you trust that this online service is safe?
What are your first impressions of contact with the product?
General Feedback Questions
The next group of questions necessary to create a user experience survey template is aimed to collect feedback on the respondent's contact with the website, product, or service. We ask the respondents to perform a specific task (in the case of survey software, this would be the first project), and then we check the effort put into its implementation. Post-task questions in UX surveys might look like this:
How would you execute the following command? [insert task]
Describe how did you set up the first project:
What was the easiest / hardest part of your assignment?
Did you use the new feature while completing the task?
How long did it take you to prepare the questionnaire?
Specific Task Usability Questions
This group of UX design research questions works very well when testing a website, SaaS, or new features that we want to verify before launching the product on the market. General feedback questions check impressions of the entire process. Specific task usability questions (tasks) provide an in-depth analysis of each of their stages. Let's see what they look like in practice:
Log in to the platform and change your password
Set up a new newsletter mailing list
Change the type of question number 5 in the questionnaire
Reply to a new message from the clients' support section
Navigate to the landing page/pricing page and buy an e-book about SEO
UX Discovery and Behavioral Questions
Another meaningful part of the user experience survey template is UX discovery and behavioral questions. These types of questions serve to deepen user surveys.
Remember when we said that the questionnaire should base on logic? By preparing it in the online version following the principles of design and conditionality, we can display specific questions to respondents, asking them to expand the answer.
Here are some examples of such follow-up questions in a user survey:
Why did you think the checkout was not intuitive?
What specifically made you appreciate the app interface so high?
How can sorting folders make your daily work easier?
Are existing features better than the new ones?
Why do you negatively evaluate the colors of the new website?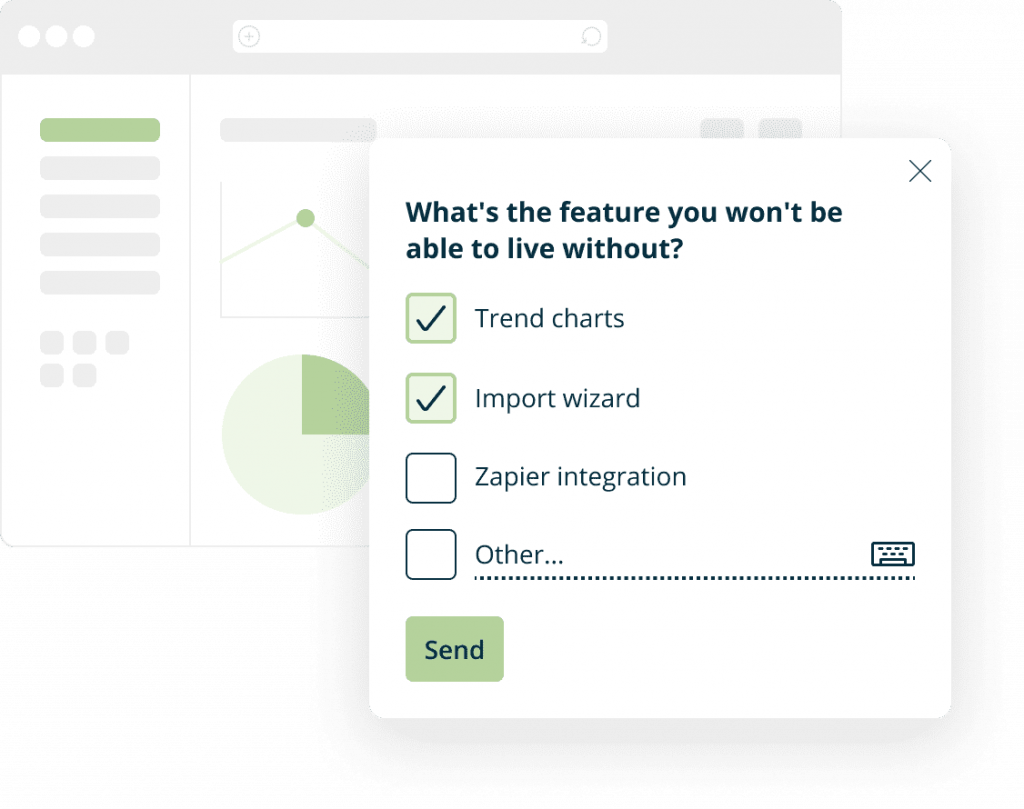 UX research question about features.
User Experience Survey Questions – Key Takeaways
Writing survey questions to obtain quantitative and qualitative data is a challenge.
However, with a good understanding of the issue and a little help from a user-friendly survey tool, you may prepare a questionnaire template that will enable you to collect user insights.
What to Keep in Mind to Conduct UX Surveys:
Ask for honest and direct feedback
Create a survey form easy to complete
Make every survey question as simple as possible
Prepare UX survey questions early
Avoid bias, address pain points
Dig deeper with follow up questions
Be nice and polite to your respondents
Take care of their positive experience
Ready to create your first UX research?