Constant monitoring of employee satisfaction is a proven way to take care of the company culture, detect conflict situations and carry out corrective actions before it is too late and the best specialists leave for the competition. In this article, we will show you how to prepare a Pulse Check Survey and what questions to ask in the questionnaire to get relevant feedback to improve employee engagement and well-being.
What Are Pulse Surveys For?
Let's start with a brief pulse survey definition. Employee pulse surveys are a simple tool to measure the HR pulse in an organization. Human resources and employer branding specialists implement them to learn about the morale prevailing in the team and react if the feedback indicates a disturbing phenomenon.
Imagine a typical Monday morning.
You're already in the car, thinking about the route. You have 90 minutes to drop the kids off at preschool, get a dental check-up, and drive to the other end of town during rush hour to make it to your 9:30 a.m. team meeting.
Car-related problems knock you out of your thoughts. It's broken. How, on Earth, you're asking yourself? Everything was fine just yesterday. A warning light would be nice, something that would let you know the day before that an irreversible disaster is coming.
Like a little Ned Stark sitting on your dashboard with a "winter is coming" sign.
Employee Pulse Check
Try out Employee Pulse Survey – a type of employee engagement research used by HRs to evaluate the overall employee experience by collecting relevant feedback.
Use this template
All templates
Pulse Check Meaning in HR
An employee pulse survey is such an early warning system in HR.
Regularly collected employee feedback can help your organization learn that the best logistics specialist is fed up with constantly being omitted for promotions and will soon resign, salespeople are disappointed with the new financial policy, and benefits selected top-down by the management board are accepted with moderate enthusiasm.
Employees like and want to receive and give feedback. According to stats collected and checked by Zippia, when people feel their voice matters, they are 4.6 times more likely to perform their best job. That's the main rule of any employee feedback. Listen, react, and take action, ensuring complete anonymity to your staff at the same time.
Otherwise, you may lose your best specialists. AllVoices emphasizes that 4 out of 10 employees have left a job because they didn't feel listened to.
Pulse Check Survey Values for the Company:
The minimum amount of time and effort needed to create a survey (automation)
Constant control of the employee's commitment and well-being.
Quick reaction to problems
Monitoring of the results over time. The ability to predict crises and trends
Constant contact with employees working remotely
Want to learn more about how to implement them in your company? Let's move on. You can also make an appointment for a free Startquestion demo right now.
Want to start your own research? We can help you!
Make an appointment for a free consultation with our specialist.
Pulse Survey vs. Engagement Survey
HR professionals have various tools to measure employee satisfaction, motivation, employee experience, and engagement. It's worth knowing how, for example, cyclical employee pulse surveys differ from annual employee engagement surveys to understand when to use each type of questionnaire and get the most out of them for your workplace.
When is the Annual Employee Engagement Survey Not Enough?
Don't get us wrong. An annual engagement survey is a top-rated and effective solution for acquiring valuable insights for many companies. We will not convince anyone to abandon this practice; we just want to show that asking employees for feedback more often is profitable.
Additionally, like other organizational metrics, annual surveys may have different goals, specifications, and frequency than pulse surveys. The first study is global. It often focuses on general job satisfaction (and its components), while regular pulse surveys collect opinions on a specific event or situation from the recent past.
Engagement surveys performed at longer intervals may not be enough in such cases. Our recommendation? Try both types of research. Choose online HR surveys that meet your organization's requirements and best address your company and employees' needs.
Pulse Check Survey Characteristics:
Regular
Frequent
Short and specific
Repeatable
Sent by email
Pulse Check Survey Frequency:
Unlike extensive annual employee satisfaction surveys (or engagement), pulse surveys are sent regularly in up to 52 waves per year.
Pro tip: The more often we send the survey, the fewer pulse survey questions should contain. The survey respondents' patience runs out quickly. Employees can often share feedback, but not if each questionnaire requires them to take 10-15 minutes off their responsibilities. It's called survey fatigue.
Having said that, we recommend sending a staff pulse survey:
Quarterly: 4 waves a year (10 – 15 questions)
Monthly: 12 waves a year (5 – 10 questions)
Weekly: 52 waves a year (1 – 2 questions)
The simpler the questionnaire is and the easier it is to complete, the greater the chance of collecting more survey results. Most employee pulse surveys are sent weekly or monthly, depending on the size and dynamics of the organization.
Due to the simplicity of filling in, employee pulse surveys have a significantly higher response rate than traditional annual engagement surveys. The response rate reaches even 85%, compared to 30-40% in conventional surveys.
See Other HR Surveys Templates from Startquestion:
Wait! We have many more HR survey examples waiting for you.
Examples of Pulse Check Survey Questions
Let's be honest. There is no ideal pulse check survey template.
However, we can distinguish thematic groups of issues found in excellent and complete pulse surveys. The size of the questionnaire and the questions it contains depend on the frequency of sending, the nature of the organization, and the type of feedback we want to collect. Here are some inspirations to help you craft an optimal team pulse check survey.
Rewards And Recognition
For plenty of people, lack of recognition in their workplace is a top reason for departing ways with their employers. If you don't know how your staff feels at work, ask them.
Do you feel that your manager appreciates your work?
Is the work of your team fairly appreciated in the organization?
Are you convinced that the goals set for you and the team are achievable?
Company Values And Work Environment
Whether in the office daily or working remotely, we stay in touch every day or spend at least eight hours with colleagues and superiors. That's a lot of time.
If the work environment or organizational culture does not suit us, this can lead to conflicts and resignation. It is in the interest of the organization to identify issues and solve them. An excellent tool for this is a pulse check survey.
To what extent do you identify with the values of the organization? (mark on a scale)
Would you recommend working in our company to family or friends?
Does the working culture make you feel comfortable in our company?
Work-Life Balance
Reconciliation of professional and private life is more and more often the main priority of excellent specialists, as well as the organizations themselves. It's a good idea to include questions that cover this area in your pulse check survey to ensure that the company and the employee are going in the same direction.
Do you ever work overtime? If yes, in what situations?
Are you absent from important family events due to work commitments?
Do your current duties allow you to maintain a work life balance?
Questions About New Initiatives And Changes
People want to feel their voice matters and that they're essential to the organization. They also need to be informed about the company's situation and the changes it's going through. Find out whether internal communication is working correctly with an employee survey.
Have you received information on changes in the management of the company?
Has it been explained to you why the company is changing its sales strategy?
Has your supervisor explained what the new training for your position will consist of?
Issues Not Related Directly with Work
Pulse surveys allow you to measure employee satisfaction not only from their daily work but also from company outings, integration trips, or other initiatives unrelated to work provision.
What do you think should be in the office chill room?
Are you satisfied with the recent team integration in the Italian restaurant?
Which new company logo design do you think is the best and why?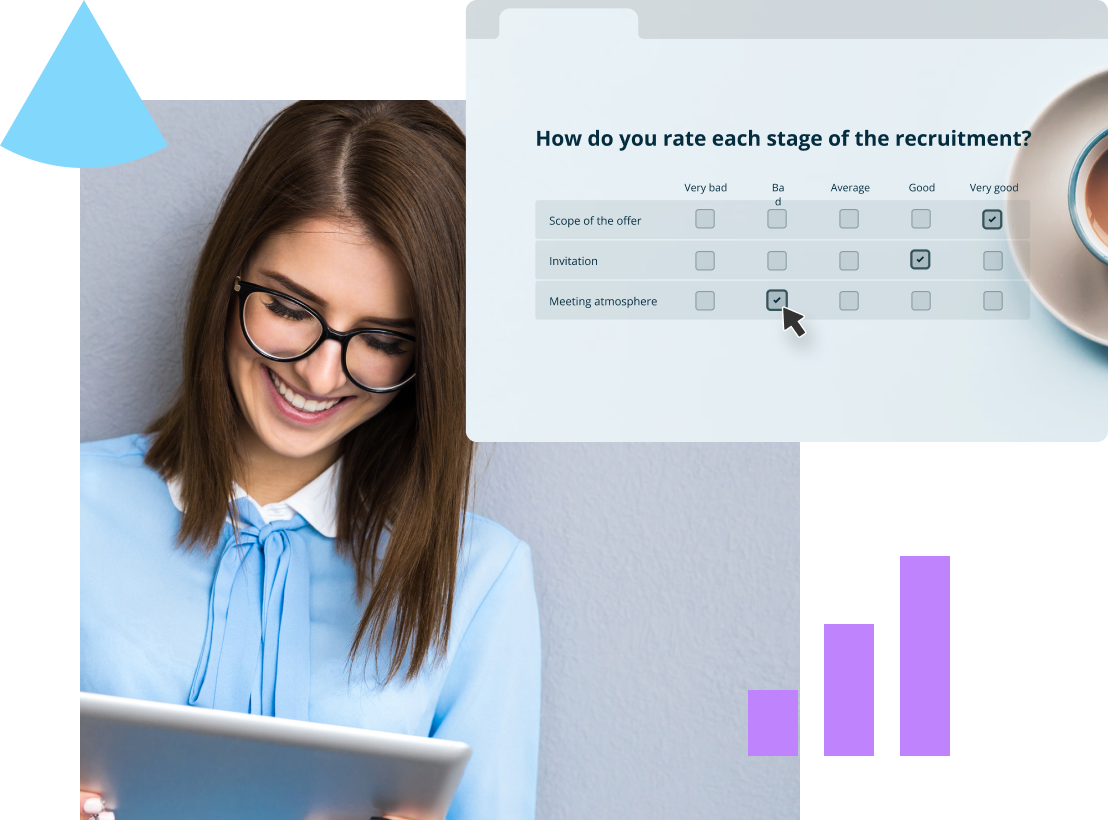 Pulse Check Survey Best Practices
The good news is that 77% of employees want to share their opinion with their company more than once a year. However, remember that the pulse surveys should not be mandatory.
Moreover, employees are 12 times more likely to recommend their employer if they feel that their opinions are listened to and the feedback they provide leads to specific actions and positive changes in the functioning of the organization.
Where is the catch?
The devil is in the details. Professional employee pulse surveys require proper timing, planning, execution, and reporting. You need to continuously gain employees' views, observe trends, and track engagement levels and issues that should be solved as soon as possible.
Ultimate Guide to Pulse Surveys:
Choose the optimal survey frequency for your organization
Find out when is a convenient time to complete surveys for your employees
Remember, the fewer questions, the better for the survey
Make the questionnaire easy and quick to complete for everyone
Be consistent. No matter how often you send the survey, do it on the same day
If you want to follow trends, ask the same questions (employee NPS)
Stay flexible. Ask about what is currently important in the company
For a larger company, target specific groups of employees
Collect feedback, analyze data, and draw conclusions
Take impactful actions and let your employees track progress
Pro tip: Even the best pulse survey will not replace an employee engagement survey. However, that is not the role of this study. Do not force employees to complete surveys. Encourage them to do so by showing that the feedback provided impacts their everyday life in the company.
Employee Pulse Survey Software
At first glance, creating a survey, ensuring timely shipment, collecting employee feedback, and analyzing data may seem like a task beyond the strength of one person. But hey, it's 2023. We fly into space; we clone sheep; we create sublime artificial intelligence. There must be a way to make HR research easier.
Pulse Check Survey Tool
The solution we want to recommend to you is the professional online survey tool. Why? Because software like Startquestion allows you to automate the entire process.
Use ready-made research templates, choose a survey design appropriate for your company, set up cyclical sending, and wait for valuable feedback. Then you may quickly share the results with the right people in the company, download an elegant report instantly, and spend the saved time on trend analysis and conclusions.
Ready to Collect Actionable Feedback with Pulse Check Surveys?