Someone in the company mentioned a team-building meeting! Great! There will finally be an opportunity to get to know each other better and develop more personal relationships. The problem is where to organise such meetings? The legal department wants to go to the SPA, IT came up with the idea of go-karts, and Ann from the reception suggested an adventure park. Someone has to collect all the opinions and organise the whole event, and the boss decided that it would be you. Don't worry – you don't have to walk around the departments to collect votes, and you don't need to glue together a paper ballot box. We have the perfect solution for you: online voting. Using the Startquestion tool you can create an employee survey in a simple and intuitive way and send it to all employees. How to do that? Read on to find out!
When is the best time to vote online
A team-building event is just one example where online voting will be the best solution – saving not only time but also effort. Perhaps your company has a problem with choosing a benefits package? Or do you want to prepare a poll for the friendliest branch of your bank for your clients? The possibilities are limitless. Online voting will be perfect wherever you need to reach a large audience and then gather the results in one place. What's more – Startquestion makes it possible to filter data (using filters or cross tables), send notifications about filling out surveys, alerts, and generate automated reports in an attractive graphical format, which you can immediately present to the management or make share with the voters.
Startquestion is a survey software
Gather feedback via weblink, social media, email, and more.
No credit card required · Cancel any time · GDRP Compilant
Online poll for voting through Startquestion – how to do it?
As we have already mentioned Startquestion is an intuitive tool. Below, you can find an example of what an online survey looks like, encouraging you to choose the place and date of the team-building integration meeting. On its basis, step by step, you will learn how to conduct your own online voting on the platform. Let's go!
Introduction and adding questions
Your questionnaire should not be very long – it will be sent to employees during working hours, so it should only take a few minutes to complete. Create a short introduction explaining the purpose of the survey and how long it will take to complete the survey. You can read more on this in the article: Introduction to the survey in our tutorial. An example of a link might look like this: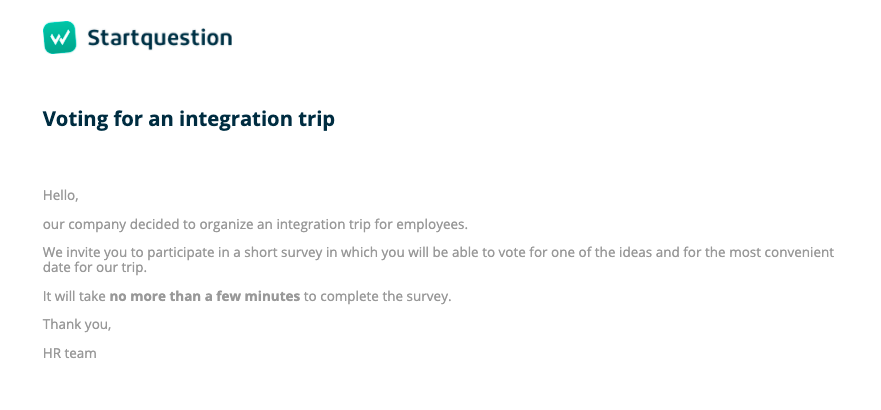 Now it's time for the most important task: creating questions. In the case of a team-building trip, you have to ask about two issues – the date of the trip and how the team members want to spend their time. Only two questions will be enough but you will need to choose their type. Startquestion offers as many as 18 types of questions. How to add them and what to use each type for is explained in this tutorial.
In order to obtain information about the most convenient time, we recommend using a multiple-choice question. Why? The respondent may find that more than one date is convenient for them, and you will have clear information on the popularity of each option in the aggregate results.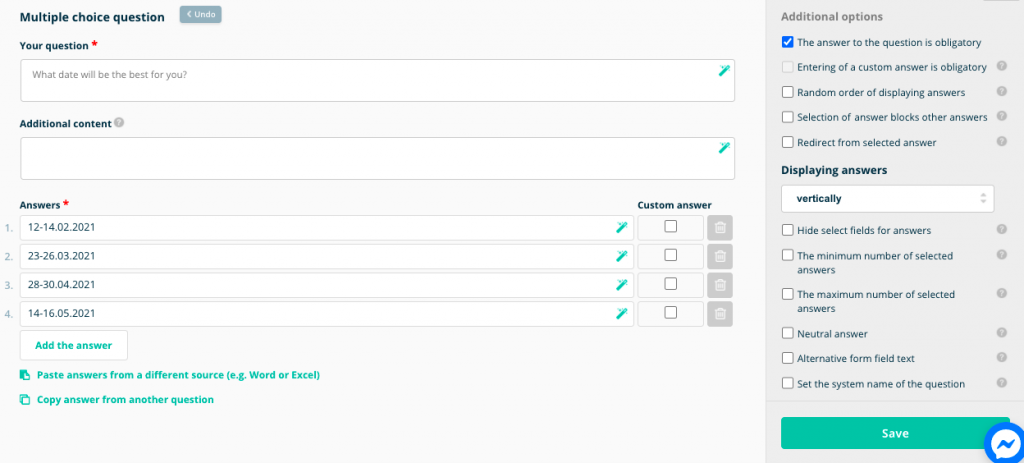 When asked about the nature of the trip, it is best to give a few proposals – previously agreed with the management or decision-makers (after all, the budget, time, and other issues must be agreed in advance). A single-choice question or a ranking question (in which the respondent can arrange the suggestions according to their preferences) will work perfectly here. However, if you expect suggestions from employees, you can choose an open-ended question.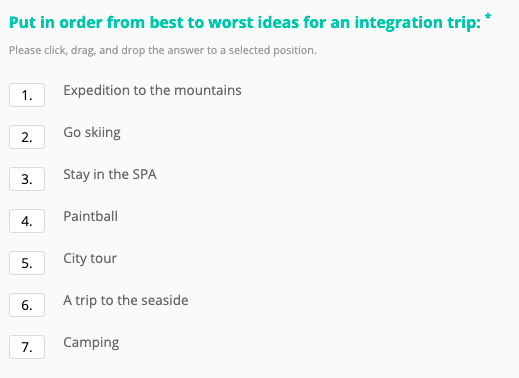 Create a friendly link
As a rule, respondents are reluctant to click on links whose content does not tell them anything or is very complicated. Even though the invitation to take part in the study will probably be sent to the work e-mail address, it is better to make sure that the link to be filled in is friendly – it informs at least about the content of the study. In a separate article, you will read how to create a good link to an online survey. It might look as follows: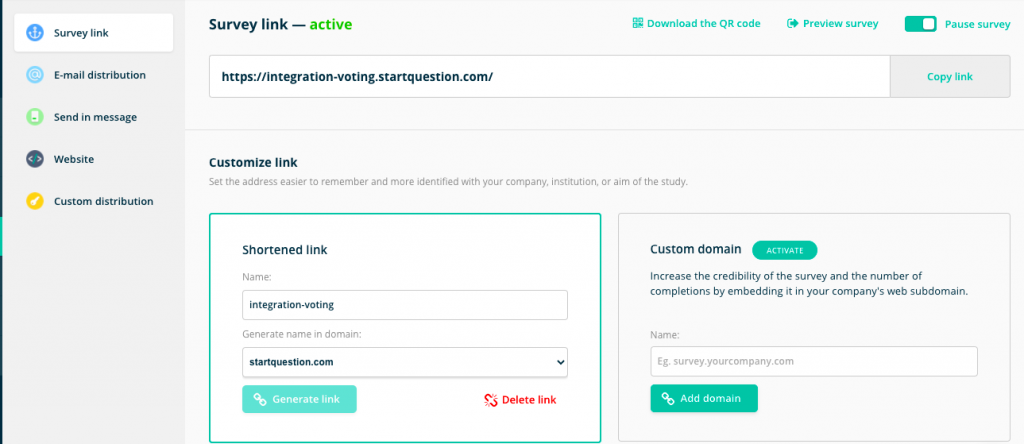 Setting an alert
In the case of voting, it will also be a great idea to create an alert, i.e. a notification sent to a specific person when a new filled-out survey appears or when a specific respondent votes in a certain way. Startquestion provides numerous possibilities of creating alerts – the message can reach you, as an administrator or any other person – to an email address (e.g. to your supervisor, HR department, etc.) A notification may be sent after each filled-out survey or, for example, only when the employee votes for a specific idea or date (e.g. departure in advance).
I created an online survey and… what happens next?
Ready-to-use examples of employee surveys
The Startquestion tool gives you several possibilities of survey distribution – depending on which method is the most convenient for you, what channels you usually contact within the company, or how many respondents are to receive a link to vote online. Below are some of the best solutions for distributing your survey:
Sending by email. This is definitely the best and easiest option when it comes to voting for a team-building trip. Why? Because you certainly have the email addresses of all your colleagues or you can have easy access to them. All you need to do is import your contact list and configure mailing. In the file with contacts, you can also select the gender, department of respondents, which will allow you to filter the results later and send alerts based on this data.
Sharing a link to the survey – through a Slack channel or through another company messenger. This method is especially recommended when the company messenger is your primary method of contact. Choose this option if you are sure that the link will be read by all employees.
Inserting the survey into an email. This is generally similar to the first method, except that if you vote, the first question will be displayed directly in the message to employees. With this option, the survey can be sent using FreshMail, Shopper, Intercom or other platforms.
All the above-mentioned and other settings for the distribution of the survey can be found in the 'Collecting' tab in your Startquestion account: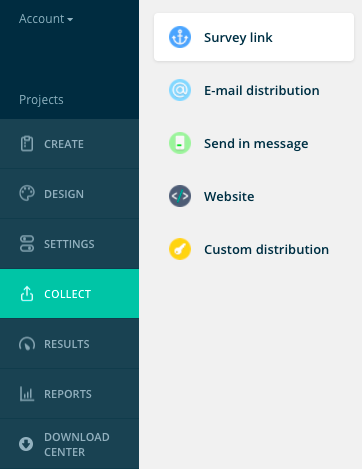 The last step – online analysis of voting results
Access the 'Total Results' tab to see the general results of the survey – along with charts. You can also see how individual people voted using the option: Single sheets. If an employee reports to you that they made a mistake in the poll, as an administrator you have the possibility of deleting a single sheet.
Start your poll now – register and create survey for free
If you want to test the capabilities of the Startquestion tool register and start a 14-day free trial period. You can start creating an online voting poll right away using the ready online survey examples or skins that will make your questionnaire look professional and aesthetic.