Product managers know very well how crucial honest feedback from potential and existing customers of their products or services is. Online surveys are a helpful tool for collecting actionable insights. To help you prepare the questionnaire, we have compiled a list of the best survey questions to ask in product surveys and ready-to-use survey templates. Feel free to use them for your needs.
We will start with a short introduction if you are a novice product manager. Specialists with more experience are encouraged to move on to the best new product survey questions to better understand current and potential customers.
Ready for a little bit of basic knowledge before creating your own survey? Let's begin.
What is a Product Survey?
Do you know this feeling when you pick up a product touted in commercials, use it for a while, and don't understand what all the fuss is about?
Perhaps the designers needed to gain knowledge about the insights of the product's target audience.
Product-Market Fit Survey Questions
The product matching survey aims to measure whether your company or product has achieved the so-called product/market fit, i.e., to what extent your offer meets customers' expectations.
Use this template
All templates
Product Survey Definition
Product market fit and market research are the basis for launching … anything. We need information from potential users to know if our product will serve people as we imagine it.
It is where the product feedback survey comes in.
A questionnaire, thanks to which organizations may gather feedback to get into customers' shoes and refine the product or service to suit their needs as much as possible.
Why Customer Feedback About Product Matters?
– Product surveys facilitate the most challenging part of working on a product: making good decisions. Do your customers need this new feature you are planning? Is it worth investing the team's time in this idea? Which project should have the highest priority?
– Asking the right questions to the right group of clients allows you to answer them and make decisions based on data and facts, not opinions and assumptions. It saves time and money that we could have invested in the wrong initiatives – explains Magdalena Żądkowska, Product Manager & UX Researcher at Startquestion.
Why Should You Conduct Surveys for Products?
Let's get to the point. Each professionally prepared customer survey takes time and money. Why is it worth allocating them to a product survey? Here is a list of the benefits for your organization from collecting valuable insights from the market.
Value of User Insights Gathered in Product Surveys
Better understanding of your target audience to develop product and get more revenue
Measure customer satisfaction to learn what your customers feel about your offer
Identify your weak sides to change dissatisfied customers into loyal ones
Ask about additional features that will help you build competitive advantage
Seek in depth information to understand and design customer personas
Such data can give you a clear picture of the product roadmap and further development. Identify your offer's strong and weak sides to provide your customers with an optimal value proposition.
The worst survey is the one with the results going to the drawer. Before you start thinking about the questions, think how you want to use the knowledge collected in the study and what decisions you will make based on it.

Magdalena Żądkowska
Who Should Conduct the Survey and When?
In fact, any person involved in product development, especially product managers or product owners, UX researchers, and UX designers. It's recommended to carry out product surveys at every stage of product development:
When you are considering introducing a product to the market and want to verify what reception it will meet. 
When you already have a product concept or a new function you want to test with potential recipients.
When the product is on the market, you want to monitor whether you are approaching the set goal. 
– Every moment to collect user feedback is good, but the sooner you start validating your ideas with your target audience, the greater the chance of your project's success – Magdalena Żądkowska, UX Research expert, points out.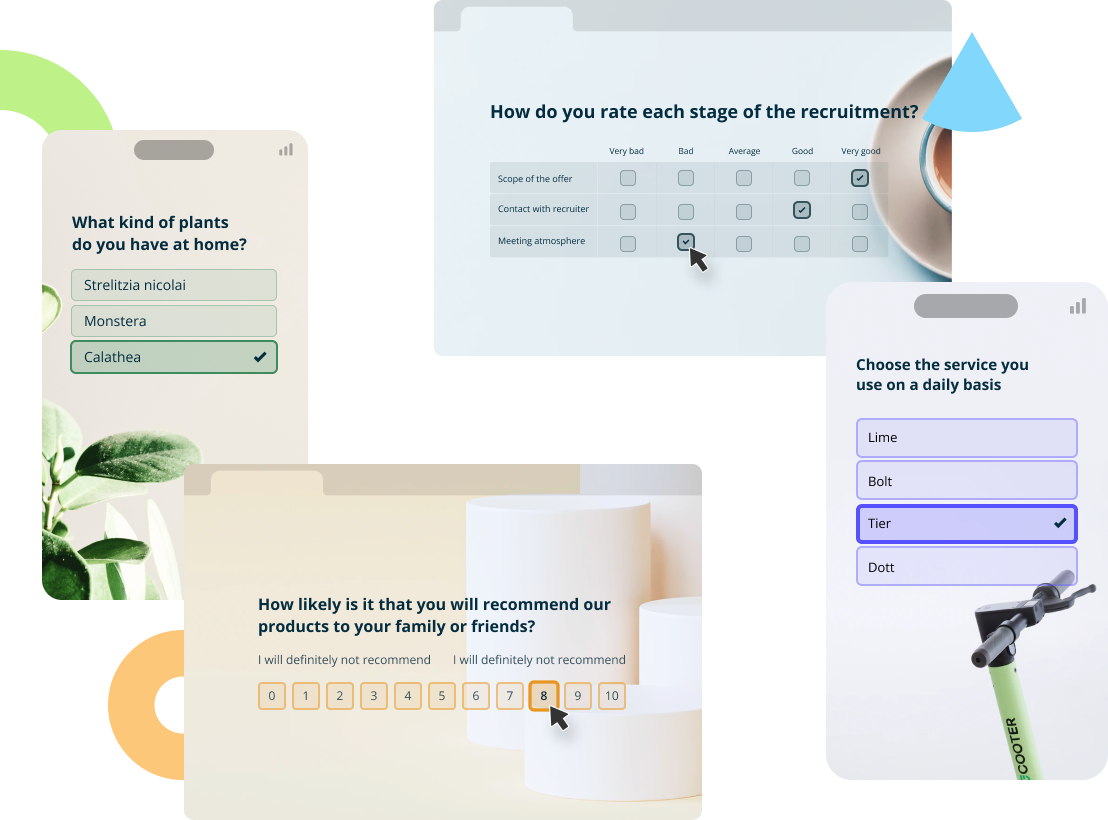 15 Top Product Survey Questions to Ask
In this section, you will find key benefits of questions worth asking in product surveys.
Use them as inspiration for your questionnaires to measure customer satisfaction and understand what users feel. Remember, however, that studies differ from one another. Choose the questions that will bring you the most valuable information in a specific case.
It's not a ready-to-use survey template but an overview of the most common questions in product research design to determine customers' expectations. Don't worry. We have plenty of survey examples for you. Just click here to explore more than 150 survey templates.
What made you choose our offer?
Start with the basics. Find out what made the client choose your company from the range of alternatives available. You can propose multiple answers (price offer, reputation, recommendations) or take an open-ended question.
What feature of our product was the most important to you when making the purchase decision?
Ask if one feature influenced the client's decision. List a few possible answers, remembering about giving your own. Sample responses for such software survey questions might look like this:
a) Design
b) Features
c) Price
d) Other: what?
How often do you use our product?
Collect customer feedback to determine whether they use your product daily. It's essential to understand whether they use it occasionally or if it is vital for their business. The more often they need it, the better for you.
To what extent does our product meet your expectations in the following areas:
Following customer satisfaction metrics (CSAT survey) in product questionnaires is vital. Ask about different areas (depending on your business profile, it may be reporting, analyses, etc.) to find out your respondents' points of view. Think about follow-up questions in case of a dissatisfied mark/opinion.
What do you like the most about our product?
It's a perfect survey question to discover important features for many customers. Use this knowledge to highlight and strengthen your strong sides.
What do you dislike about our product?
On the other hand, such a survey is a unique opportunity to learn your customers' greatest concern related to the product. Find it out to work on it and become a better service provider for your clients.
Have you used any competitive solutions in the past?
Ask current and new customers if they are familiar with competitive solutions. If so, use these learnings to work on the features and offers to help you get ahead of your biggest rivals.
How does our product compare to the competitors you know?
Professional survey software enables researchers to display questions depending on the answers to previous questions. Use this feature to learn more from customers who know your competitors to gain as many insights about them as possible. Use it to discover your path to develop a successful product.
Product Evaluation Survey Questions
Want to know if users share your enthusiasm? Great! You introduce a new product to the market. This online survey is, therefore, just right for you.
Use this template
All templates
Do you think our software is good value for money?
Gentlemen don't talk about money? Not in business. Ask your clients in a product survey about their feelings about your pricing to determine if they think your offer is a good value for money. If not, they may start learning alternative solutions quite soon.
How would you feel if you could no longer use our product?
Engaged users are like a dream coming true for every company. They may easily change the supplier or tool if they are unlike Mariah Carey and can live without you. Find out how they would feel if your software, app, or product disappeared one day.
Answers to such question may look like this:
a) very disappointed
b) somewhat disappointed
c) not disappointed
d) I no longer use it
Which features do you value the most in our product?
Another one from the list of leading questions in product surveys.
Prioritizing features allows you to look at the product through the eyes of the user. What features are the most important? Which ones do they use the most? It is vital information for the product development department because it shows the most outstanding value your company provides to the customer.
Product surveys facilitate the most challenging part of working on a product: making good decisions. Do your customers need this new feature you are planning? Is it worth investing the team's time in this idea?

Magdalena Żądkowska
What is the greatest difficulty for you in using our product?
Critical feedback is one regarding product defects and areas for improvement. If many customers pay attention to the same problem, it is worth solving it quickly and improving the customer experience.
How easy is it to navigate our platform?
Questions relating to customer's effort (CES survey) help us understand the amount of time and nerves it takes to conduct specific tasks with our product. In the case of survey software, it may be navigation in the platform or creating the first questionnaire. Ask your users on a scale about the effort they had to put to accomplish what they intended.
A sample question and answers may look like this:
Navigation on our website is intuitive
a) Strongly agree
b) Agree
c) Neither agree nor disagree
d) Disagree
e) Strongly disagree
Analyze all the answers carefully. Sometimes easy solutions, like adding extra video tutorials, may increase the quality of customer experience.
What's the one new feature you'd like us to add?
It's one of the fundamental product development survey questions (or new product survey) for any company working on future products or planning to implement additional features. You can add a list of new features you would like to work on or/and leave a space for respondents to answer in their own words.
Check out our new product launch questionnaire sample for some inspiration.
How likely are you to recommend our product to your family or friend?
Last but not least, there's a Net Promoter Score (NPS) question. NPS may help you find out how many loyal customers you have. The more promoters, the better, right? On the other hand, read the negative comments of your detractors carefully. There might be plenty of actionable insights that will help your company shine like a diamond.
Net Promoter Score Survey for Product
Every company needs a way to gain knowledge about what their users and customers think about their products and offer. The best tool to listen to the users and customers is the product feedback survey. Online research will help You create exactly this kind of products which your potential customers need and want.
Use this template
All templates
Product Feedback Survey: Summary & Tips
Before you start crafting your product questionnaires, we'd like to provide some tips for collecting customer feedback and increasing the survey response rate.
Let's give the floor to our expert once again.
– The worst survey is the one with the results going to the drawer. Before you start thinking about the questions, think about how you want to use the knowledge collected in the study and what decisions you will make based on it.
– When you reverse the process and start with a decision, you may find that you don't need so many questions, or you don't have to give five answer options; maybe two are enough to make a decision. Think about what decision you will make if most people choose A, and what if B? If you think about it now, you will avoid the effect of "OK, cool, we found out XYZ, and what next?".
– Of course, when working on product development, you may need exploratory research; in the end, a specific decision is not always made: who is my target group, what problems do they have, and what do they need. Also, considering how you will use the collected information will allow you to create a survey that will yield insightful and actionable conclusions – explains Magdalena Żądkowska.
Ready to Ask New Business Survey Questions?