As an online survey tool provider we know online surveys are usually the best way to ask for feedback in business. But asking and getting this feedback is only the first, usually the easiest step. The biggest challenge is not only to send a survey to your employees or customers, but to actually make them want to take part in it. From this article you will learn how to increase NPS email survey campaign response rate.
We're providing survey software for companies of each size and working in many industries. That's why we can share with You our experience and knowledge not only in the field of making surveys, but also how to achieve a high response rate. In this article you will get answers to this questions:
How do you make the surveying process efficient?
How to achieve a high response rate (get many survey responses) using email invitations?
We are thinking that the best way to teach you something is by talking about our own success. That's why we will share with you our own experience about how we increased the response rate from 5% to 20.1% of our quarterly email NPS survey campaign to all customers.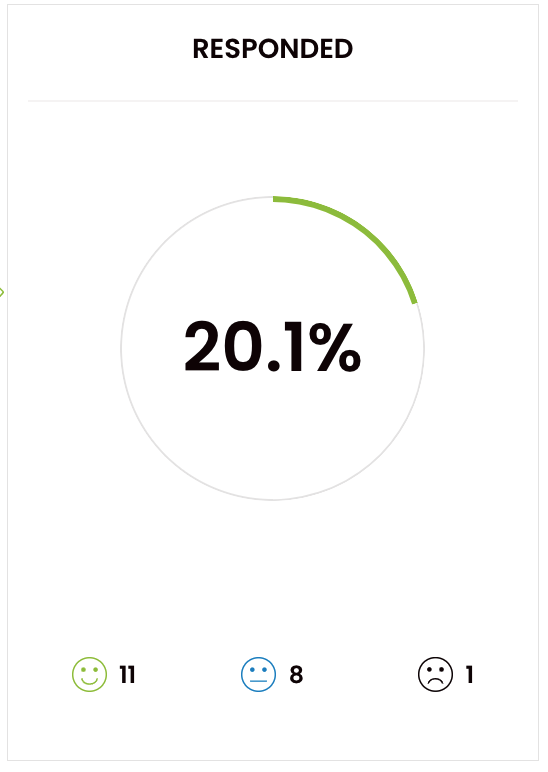 Our history – about NPS survey and why we use Net Promoter Score in our company
Net Promoter Score survey is one of the most popular products we provide to our customers. It helps companies to provide customer relationship management and increase customer loyalty. Conducting Net Promoter Score surveys is very easy – we have a special NPS question type, thank to which You are getting ready to use in any survey, nicely present question. Here are a few examples of how your NPS question made in Sartquestion survey software may look like:


We are encouraging our customers to use this method, so there is no surprise that we know how important it is to do quarterly campaigns to measure NPS score and try to improve trends.
That's why each quarter we start an NPS survey campaign to our whole user base. Our response rate was around 5%. So it means that from each 100 customers we emailed only 5 decided to share feedback with us. Not bad but far from perfect. So we decided to get even more new survey responses and improve this process.
Ready to use NPS survey templates – make it even easier
Everybody is busy. That's why we want to make your work connected with conducting the Net Promoter Score method as easy as possible. In our survey examples base You can finf ready to use NPS survey templates, thanks to which you can start your research even in a few minutes.
We also prepared something special, just for our brothers and sisters from SaaS companies. It's a SaaS company NPS survey template, in which we ask exactly these questions, which will help you to get specific and reliable feedback from your customers. NPS survey for SaaS can look like this: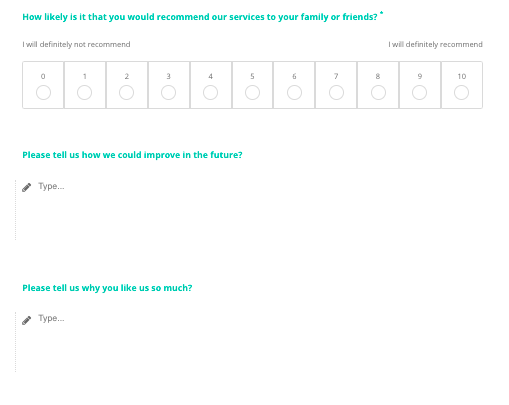 Few question sample from SaaS NPS survey made by Startquestion
You have to remember that it's only template. It will make your job easier, but anytime you can freely change the content or length of the questionnaire, for example by:
adding even more questions, which can help you get more specific feedback,
erase questions which aren't fit to your goals and company,
change the question type (for example use one martix question instead of few standard questions),
add your logo, change colors and font.
Followup – the best way to increase survey response rate
It's not a secret that followup is one of the best ways to improve survey response conversion rate. With that in mind we decided to email surveys with Woodpecker, a great tool for follow ups. How does Woodpecker work? You simply create a campaign and define steps. By steps we mean the number of emails that are going to be sent to a particular recipient until he responds (reply to the email).
In our case we decided to go with maximum 4 emails to each respondent:
Email 1 (day 0):
Hi Martin,
We would like to ask you for feedback regarding the cooperation with our company.
The survey will take a maximum of 3 minutes.
You can find the link to the survey here: https://startquestion.com
When the recipient doesn't respond, Woodpecker waits 4 days (it's up to you how many days) and sends a 2nd email.
Email 2 (day 4)
Hi again Martin,
I thought today I might be more lucky so you could provide us with your feedback on our services? You can find the link to the survey here: https://startquestion.com
Thanks, a million!
It's the same with 3rd email (we wait additional 6 days, 10 days from first email).
Email 3 (day 10)
Hi Martin,
I really want your opinion on our services. Really. Is there anything I could do to get it?
Best
And final 4rd email after.
Email 4 (day 18)
Hi Martin,
I promise this is the last time I email you regarding feedback on our services. Collecting feedback is one of the most exciting parts of my duties so I don't give so easily 🙂
If I am lucky enough today here is the link to the survey: https://startquestion.com
Here are the results we were able to get after 1000 customers reached.
It's important to understand that it's up to you how many steps (emails) you are going to send but also you should be careful. It's very easy to frustrate your customers if you follow up too much or too soon. From our experience 3 or 4 emails total during the 21 days interval is safe.
The trick – Zapier + Startquestion + Woodpecker
Probably at this point you think "Ok, so where is the trick"? It is pretty simple. We email a link to the survey in the email and if we don't receive an answer Woodpecker will send a follow up email. And once a user responds we will stop following up as we achieved our goal. How will we know that someone clicked on the survey link and responded to our survey so we could stop woodpecker follow ups? We can connect Startquestion and Woodpecker using the integration tool we love so much – Zapier. This is the biggest trick in this playbook: we don't have to manually check who responded – everything is on autopilot.
Long story short, Zapier let you connect two apps to send data between them without coding. Yes, you don't have to be a programmer or have any IT experience to do it. Zapier is loved by both IT and non IT specialists. You can create workflows easily which save you time and money.
Connect online survey with Woodpecker by Zapier (Zapier survey)
To summarize, the playbook is very simple. We have to:
Create online survey on Startquestion
Create campaign on Woodpecker with a link to the survey from step 1
Create zap on Zapier which connects Woodpecker and Startquestion. This step will inform Woodpecker that a particular user finished responding to the survey so we don't have to send followup in the future.
We will not cover the full manual here but you can find the full guide on how to follow up on email survey using Woodpecker.
If you would like to talk about how to implement Zapier automation regarding online surveys/forms with your software, how to get more survey responses or you have other questions, please contact us here: contact@startquestion.com or book a video call with our representative.
Finally: benefits of NPS. Why is it worth conducting regular customer surveys with NPS question?
In the beginning of this article we mentioned Net Promoter Score and briefly explained why we are using this method in our company. Here, at the end of our story, we would like to tell you more about the benefits of conducting regular NPS surveys. That's just a few of many advantages of this method of listening to customers' voices. We hope it will help you convince your coworkers and bosses that's the best choice for you.
1. NPS is really simple
Net Promoter Score is probably the easiest method which allows you to listen to the customer's voice. Thanks to NPS you are collecting valuable data, with a very high degree of complexity and diversity – you can ask the same question in very different areas of your work, for example about the quality of customer service, new offer or just average level of customer loyalty.
To conduct NPS research you don't need special knowledge or courses. Everybody can learn how to collect and interpret data in a very short time. Generally speaking, the Net Promoter Score is based on the division of the respondents into three groups: promoters, passives and detractors. The division is based on the effect of correlation analysis between the answer to the question and the actual behavior of the consumer. The results of the survey with NPS question can look like this:
2. The same method in every survey is guarantee for easy comparison
Asking the same, simple NPS question in every edition of your survey will make the analysing process much easier. Of course, you don't have to send exactly the same online survey every time – you can add some additional, deepening questions, specific for current situation or your needs. We just advise you to always add to the survey the NPS question thanks to which you can easily observe the trend line and thanks to this:
react quickly for any abnormality, for example big drop in the promoters group or especially high numbers of critics,
see immediately when exactly something bad happened and easily connect it to your company's history (maybe you changed the prices or offer? you made some changes on the website?),
show the trend line to your managers or board of directors to prove that your tactic toward increasing customers loyalty is really working.
The example of NPS trend line created on Startquestion survey software
3. You don't need big budget
As you already know, implementation of Net Promoter Score in organisation is easy. Especially, when you're conducting online surveys on professional survey software like Startquestion. You don't need to hire analytics or IT to collect and analyse results of the research. NPS is a separate question type and the collected results are automatically divided into 3 groups. Furthermore, you also don't need to waste time counting the results – the NPS indicator is counted automatically.
Thanks to all of this all you need to do is… purchase an access to the account on the survey platform. On Startquestion during your subscription you can make as many NPS and other surveys as you want. Remember that you can try out our survey tool for free and create your first NPS surveys, using ready templates.
4. You can share NPS results with your customers and show they that You care
Using NPS results you can show that you care for the customer's opinion. You can publish your NPS score on the internet (on your landing page with references, on social media etc.) and make a great social proof example. There is no better way to show the quality of your product and services, than strong recommendation straight from their users.
On the internet you can also easily find the average benchmarks of NPS score for your industry and check if yours results are better than competition or you have some more work to do.