Information and time can give you a competitive advantage. The main prize is for those who get to know and fulfill customer expectations as quickly as possible. Process automation can save time. What about information? You can collect customer feedback or employee insights with online surveys. From this article, you will learn how to set up Zapier integrations with our software and get the most from online questionnaires right away.
How Does Zapier Work? What are Triggers and Actions?
Zapier is a no-code automation platform that can help you manage repetitive tasks. Take a look at the following formula to understand how Zapier works: When something happens in one software [trigger], do something else [action] in another one.
Single automated workflow integrating apps is called Zap. A simple one consists of a trigger and action. More advanced workflows may contain other elements such as filters, delays, another action, or the possibility of changing the format of incoming data. Like in guns, a trigger is something that starts an event, whereas an action is what a Zapier integration does with the result of an event.

Try Startquestion trigger event and action to make Zapier integrations for your own purposes.
Let us explain it with a simple example. We want to integrate Startquestion with Google Sheets so that each new answer in the survey automatically goes to the specified column in the sheet. How to create a new Zap? In that case, each new survey response would be a trigger, while sending its results to a dedicated spreadsheet in Google – an action. You can do similar integration for Google calendar event, Slack channel, Google docs, or any other custom workflows.
What Kind of Feedback to Collect With Online Surveys Software?
As we already know what is Zapier for, we'd like to introduce ourselves. Startquestion is a program for online surveys and forms. It provides software for companies and individuals to research customers, employees, or communities. With online surveys, you can capture various kinds of feedback such as:
Learn more about Customer Experience Surveys and gathering Employee Feedback. You may also try some of our ready-to-use free survey templates. Enjoy!
Professional software for online surveys allows its users to easily integrate with the most popular tools like Google Analytics, Freshmail, Livechat, and – of course – Zapier. We know what kind of feedback to collect. Now it's time to figure out how to set up the best Zapier integrations and get the most from the automation process.
List of Zapier Integrations with Startquestion. How to Use Them?
As mentioned above, each Zap consists of a trigger and an action. With our online surveys software, it's possible to use both of them. Let's take a look at how it works in practice.
How to Use Startquestion Trigger in Zapier Integrations
The Startqestion trigger in Zapier is called New Survey Response. It triggers when a new response is submitted in a survey. You can use it in various ways. For instance, to create Trello cards from new survey responses. Collecting feedback from customers is just a part of a job. Most important is what will happen with those insights next, right? Integrating your online software tool with Trello makes it easier to communicate with your clients and get the most from the feedback they provide.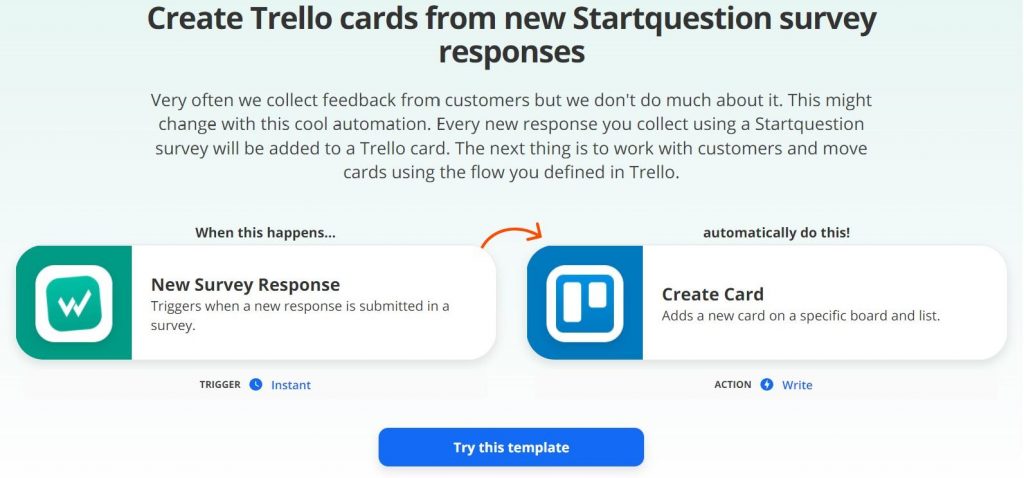 This is how online survey software may work with Trello in Zapier.
You can use that trigger to collect and analyze insights from customers and employees as well. For example, with recruitment software like Traffit. Due to the integration in Zapier, it's possible to collect information from candidates via online surveys and automatically add them as a Traffit note about the potential employee.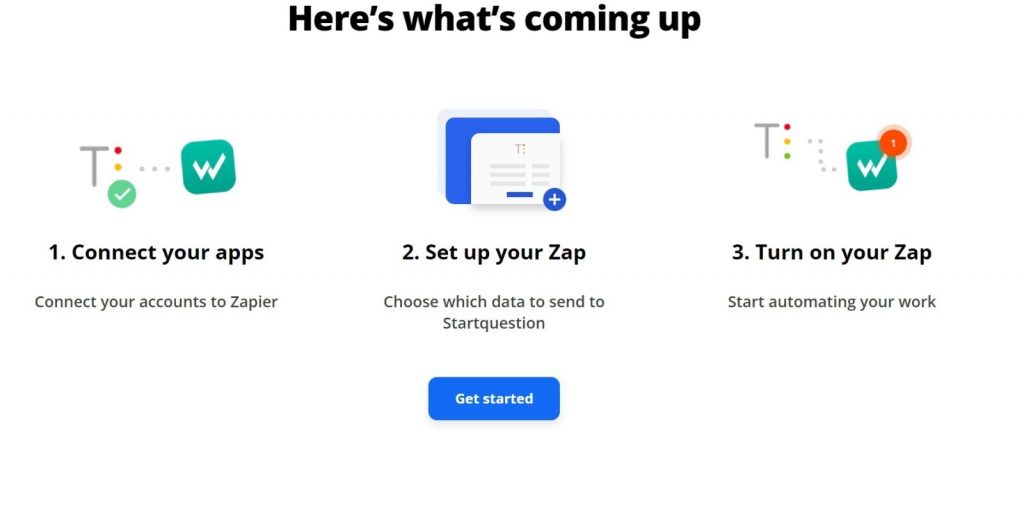 To start Zapier integrations you need to connect both accounts.
Do you like to move data manually? No one does! If you want to have all your online survey results in one place – try a Startquestion Zap with Airtable database. It's handy, fast, and time-saving. And it works like this:

This kind of Zapier Integrations helps organize data.
How to Use Startquestion Action in Zapier Integrations
Like with trigger, there's one but versatile Startquestion action for Zapier integrations. It's called Send Survey via Email, and you can use it to email invitations for various types of questionnaires to your users. Let's take a look at some of them.
When you run an online store, you perfectly know that some percentage of customers move back just before finalizing the transaction. How to minimize their number? By asking what made them change their mind. Here's a useful Zapier automation that sends online surveys to every user that abandons their Shopify cart.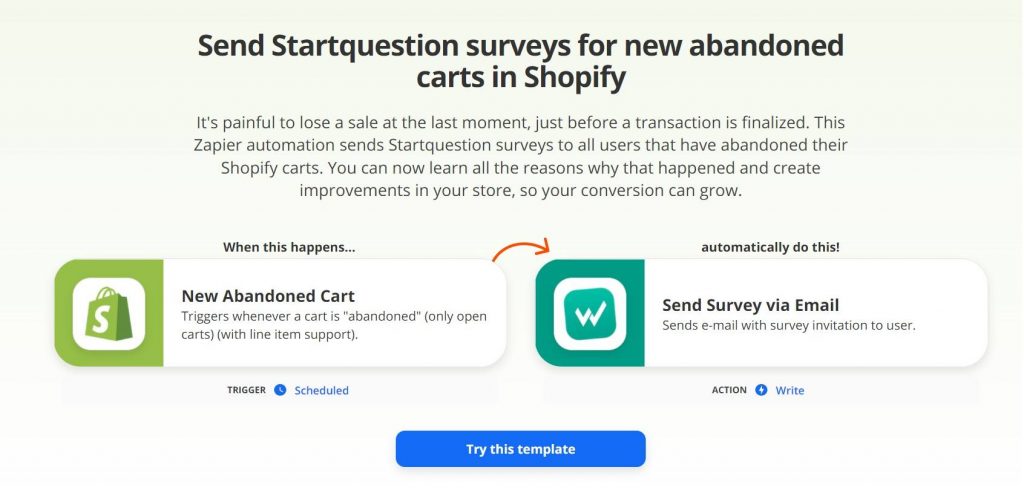 You can use online surveys to reduce the number of abandoned carts.
Did you know that because of poor experience, one in five new employees leaves their job during the first 45 days? The onboarding process costs time and money, no one wants to lose any of them. Online surveys sent to every new employee after onboarding are a great opportunity to get unique feedback and prevent your newcomers from leaving. Here's an example of a Zap with Startquestion and online human resource software Bamboo HR that makes the process fast and automatic.

Zapier integrations may help you optimize HR processes.
Let's take a look at one more example of a Zap for online surveys software. During the pandemic of COVID-19, webinars have grown in popularity. Online meetings have replaced face-to-face contact. There are more and more webinars and training on the Internet, but are they good? An online survey will answer this question. Send it when a webinar is over, for instance in Livestorm, and listen to the voice of your potential clients.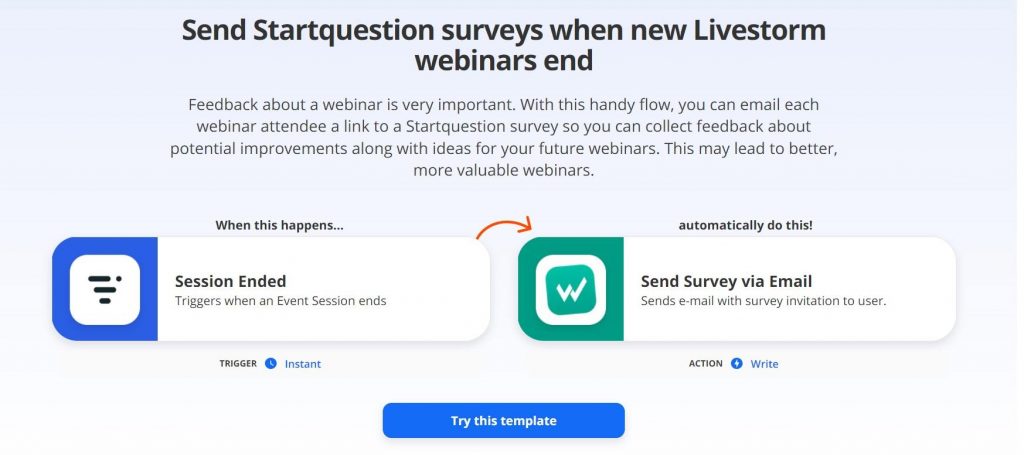 Use online surveys to gather feedback after the webinar.
Key Takeaways from Integrating Zapier with Survey Tools
Those are just a few of many possibilities for integrating online surveys software in Zapier. In place of the software mentioned above, you can put any tool you use at work. Here's a full list of Startquestion integrations with apps available in Zapier. No matter if you're into customer experience, employer branding, or e-commerce, forms and surveys will give you the feedback necessary to make the right decisions.
Zapier Integrations with Startquestion – Key Takeaways:
Collect feedback from users of software that does not have such features
Choose fast and intuitive integration. Zaps can be created in minutes
You can automate tasks to save time and money – crucial assets in any company
Analyze collected feedback in time to improve your market position
Customize your needs and with a few clicks take full advantage of the power of online surveys
Don't slow down yourself or your employees at work with routine tasks. Use modern day tools! Choose the best Zapier integrations with online surveys software for your business and make it a bit easier to succeed.