Customer satisfaction is a top priority for the growth of your business. How do you verify whether your clients are happy with your products and services? Ask them! Email surveys are a quick and easy way to collect information. If you are looking for pro tips regarding embedding surveys in an email, you couldn't be in a better place. Grab a cup of your favorite coffee or tea and enjoy reading!
Embedded Surveys Explained
What's all the fuss about?
As you probably know, there are various methods of survey distribution: website surveys, pop-ups, sending survey link, SMS, etc. You know how vital survey response rates are, no matter which you prefer or what type of research you are into. The rule is simple: the less effort for your respondents, the more customers will complete the form.
Surveys embedded in email minimize the number of actions recipients have to perform. All they have to do is open the message, and they can go to the survey without unnecessary clicking.
When they answer the first question, they will automatically go to the survey page. And that's what we all want.
Think about how many emails you receive on your phone. Quite a lot, right? Nothing is more frustrating than a message that doesn't fit your smartphone's format. If your email survey looks like a victim of a head-on collision with a truck, no one will complete it.
How to Embed a Survey in Email
Let's move on to a brief guide.
With survey software tools like Startquestion, you may prepare and send any questionnaire to your targeted respondents. In this article, we'll show you how intuitive it is to create an embedded form because an intriguing email template with a clear subject line may help you increase survey responses.
Enough theory. Time for practice.
All You Need to Do to Embed a Survey in Email Body
Here's a short yet complete guide on including the answers to the first question in the survey invitation. Well, we've never been to Hogwarts, but sometimes a little magic happens in our survey software.
Whether your first question in the survey is a single-choice one or, for instance, a Net Promoter Score (NPS), the content of the question will automatically appear in the email template.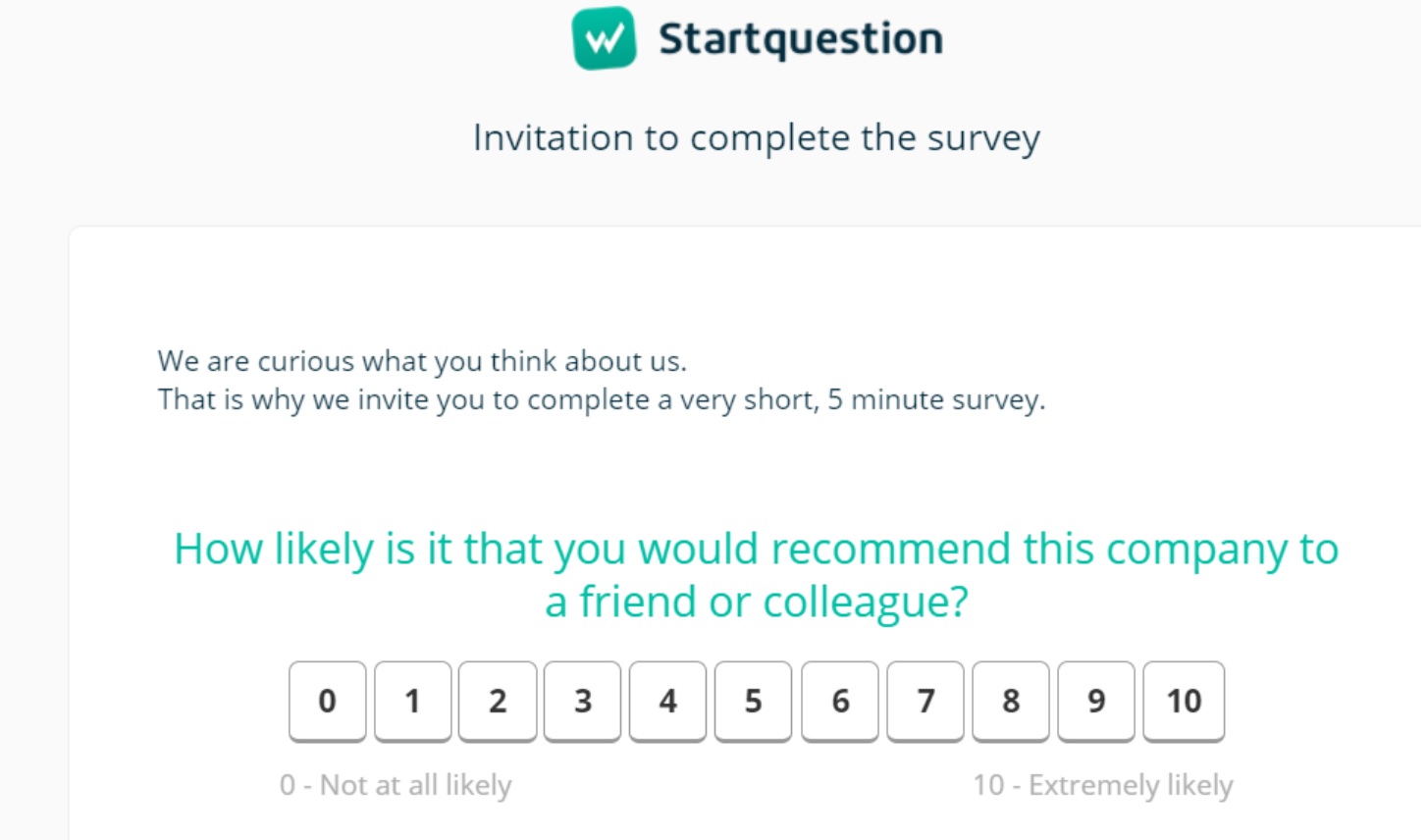 That's it. All the magic. Visit our help section to read more about HTML code tips (if you are preparing the invitation in that format).
Types of Questions You Can Embed in Email Surveys
A survey embedded in email should catch the respondent's attention and encourage them to answer. Here are some examples of survey questions that are effective in collecting feedback and affect high response rates.
Customer Satisfaction Score (CSAT)
The first embedded question we'd like to cover is CSAT.
Let's expand this acronym. CSAT stands for Customer Satisfaction Score. It's an easy tool to understand the customer's needs and problems better and make research conclusions to make sound business decisions.
The best part is that it looks pretty cool, which makes it a perfect example of an embedded survey. You can use thumbs, faces, and stars to attract your audience and thus enhance them to provide you with valuable feedback.
Take a look at what the CX survey may look like:
Net Promoter Score (NPS)
The following example of an embedded question is NPS. It suits email surveys well because it allows the respondent to express their opinion in a quick and accessible way.
Net Promoter Score is a tool to measure audience loyalty. One question gives you a glimpse into your customers' attitudes toward your brand, dividing them into detractors, passives, and promoters. The more significant the number of the latter, the better.
However, detractors will give you the most information necessary for improvement. That's why it's worth asking a follow-up question about the reasons for the low rating.
Customer Effort Score (CES)
Time for another popular survey question.
Did you know that nearly 80% of customers leaving for competitors admit they did it because of a bad experience with the Support Department?
If you want to check what clients think about your service, try Customer Effort Score. CES looks great in email surveys (it is a short question, easy to answer) and provides companies with insights helpful in introducing the highest Customer Service standards.
Post-purchase Survey for E-commerce
Email marketing loves embedded survey questions. They may be valuable tools not only to understand customers' points of view but also as an encouragement to revisit our shop.
Request a transaction review. Send a post-purchase survey to your buyers after shopping. After sending the customer to the survey page, you can ask additional in-depth questions, e.g., about the goods' price, assortment, sizes, or colors.
As a reward for filling out the form (or subscribing to the newsletter), you can grant a discount for subsequent purchases in your store.
Satisfaction Survey for Events
An email survey will also work well to evaluate various events. If you organize webinars, podcasts, or training, you probably want to know what their participants and listeners think about them.
Evaluation after the event, sent by email, will allow you to measure user satisfaction, identify weaknesses and prepare for unforgettable events in the future.
Email Survey Best Practices to Maximize Responses
Selecting the survey question is just the first step to success. Before respondents click it, they need to open your email. In this section, you will find some tips to maximize responses and interest in your message among the respondents.
Use Engaging Subject Lines
No matter your email tool, you probably receive too many notifications daily. Special offers, newsletters, social media stuff, requests to rate your latest purchase, etc. What makes you open an email if it's not the one you expect?
The answer is a catchy subject line. It should be simple and short. However, some proven rules increase open rates, such as:
Personalization (make your respondents feel unique)
Avoiding spam trigger words (Google hates it, we all hate it, right?)
Using symbols, punctuation, and emojis (they attract attention)
Asking questions (you want to know the answer, don't you?)
Making respondents feel valued & important
Offering benefits (like special discount for rating purchase)
Send It for a Specific Reason
You managed to get the attention of the recipient of the email. Do not screw it up.
Treat email body email as an opportunity to enhance your audience's participation in your survey. Nobody likes to waste time. Be precise and fair. Please explain why you invite them to complete the survey email and how you will use their feedback.
If it's an option, offer a discount or other benefit for their time.
Specify Time for Completion
Speaking of time, pay attention to including information about completion time.
Customer Effort Score, NPS, or Customer Satisfaction Score are all single-answer survey questions. Add one more follow-up question to each of them to get juicy feedback but still save plenty of time for your respondents.
Why it's so important? Because user experience is what matters the most in email surveys. It is one of the fundamental reasons for high response rates.
Optimize Your Email Surveys for Mobile
Make your embedded survey user-friendly on each device.
We use mobile devices more and more every year. Think about how many emails you receive on your phone. Quite a lot, right? Nothing is more frustrating than a message that doesn't fit your smartphone's format. If your email survey looks like a victim of a head-on collision with a truck, no one will complete it.
The solution is simple here. Optimize your email templates for mobile, preview, and A/B test email subject lines and content before sending them to your respondent's base.
Make It Easy to Complete
As you already know, user experience is key to a high response rate. Email surveys should be pleasant to complete. Here are some tips that will help you create a good one:
Compose a welcome text (survey invitation)
Choose one specific goal for your email survey
Select the appropriate group of respondents
Remember that a short survey is a good survey
Don't confuse your respondents
Limit the number of mandatory questions
Share survey results with respondents
Click here if you are looking for more insights on How to Do a Survey.
Benefits of Email Embedded Surveys
Opinion matters. Here are the values that conducting email surveys with embedded questions can bring to your organization.
Higher Response Rate
Respondent answers with little effort, which increases the response rate, affecting the entire study's success. Moreover, if we interest the recipient of the intro page, more people will complete the entire survey.
According to Pointerpro, the average email survey response rate is 30%. That's high, but… might be higher. Optimize your templates & efforts to get the bigger piece of the cake.
Easy Set Up & Sending
With the right tools (like Startquestion and your favorite email providers), you can easily prepare survey templates and automate sending them to a dedicated group of recipients.
Each time you can make the necessary changes, adjust the message and save time compared to sending each survey manually. What is more, as we've shown above, embedding questions in a survey doesn't require the help of IT specialists. You can do it by yourself.
Integration With Other Software
Combine survey tools with other software you use to make the most of your embedded surveys. You can also save plenty of time with marketing automation software. If you are a demanding user of integrations, you may be interested in our recent article about Startquestion and Zapier solutions.
Quick Feedback to Further Analyze
Survey software may give you additional analytical tools necessary for comprehensive yet intuitive analytics to take full advantage of the data collected in email surveys. Surveys embedded in emails may provide you with impactful feedback. Such insights, when correctly analyzed, are great fuel for every company's growth.
Ready to Send Professional Email Surveys?