Often when you are marketing online, you like to get into your audience's shoes. A great way to do so is by creating a targeted survey to find out what they think about a specific product, service, or issue. In a business setting, you need to fulfill your prospect needs, but if you are clueless about what those needs are then a targeted survey is a wonderful tool to do just that.
Whether you call them users, customers, or employees, those you serve have plenty of feedback about the experience. Online surveys offer an efficient and cost-effective way to learn from your target audience – not to mention the powerful data you can learn from online reporting! We know what we are talking about – you are currently on Startquestion's online survey tool blog, and this article is prepared by experts with years of experience in online research.
We are here to help you to create a perfect targeted survey, so what you should do is just simply starts with the right questions and build a structure that will support your understanding and growth.
Try one of the best survey tool for free!
Start trial period without any credit card or subscription and easily create targeted surveys and gather feedback via link, social media, email, and more.
No credit card required · Cancel any time · GDRP Compilant
Why is it Worth to Target Audience with Survey?
Why is it worth doing? Well, the benefits of reaching your target audience through means of surveys are many. While the general ones are:
Collect and analyze the results for you
Help you identify areas of interest of the target audience
Reveal possible overlooked problems
Offer Insight into what and how people think
Identify which issues you need to address first
When you are able to conduct a targeted survey online with an efficient tool like Startquestion you can reach a much wider audience where the results are collected automatically online and it gives you much greater flexibility to gauge and replicate your results.
Now before conducting a targeted survey there are some basics of question development that you need to address first.
Basics of Question Development
Questions should support your research Intent
The very first and foremost rule of thumb is that your survey questions should match and complement your research objective. For instance, if your research intent is to know about the tea-drinking habits of your target audience then you should not ask questions about their soda consumption and vice versa.
Understand your Target Audience
This is where you need a little bit of homework and need to identify your target market. Use a natural and familiar language to communicate, because it might be possible that the participants of your survey target come from different backgrounds. Therefore, you cannot use jargon or abbreviations that they have never used.
Developing your Targeted Survey content
While developing the content of the survey, keep it simple and concise. Draft the questions in a manner that is simple and to the point.
The most recommended survey question types, having a result-driven ability are:
Multiple-choice questions
Might be the most common questionnaire type in a targeted survey but it is also the most effective one. Limiting the response in quick 'Yes' or 'No' or 2- 3 choices will improve the responsiveness and user experience.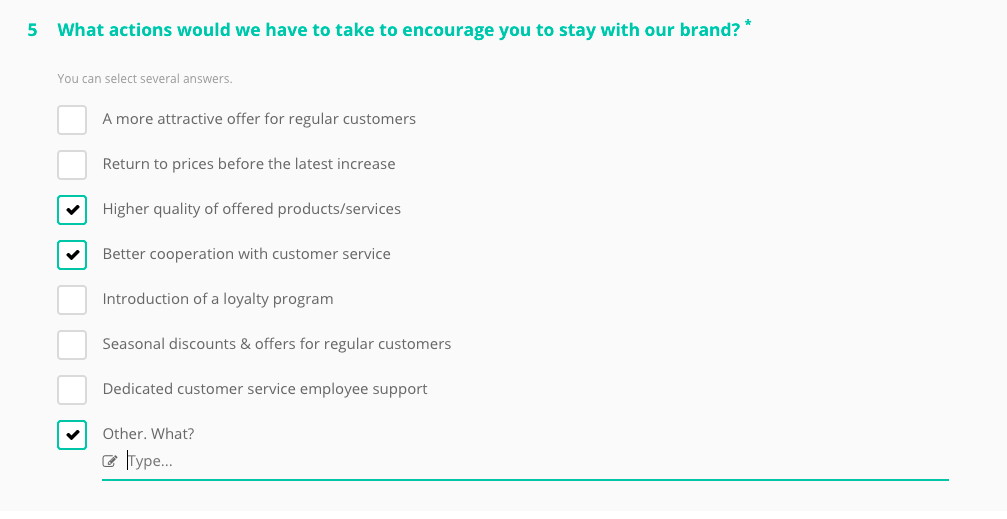 This is how multiple-choice question with deepening option could look like
Net promoter Score questions
NPS questions have a preset scale to gauge customer loyalty, the basis of which they can decide how willingly they would recommend the services in their circle. Net Promoter Score is one of the most popular customer survey question in the world.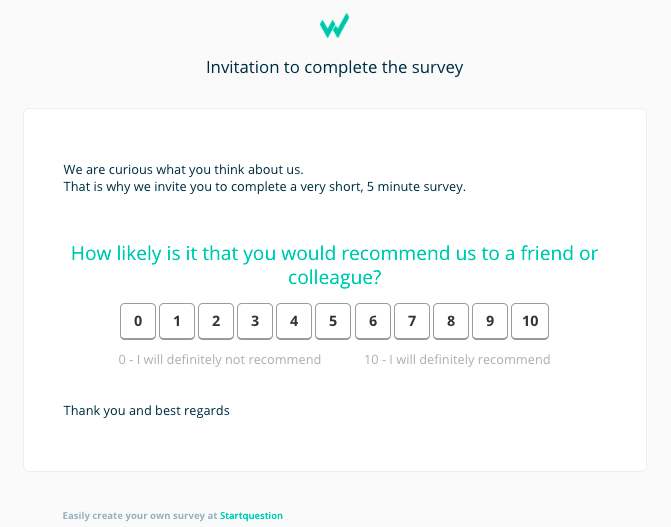 This is an example how invitation to the survey with NPS question could look like.
Text entry Open Question
Open question or deepening question are helpful when you want to get extra details about an issue, upgrade, or new features introduced in a product or service. These target feedback surveys are best for software feedback and customer care response.

This is easy to create open question example
Scale questions
Questions on the scale are the questions that give a user a scale to show their satisfaction or agreement towards a sentence or situation. "I would always recommend the restaurant for continental food".
Use ready-made survey templates for your research
How to identify your Target audience for Survey
Let's suppose, you are about to start an online subscription-based tutorial website, your possible questions would be;
Is there any need or demand for my courses?
Who would likely buy my courses?
How much will they be willing to pay?
First thing first, to get a general idea of your target audience for a survey, post an online Ad or circulate through emails or messages among a balanced sample of a population. Then construct your further questionnaire and marketing strategy based on target feedback survey results.
In any online survey tool, these demographics are must check:
Gender
Age range
Type of device used to take the survey
Census region of every survey participant
Feel free to ask any additional demographic or behavioral questions that best suit and support your niche of survey target. Like household income, any prior knowledge of the same course, reason to learn more, etc.
Once you get all of the results from the general survey, apply different filters to see which part of the population is best eligible as a survey target for your tutorial website. From here on, you will have a clear idea of the size of the target audience compared to the general population and how to cater to them to attract towards your latest business idea.
How many people to include in your Targeted survey
Now, you have identified your target audience for a survey. The next thing is to make a survey to present your product correctly and get results from the target feedback survey. Let's say, from the general survey you found out that the interested people for your offered courses are youngsters aged 16 – 25. You cannot include the whole targeted population in your survey due to time and budget limitations. Use a sample size calculator to find out what is the ideal number of samples you require.
As a professional, you will need to maintain a balance between theory and practice and the best practice approach is to survey around 150 people for business research you need to do.
How to choose the right people to take your survey
When conducting an online targeted survey through survey tools, there are two ways to reach out to the target audience.
Choose from pre-profiles of the Target audience
When you choose an online survey tool to target an audience to survey, they have pre-existing profiles of the prospect audience based on gender, age, product ownership, shopping habits, and some others. You can use these profiles for your survey target.
Through means of Custom screening option
If you are unable to find your target audience in already existing profiles then you can create your own by using a custom screening option where you put a question towards the population and you can qualify and disqualify participants based on their answers best matched with your survey criteria.
Try using different screening questions in a single target survey to get profiles of people qualifying on multiple criteria.
Estimate the Incidence Rate
The incidence rate is the percentage of participants that will qualify for your survey after giving answers to your screening questions. A good way to estimate your incidence rate is to run a small project as a dummy of your actual one.
To do so, you can send the same quick survey to the general population to gauge the incidence rate of your target market. Remember to omit any disqualifications or must to answer fields. Now send it to an average of 50 – 100 people. After getting the results to apply the filter of qualification on your survey target. Now divide the filtered responses from the whole population. The result will be the percentage of prospect incidence rate.
See how it works when you want to reach your target audience through the power of targeted surveys. The only thing you need to do is Start Questions, so don't hesitate and start to conduct online surveys for free, during our trial period.