Are you looking for the best-suited survey tool for you or your company? Probably, because otherwise, you won't start to read this article. Welcome to Startquestion – the survey software you are probably looking for. Why probably? Because we don't know you and we can't say for sure that features and possibilities will be tailored for your needs. We are doing our best to be the perfect survey tool, but we are also aware that we have strong competitors in this field. Furthermore – we are not afraid to compare our software with the best players in our field, to help you make smart decisions. Meet Startquestion – Typeform alternative.
That's why we prepared this article – it is simply a comparison between two survey software: popular Typeform and high-rated Typeform alternative – Startquestion. Thanks to both software, you can create forms and collect feedback from customers, listen to employees' voices or do advanced market and UX research. Which tool to choose? See our analysis and decide for yourself!
Features: functionalities your survey software have to have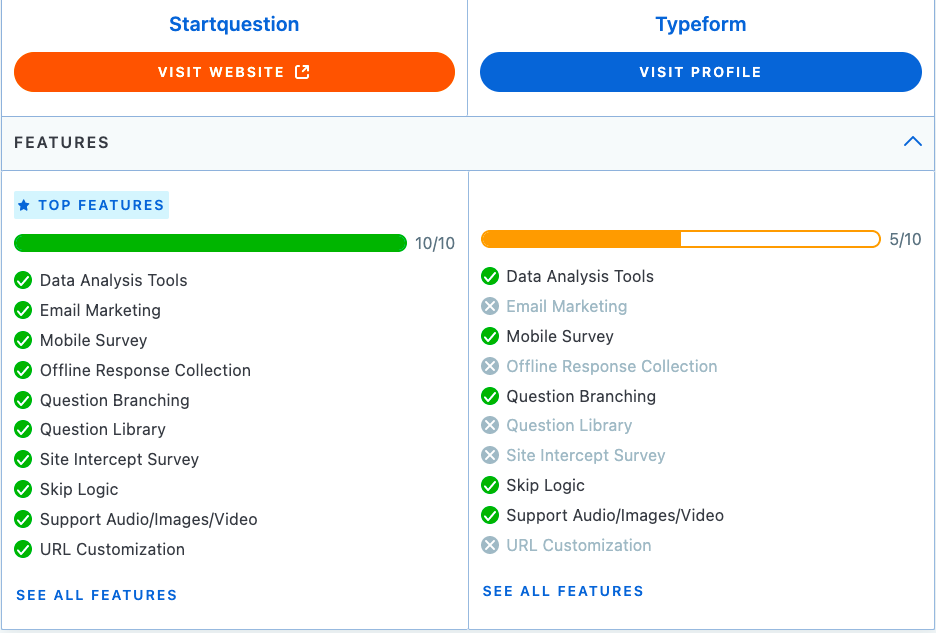 Image credit: Capterra
Typeform
Typeform comes with its own features. These features include:
create forms that can be customized to suit what you want. Depending on what you hope to achieve using the forms, you can customize them to suit your needs
easy form submissions
data analysis tools and data extraction tools – users can easily import and export data and can also archive and retain your data using this survey software
lots of question types, like drag and drop feature, thanks to which you can easily create forms without stress.
easy to navigate dashboard, even if you are a new user.
email distribution and email management – users are allowed to create surveys and design their own forms.
live results tracking
conditional logic
support of audios, images and videos
ready to use survey examples
third party integrations.
Typeform alternative – Startquestion
This survey software has unique survey features too that will make a user prefer it when it comes to gathering information. The Typeform alternative allows the user to gather anonymous feedback and has an advanced monitoring feature. One interesting thing about this form builder is that you can customize your forms. The dashboard allows for easy navigation and you can track engagements and manage your feedback with this survey software.
Among the other features of Startquestion, users can find:
advanced data analysis tools (filters, cross tables, rankings, trend line etc.),
18 types of questions (NPS surveys, drag and drop, matrix, open etc.)
mobile surveys,
ready to use survey templates (form templates), perfect to create advanced forms ((payment forms, contact forms, survey for customers, employee feedback etc.)
compatibility on mobile devices
easy form submissions
multi-language feature that allows the user to choose from an array of languages that best suits his or her purpose
negative feedback management and,
offline response collection.
progress tracking,
conditional logic
supports audio, images and videos.
URL customization.
As you can see both Typeform and Typeform alternative – Startquestion online form building tool have much more features ans possibilities than free survey tools like Google Forms.
Reviews – opinions about survey software, which help you make good decision
On the issue of review of these survey software, both Typeform and Startquestion online form builder, have gained good reviews from users. The reviews are both much higher than free form creator – Google Forms. Although Startquestion's and Typeform's ratings differ, they have been described to be easy to use and give a user the value for their money.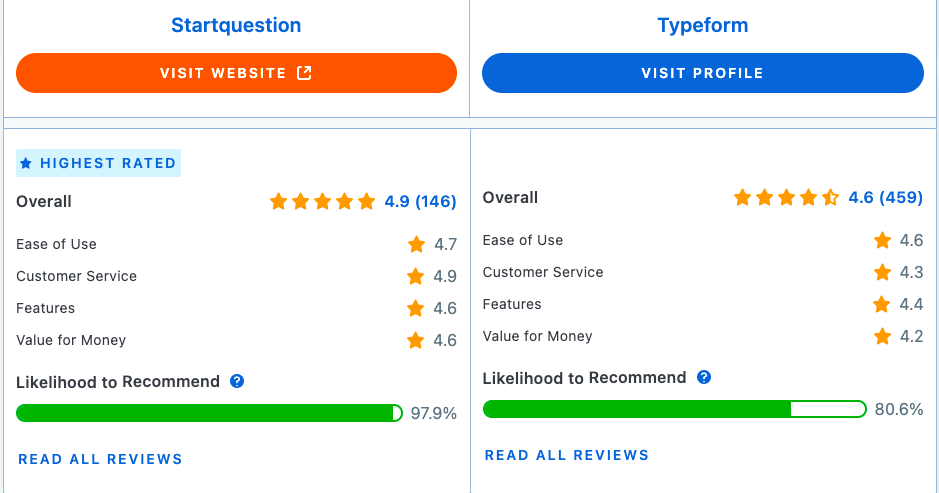 Typeform
With a total rating of 4.7 out of 5, Typeform has been described to be easy to use, and gives users the value for their money. In summary, the likelihood to recommend this online survey tool had a percentage of 80.5%
Startquestion
This Typeform alternative has gained a rating of 4.9 out of 5. It has been described to be easy to use and has good customer service. In summary, the likelihood to recommend this survey software has a percentage of 97.9%.
Best for: what can you do with the chosen survey tool?
Since these two survey software vary in their features, they have what they are best for. Typeform is best for 1 to 1000 users and can be used by small businesses, large enterprises, design enthusiasts, non-governmental organisations, market research companies and freelancers. The Typeform alternative – Startquestion is best for 1 to over 10,000 users. It is best for small business, mid size businesses, large enterprises, freelancers, public administrations, non profits, and schools.
Pricing – how much you have to pay for your survey tool
In opposition to free form builder Google Forms, both softwares are paid. Of course they both offer free trial period, but more about it below:
Startquestion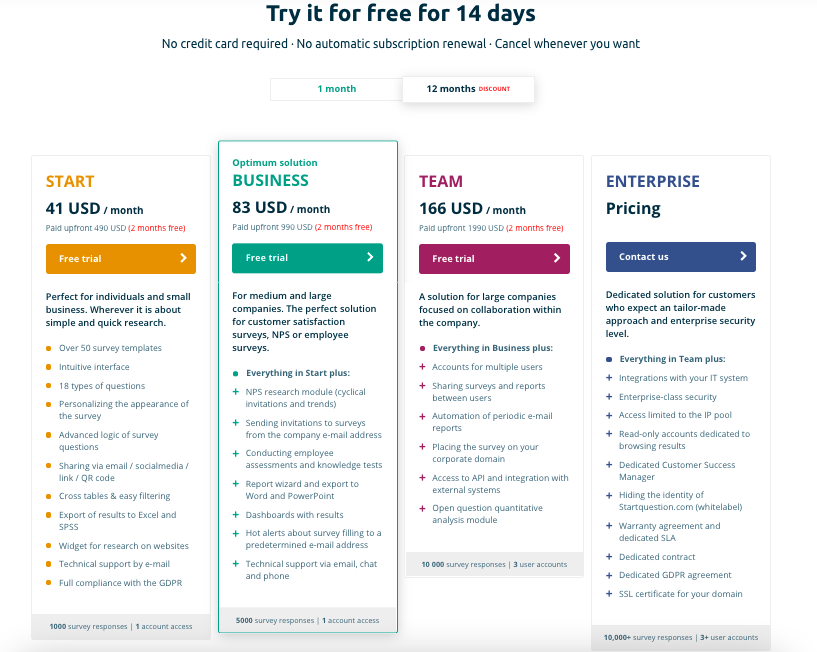 Startquestion form builder has free trial and four pricing plans. Plan which this Typeform alternative offers its users are made in a way that they will suit different types of customers. The pricing plans include:
Start: When you choose the start plan, you will be required to pay 49USD per month. The start plan has features that are perfect for individuals and small businesses. With the start plan, you get to enjoy an intuitive interface with 18 types of questions (open, multiple and single choice questions, drag and drop etc.). The start plan allows you to personalize the appearance of the survey and to add an advanced logic of survey questions. You can as well share through your email and social media platforms and the start plan allows you to export your results to Excel and SPSS which is useful to analyse them in tools like Google Analytics or Amplitude.
Business: The business plan for this Typeform alternative comes with a pricing plan of 99USD per month. This plan is suitable for medium and large companies who wants to create surveys and any kind of online forms. It gives you the perfect solution for customer satisfaction surveys. The business pricing plan is important because it can be used by these large companies to evaluate employees too.
Just like the start plan, the business plan also has its unique features. In addition to the features in the start plan, the business plan allows you to send invitations to surveys from the company's e-mail address and also to conduct employee assessments and knowledge tests. The business plan gives you access to 5000 survey responses and 1 account.
Team: This plan is suitable for large companies that are focused on collaboration within the company. It costs 199USD per month and has more features than the Business plan. With the team pricing plan, you will enjoy all the features of the form builder contained in the business plan plus other interesting features such as sharing surveys and reports between users. The team plan allows you to have multiple users and you can also automate the periodic e-mail reports. In addition to these benefits, you can place your survey on your corporate domain and you have access to API and integration of external systems. With this pricing plan, you get access to 10,000 survey responses and you can have up to 3 user accounts
Enterprise: This pricing plan offers a user more features than the team pricing plan. It has an optional pricing plan and contains everything in team plan plus integration with your IT system. With this plan, you can hide the identity of Startquestion and you have a warranty agreement and dedicated SLA. If you are looking for a plan that will give you an SSL certificate for your domain, then you should consider the enterprise plan. With this plan, you have access to over 10,000 survey responses and it can accommodate over 3 user accounts
One good thing about this survey software is that you have the liberty to test its basic functions just like you do with the free survey tools like Google Forms. This Typeform alternative offers 14-day trial period. With this you can get used to the form builder and get to know all its options, before you proceed to pay for your desired pricing plan.
Typeform
Just like the Typeform alternative – Startquestion, this form builder has its own pricing plans too. One major thing that separates Typeform from the Startquestion is that this tool gives you noy only free trial but also access to a free plan where you can get as much as 100 responses per month with advanced forms of up to 10 fields.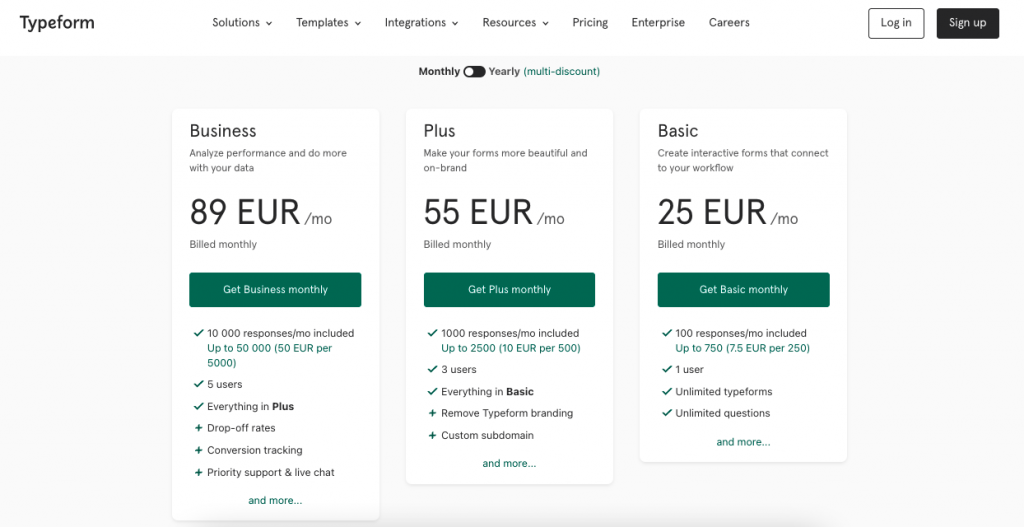 The paid pricing plans include:
Basic: The basic plan costs $29 per month. As in every Typeform alternative this amount can be reduced to $25 per month when you decide to be billed annually. With this pricing plan, you can collect up to 100 responses and you can get unlimited forms, unlike the free plan that gives you just 10 fields.
Plus: This plan costs $59 per month and can be discounted to $50 per month when you are billed annually. It is higher than the basic plan because you can collect up to 1,000 responses and you are at liberty to have unlimited online forms. With the plus plan, you can also remove the Typeform branding as well as have your custom domain.
Business: This plan is higher than the basic and plus plan. It starts at $99 per month and can be discounted to $83 per month when you are billed annually. With the business plan, you can collect up to 10,000 responses from unlimited surveys.
Support and customer care – can you get help with survey creation and results analysis?
Typeform
Deployment
Cloud, SaaS, Web-Based
Support
Startquestion has a good support system. Their support can be reached through Email and Help desk. There are also options for frequently asked questions in the user guide and you can as well choose to chat with the support. A lot of informations about how to make a survey and analyse results can be found also on Startquestion blog.
Training
In this Typeform alternative, if you desire training then you can get it live online.
Startquestion
Deployment
Cloud, SaaS, Web-Based
Support
The support for Startquestion can be reached through Email or help desk. A user can also reach the support through phone or can decide to chat with them.
Training
For startquestion, you can be trained in person as well as online or through webinars, documentation and videos.
Company details
Typeform
This survey software company was founded in 2012 and it is located in Spain.
Startquestion
This Typeform alternative was founded in 2006 and it is located in Poland.
To summarize – pros and cons of Typeform and Typeform alternative – Startquestion
Typeform
Pros
No matter how good survey software is, there are still pros and cons that are associated with it. Typeform has its pros that makes it a good survey software to use. In comparision to many Typeform alternatives t is elegant and it looks really esthetic. Because of its elegant appearance, it doesn't feel like a cheap or free way of getting feedback, therefore is often chosen by professionals..
This is an easy to use tool. This makes it advantageous especially to new users who want to use the platform. Reports and data on Typeform are easy to understand. It allows a user to create surveys and simple forms or questionnaires easily without much stress. Moreover, this survey software is beautiful and it can be customized. When surveys are created on Typeform, people are eager to complete it because the process of answering questions and surveys is engaging, fun and pleasant.
Cons
Despite the pros mentioned above, there are still some limitations accrued to Typeform. Typeform has too many features in it. Due to that, some people may want to use survey software that has fewer features in them. There have also been complaints about the interface lagging too much when complex and long online forms are being built.
Typeform is expensive and could be a bit harsh to use for some audiences. People with no budget should think about free survey software like Google Forms – it's the best way to conduct small surveys for own, personal needs.
Startquestion
Just like any other survey software, this Typeform alternative also has its pros and cons that are attached to its use.
Pros
Most people who have used this survey software were satisfied with it. There are lots of possibilities to prepare test questions and gather feedback easily from many different groups of people – customers, employees, users etc. The view of surveys can be personalized (there is more option in personalization than in other online form builder, like for example, Google Forms) and the reports are clear. Moreover, Startquestion support is very helpful.
In addition to these benefits, this Typeform alternative gives you good access to data and the results are automatically counted. It also has the ability to filter surveys and answers by each variable.
Cons
Startquestion has its limitations too. One major thing that can be considered a disadvantage is the price. Startquestion pricing plans, even if rationale for bigger companies, could be a bit expensive for individual users.
Another con in comparison to Typeform is the smaller number of ready to use survey templates.
In conclusion, there is no doubt that survey software is an important tool that is used by individuals and companies to design, send and analyze feedback online. It is one of the most useful and cheap methods of collecting and gathering information. Typeform, Typeform alternative described above – Startquestion or other survey tools like Google Forms all have their different features and pricing plans and as such, a user should be able to decide which best suits him/her, whether it is a simple questionnaire or a detailed study such as customer or employee feedback.