Everyday work of non-profit organizations is not easy. Providing support for those who need it demands great organization skills and time management. That's where we can help – as survey experts we are aware that online surveys are the perfect tool for organizing work and time, not only for companies that use them to get feedback from their customers and employees but also for non-profit organizations such as foundations, non-government institution or volunteers and donors groups.
Why should non-profits conduct surveys?
"The people who are crazy enough to think they can change the world are the ones who do." This quote from Rob Siltanen perfectly explains the effort and sacrifice needed to build a non-profits organization. Without any doubt, there is a lot of effort and determination needed for any Help Center or foundation to succeed.
The fact that an organization is working non-profit does not mean that it doesn't have to be skilled at managing huge sums. See the results of Finances Online research for yourself:
NANOE research showed that expenses for the largest nonprofits in the USA reached $79.7 billion only in 2019.
The average amount of online donations for all nonprofits who took part in Blackbaud research in 2020 was 177 dollars. The highest numbers appeared in the healthcare industry – 403 dollars, higher education (387 dollars), and public and social benefits (241 dollars).
As you can see, non-profit organizations must put a lot of emphasis on the good organization of the management of funds received from subsidies. Added to this is the time management of volunteers and employees.
How the leaders and owners can be sure that they are going in the right direction? Well, they should ask themselves some important questions, and the best way to do it it's by conducting online surveys.
No matter if it's a big or small non-profit organization or if they are helping locally or globally – all of those need data to plan their everyday work and achieve aims to help other people. The easiest way to collect this data it's conducting online research such as:
donor surveys,
volunteers surveys,
nonprofit client satisfaction surveys,
charity surveys,
surveys among stakeholders,
internal communication surveys for staff,
even-planning forms,
post-event survey.
Thanks to those and similar non-profit surveys the organization can capture opinions, thoughts, and feedback to make accurate and timely decisions in all areas of work.
Try one of the best non-profit survey tools for free!
Start trial period without any credit card or subscription and easily gather feedback from donors, clients and volunteers via link, social media, email, and more.
No credit card required · Cancel any time · GDRP Compilant
The best nonprofit survey practices
Not every survey is a guarantee of success. What do we mean by success? Well, most of all high response rate and providing valuable data for people or institutions who are conducting them. As experienced survey experts, we know exactly what are the best practices for a survey to succeed and which mistakes to avoid during research, and we will share them with you below.
Limit your questions number
A good survey should be as short as possible. And non-profit surveys are no exception. Why keeping control over the length of the questionnaire it is so important? Imagine you agree to complete the survey but instead of a few short questions you get dozens or hundreds of them, It's easy to imagine how irritating it could be. You have to respect the time your respondents have to sacrifice to participate in your research and only collect data that is really necessary.
Use multiple-choice questions
In multiple-choice questions, you are giving the respondent the possibility to select one or more answers. Thanks to these volunteers, donors or people in your organization can share with you more detailed feedback and are not limited only to one option. Multiple-choice questions can be useful in nonprofit surveys mostly for:
fundraising organization,
online voting among stakeholders or volunteers,
gathering information about the special needs of people who your foundation is currently helping.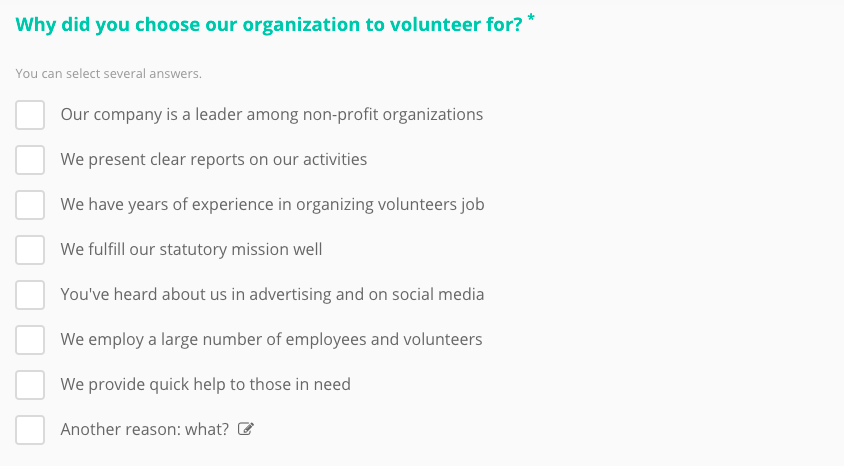 Include open questions
Even though they are more time-consuming while complete the survey, open questions should always be a part of non-profit surveys. They are the easiest way to get detailed feedback and they are not limiting respondents' choices to simple few options.
In the answers obtained by open questions, respondents can share their thoughts and be more honest and direct than in any other type of question. The example of open questions which can be used in donor surveys or volunteer surveys are:
Do you think our foundation can do something in a different way? if yes, what?
Can you explain why you rated our work as good/bad?
Do you have any ideas for future volunteer meetings?
What topics you would like to discuss at the next donor meeting?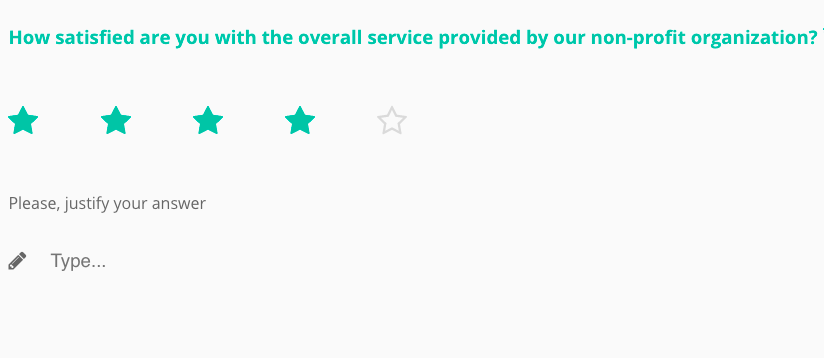 Apply matrix table questions
Matrix questions are a great tool to make surveys shorten and easier to complete. It helps also with efficient survey data analysis. So instead of a few single or multiple-choice questions, you can ask one matrix table question and save your respondents time. However, remember that all the questions asked in one matrix should be somehow connected – have the same topic or at least allow to give the answer on the same scale.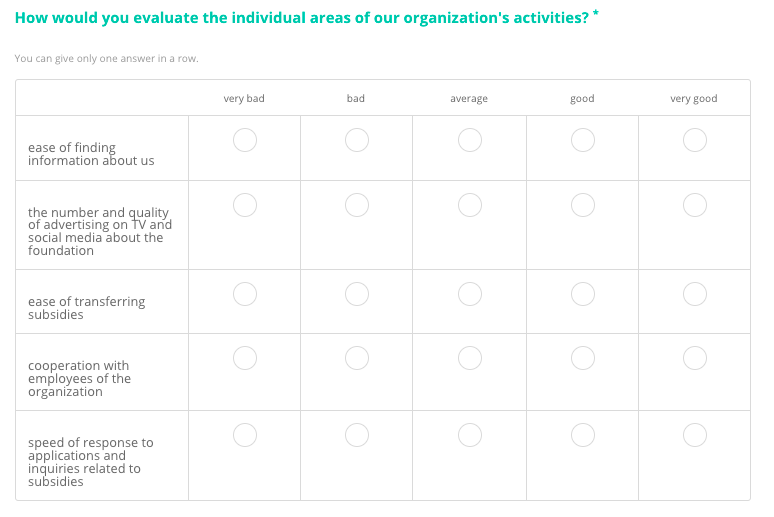 Nonprofit survey templates
So there is no doubt about the fact that for non-profit organizations online surveys could be a huge help. But which non-profit surveys exactly? Are there some survey examples that foundations and non-government organizations can use?
The answer is yes and below we would like to present a few ready to use examples of non-profit surveys thanks to which you can start collecting feedback from donors, volunteers, or organization members right now:
Donor survey samples
Why should your organization conduct donor surveys? To explain it let's dig into something we – researchers – love the most. Statistics:
According to Freewill, every 3rd donor (exactly 27%) is more likely to give non-cash donations than send money.
Online donations increased by 21% in 2020, compared to 2019. (Blackbaud research)
According to Fidelity Charitable, more than 40% of donors claimed that they will continue to give to the charities they support during and after the pandemic.
English government published a report where we can read that 85% of people aged 75 and over donated to charity in England in 2020. In contrast, only 55% of people aged 16 to 24 did the same.
As we can see, the more you know about your donors, the best decisions you are able to make. A good donor survey can help you with:
finding the best way to contact more people who can become your regulars donors,
obtaining high donation rate,
fining the way to get even more donations from existing donors,
assessing fundraising costs,
based on regular donor feedback, predict the trends and adjust organizations to changeable donors' behavior.
Typical donor survey questions
We know why to conduct donor survey. But what exactly why should ask the donors? There are a few examples of typical donor survey questions:
Why did you choose our organization to donate to?
How would you evaluate the individual areas of our organization's activities?
How much impact do you think your donations have on actually helping those in need?
Do you think our non-profit organization is clear enough about where the donations will be allocated?
Remember that like every other survey, the donor form should be short and easy to complete. To make your job easier we prepare a ready-made template for donor survey, which you can adjust to your needs.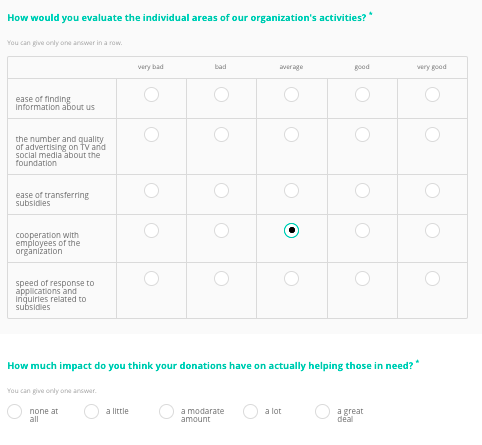 Volunteer survey samples
Volunteers are the heart of every nonprofit organization. Without them, most of these kid of businesses will simply don't work, because almost no non-profit organization can afford to hire large numbers of own employees. Did you know, that:
According to Freewill research from 2020, people under 55 are more likely to volunteer than their older friends.
The same study showed that 70% of volunteers prefer communication with the organization by email, only 7% prefer traditional mail and 6% would like to keep in touch by social media.
How often do people volunteer? English government shared the reports which said that 64% of volunteers in England are helping at least once a year. The even better news is that 39% of them said they volunteered at least once a month.
Who is helping more often – woman or man? According to the UK government, 66% of volunteers in 2020 were female.
Interesting, right? That's why it's so important to get in touch with volunteers and take a closer look at this group. And one of the simplest ways to do that is by conducting a volunteer survey.
Who can benefit from conducting a volunteer survey?
A volunteer survey is a great way to get feedback from people who are helping your organization, no matter the area or branch you are working in. We recommend conducting volunteer surveys, especially for big organizations that have to organize the everyday work of hundreds of thousands of people. For them volunteers survey will be very helpful with:
volunteer management – creating the volunteer's schedule and getting information about their accessibility,
organizing meetings and gatherings of volunteers,
distributing the work of volunteers depending on the preferences and needs of the organization.
Typical volunteer survey questions
Before asking the questions in a volunteer survey think about what you really want to know about this group of people. Most likely you've already had a lot of information about your volunteers so don't make mistake by asking unnecessary questions and making the survey too long. There are a few examples of typical volunteer survey questions:
Why did you choose our organization to volunteer for?
How often would you like to volunteer?
On which days of the week are you available as a volunteer?
In what areas would you like to volunteer?
Please give us your contact information so we can reach you to organize your work.
Those and more questions for volunteers you can find in our ready volunteer survey sample. Thanks to this template you can start to collect feedback from volunteers even in a few minutes.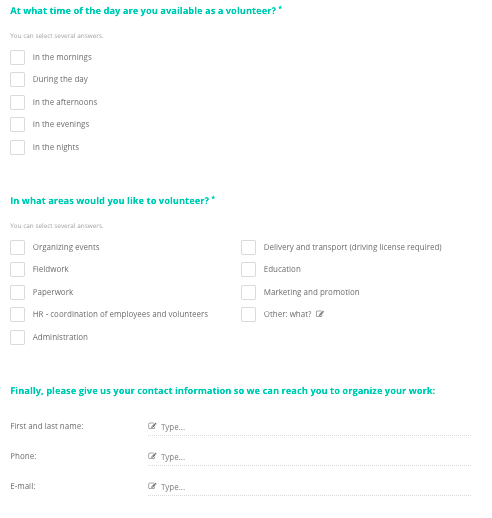 Nonprofit client satisfaction survey samples
Expect of donors and volunteers there is another group of people who are extremely important for non-profit organizations: clients. Clients or customers are simply all those people who are recipients of nonprofit organizations' services. An example of clients could be refugees who are seeking help in an organization whose mission is to provide them help and welcome them to the new country.
Why is it important to get feedback from clients? Because thanks to this non-profits can organize their work better and know exactly:
what kind of help the clients expect to get,
which way to provide help is the most effective,
if money or another kind of help is for sure delivered to the right people in the right time.
Typical non-profit client satisfaction survey questions
Before you will start to collect feedback from non-profit clients you should think carefully about what information do you really need. It is important to cover all the topics connected to the client's satisfaction such as communication with the organization, volunteers' attitude, the quality of services provided by non-profits, etc. There are a few examples of typical non-profit client satisfaction survey questions:
How satisfied are you with the overall service provided by our non-profit organization?
In your opinion, how easy is it to access the services provided by our organization?
How would you evaluate the individual areas of our cooperation?
Those and more questions are perfect to measure clients' satisfaction you can find in our non-profit client satisfaction survey sample. Using this template you can start to collect feedback from your customers right now or you can quickly adjust the template to your needs by adding or erasing questions, changing the look, adding a logo, etc.
Surveys for foundations and organizations which help Ukraine
As you can see all those three examples are specified to help with organizing help for Ukrainian people who currently are in huge need because of a Russian invasion. You can use those non-profit survey examples directly or modify them to your needs.
Distributing Your Survey
Do you already have a ready questionnaire for volunteers, donors, or clients? Awesome, good job. But now you need to focus on one more thing – how to reach your respondents so the maximum number of people can complete your survey in the most comfortable, fast, and easy way.
Here we can help you again. Starquestion is a tool where you can to only prepare a free non-profit survey, but also distribute it in a few effective ways. When it comes to nonprofit surveys we recommend 3 forms of distribution:
A non-profit survey sent via e-mail
Do you have your own database of respondents? If yes, the e-mail invitation to complete the survey will be the best option for you. Startquestion allows you to send an invitation to participate in the non-profit survey to your own database (for example, the donors, volunteers, or clients). This way of distribution allows you to monitor whether individual respondents open the message, clicked the survey link, or even completed the non-profit survey.
We prepared an article where you can read more about how to send a survey via e-mail, prepare invitations to the survey and send reminders about completing it.
Link to the survey on social media
You don't have volunteers' or donors' database yet? No worries – there is another effective way to distribute the nonprofit surveys, which is using the power of social media. You can simply create a link to your questionnaire and share it wherever you want. What's important, you can decide how your link should look like by:
creating a simple link in our domain, for example: https://www.startquestion.com/survey/139804/nonprofit-survey.html,
creating a link in your own subdomain, e.g. https://donor-survey.nonprofit.com.
In a separate article, you can learn how to achieve a high response rate in the surveys distributed by link.
Nonprofit survey directly on the website
Website surveys are easy to use, professional tools perfect for collecting feedback directly from the websites. You can know them also as pop-ups or widgets. A non-profit website survey will let you get feedback on exactly when volunteers, donors, or clients are interacting with your website. It's a perfect form of distributing non-profit surveys especially when:
you don't have the e-mail addresses of your donors or volunteers,
you don't have social media profiles or they are not popular,
you want to get specific feedback about the process the respondents are currently in (payment system, website usability, ease to find information on websites, etc.)
In our user guide, you can find detailed instructions on how to implement an online survey on your website.
Use non-profit survey samples to help even better
As you can see online surveys for volunteers, donors and foundations can really help with organizing their work by collecting valuable feedback and data. Remember that you can easily customize our ready-made non-profit survey templates by:
creating additional questions,
changing question types,
changing the colors,
adding logo… and much more.
Try Startquestion for free and collect valuable data for your nonprofit organization right away!
Remember, next to using our survey samples you can also create your perfect nonprofit survey from scratch just as easily. We wish you a fruitful collection of feedback!