Collecting feedback should be quick, intuitive and convenient for the respondent. It also requires appropriate timing. All these conditions are met by online surveys available with a few clicks on your mobile device, thanks to QR codes. In this article, I will show you how to make a QR code from a link and use our ready-made survey templates to collect customer, patient or user feedback effectively.
What Is Qr Code?
Let's start with a brief explanation of what a QR code is.
From a technical point of view, it is a bar code-like mechanism we all know from everyday shopping & product packaging. A QR code (quick response code) allows you to save various data types in a graphical form.
We see them more and more often. With QR codes, we may quickly display websites (e.g. menu in a restaurant), view tips helpful in reaching a hotel in a foreign city, a photo gallery, or a comprehensive study of a painting that caught our attention in an art museum. They may also help us to authenticate our identity online, with online payments, or as a ticket to the theatre or plane. The latest is my favourite QR code example.
These are just some of the popular uses of QR codes. You undoubtedly know many more. We use QR codes to make our lives easier and save time. The same is accurate with perfect online surveys.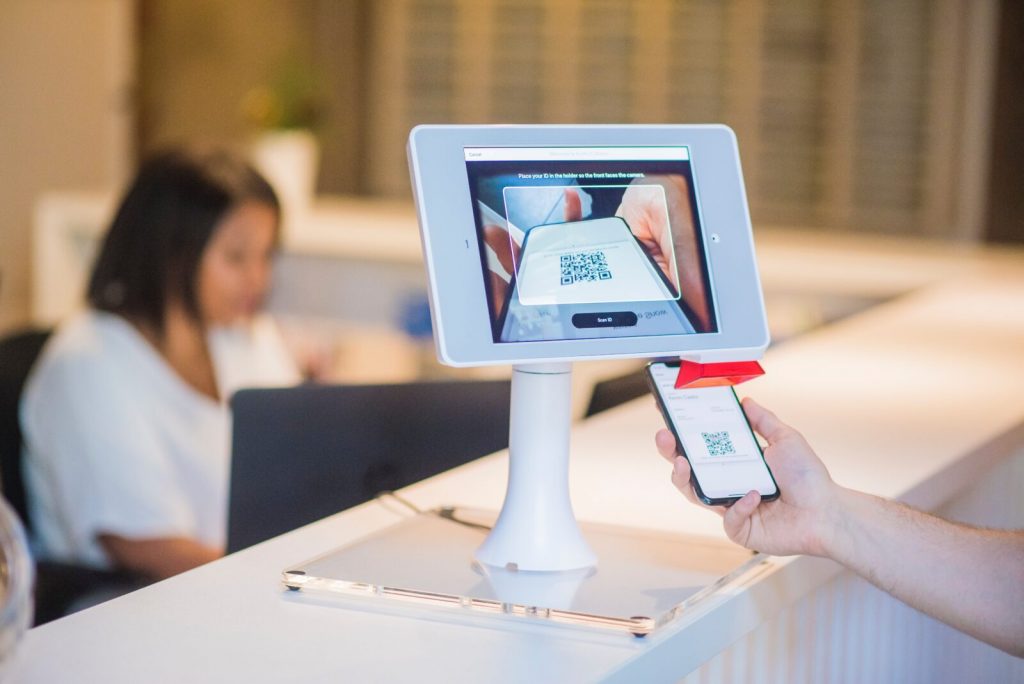 An example of QR code: check-in procedure at the hotel.
How to Create QR Code Survey (QR Survey)
To prepare and use QR codes you need two tools:
QR code survey generator to save data in the form of a well-known black and white square (characteristic QR code image)
QR code reader to redirect the user to the right place on the Internet
You can find both tools on the Internet for free or you can use more professional alternative such as Beaconstac's Dynamic QR Code Generator Type "online QR code" in the search engine, and you will see how wide the choice of appropriate software is.
You can also find applications for reading QR codes on Google Play. Please check beforehand that your camera (smartphone) does not have this feature already installed.
We must pick a generator to create a QR code for the survey.
For this shortened tutorial, I chose the free QR Code Generator. You can do the same. Here's what I had to do to turn the link to the patient's medical satisfaction survey from the Startquestion templates into a QR code.
How to Create a QR Code from a Link – Step by Step Instruction:
Prepare an online survey form. Copy the link
Create the survey you need. You can use a wide range of ready-made questionnaires available on our website. You will find questionnaire examples of employee, market, customer and user research among the survey templates.
As I mentioned, I chose the patient's medical satisfaction survey.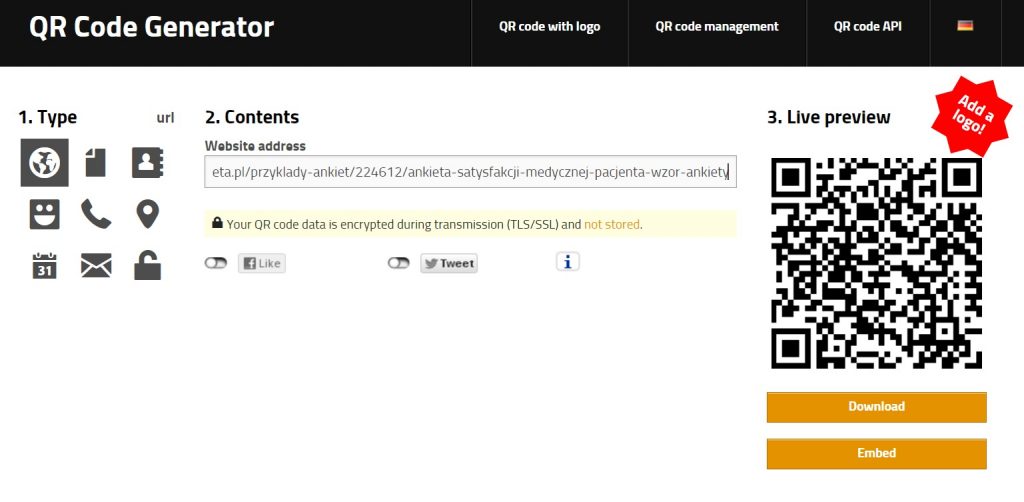 Choose what data you want to add to your QR code.
Select the format of the selected data in the generator
The tool I have chosen offers nine options: URL, text, v-card, SMS, call, geolocation, event, email, and Wi-Fi access.
We are interested in the QR code from the link, so I chose the first option.
Paste the survey link and select download or embed
After selecting the data format type, a window will appear in which you should paste the link to the online survey. Then, on the right side of the screen, we have to choose whether we want to download the QR code or generate a link to embed.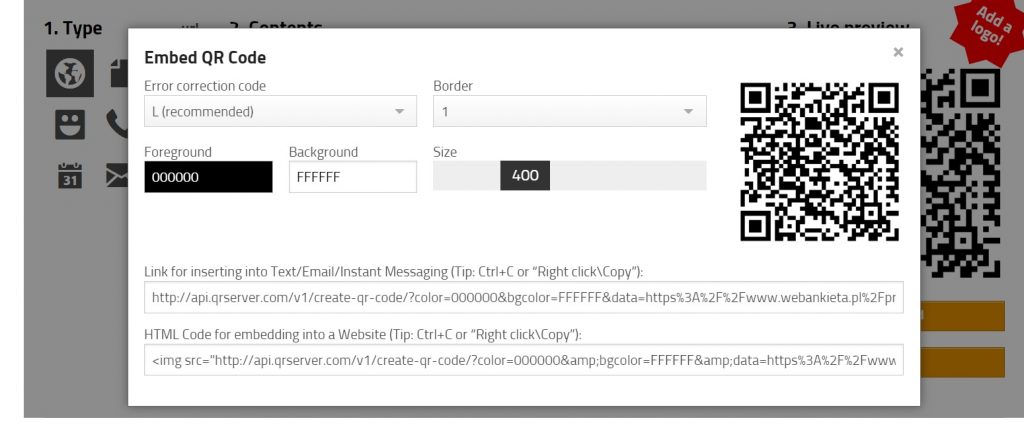 Decide if you want to download or embed your QR code.
At this stage, the decision on the next steps depends on where we intend to place our QR code and how we want to collect feedback from respondents.
By choosing embed, we will receive links to embed a QR code leading to the survey in an email, text message, or website. Downloading the QR code allows us to use it in all kind of printed materials (from stickers to leaflets and print media).
If you think the URL to your online survey may change, select the dynamic QR code. They differ from the static ones in that the content of the encoded data is editable.
When to Use QR Code in Survey?
Let me start with a short story about my medical adventures.
I am unlucky with the little stinging creatures. Not only do I attract them, but I also react to our fleeting acquaintances with excessive swelling. Troublesome inflammation lasts for 5-7 days, the area around the sting swells, and I don't feel well without prescripted medications.
I was recently stung by a wasp. I secretly hoped it would be different this time, but I quickly gave up hope and booked a visit with an internist. Nice conversation. Accurate diagnosis. Quick prescription. A few pills later, the swelling began to subside. Satisfied, I wanted to give the doctor and the facility (for fast registration) the highest possible opinion.
And I did it online, logging into the patient panel a while later to register for another appointment (yes, I turned into a little hypochondriac this summer). However, I could have done it much earlier.
Check How to Measure Customer Satisfaction
Good customer service is extremely important. In order to maintain it, it's necessary to constantly measure the level of satisfaction.
Use this template
All templates
Medical satisfaction survey
Patient satisfaction surveys are gaining popularity thanks to the development of private medical facilities.
The assessment of the quality of the service, the ease of booking an appointment, the physician's competence and empathy, and the accuracy of the prescribed treatment determine the patient's satisfaction. Whether they decide to recommend a facility and whisper a good word about it to family, friends, and colleagues is an essential factor in business development.
Clinics and hospitals can ask for feedback traditionally – e.g. by handing out paper questionnaires at the reception desk; they can also send questionnaires by e-mail (or SMS) to the contact data provided by the patient during registration or – as in my case – in the panel where I handle the majority of formalities.
QR Code Sticker to Rate in Google
An even faster solution is a QR code that directs you to the survey. Place it at the entrance to the doctor's office or the reception desk. The patient will be able to provide hot feedback on the visit booking and the specialist's approach.
More and more service premises, shops, restaurants, and catering outlets have decided on such a fix. A sticker with a QR code on the door can quickly and effortlessly transfer the customer to the Google website to rate the purchase or taste of the dishes.
Collecting restaurant guests' opinions
Asking patients for feedback is just one of the possibilities of using QR codes in online surveys. They will be perfect wherever time is the decisive factor for the quality of feedback.
Imagine you are going on a date Friday night. When booking a table, you provide your email address. On Monday morning, you read a message from the restaurant asking you to evaluate the quality of individual dishes and service behaviour. Do you still remember what delighted you about dessert? Was the meat fried to the point and the pasta al dente?
Probably not, unless the date turned out to be a total culinary drama.
Instead of sending emails or text messages, restaurant owners may ask their guests to scan the QR code and provide feedback while waiting for espresso to crown a lovely evening.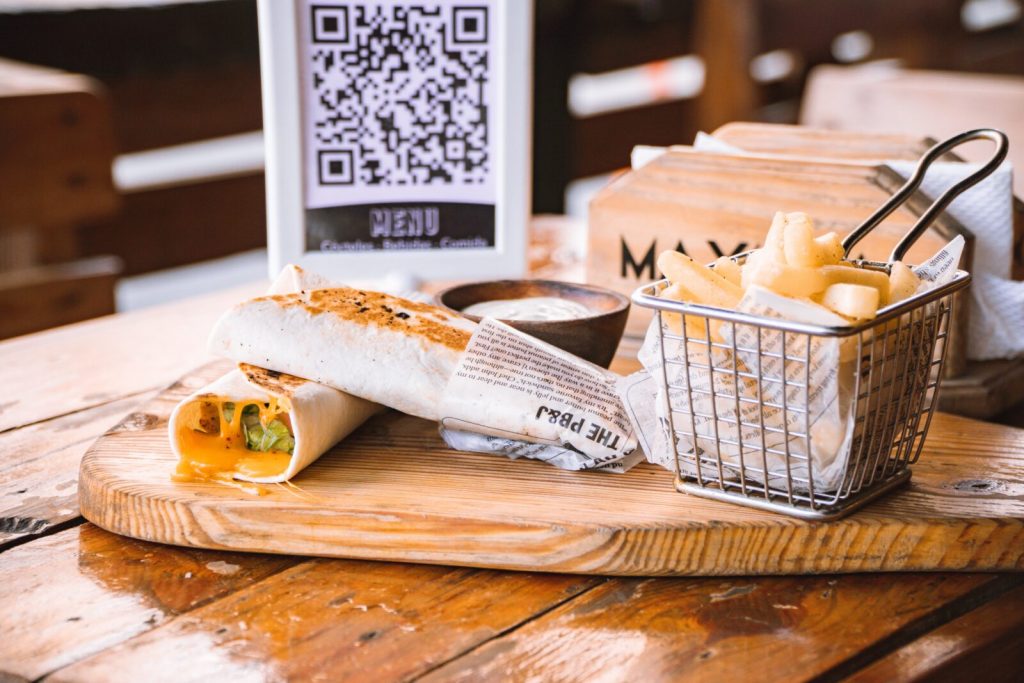 QR codes are very popular in gastronomy.
Feedback after training
We dreamed up a little. It's time to come back to reality.
How do we know that the training in the company is good? It's best to ask the participants about it. Nobody likes to waste their time. It only frustrates the employees because they have their duties to perform, and the employer loses funds for training budgets.
Post-training surveys provide the feedback necessary to determine which courses are best for employees, how the instructors perform, and what, in the participants' opinion, can be improved so that the training brings them even more benefits.
In the past, we collected feedback by handing out paper questionnaires after meetings, but not every respondent felt comfortable with them.
If the trainer later collected the questionnaires, there was no anonymity. Therefore, the questionnaires are often sent by e-mail now, but not always the participants complete them right after the training when they can share the most valuable information.
QR codes will solve the problem of timing. A quick scan and the respondent will receive a short survey about training. Here you can find a ready-to-use training evaluation survey template.
Customer feedback on the product
QR codes pointing to online surveys have numerous applications in customer satisfaction research. An attractive solution is printing them on labels so the customer can provide real-time feedback.
Imagine your customer has a laptop under warranty. Instead of looking for an email or phone number to the manufacturer's representative, they fill in a questionnaire. It quickly goes to the specialist's inbox, who will contact the unfortunate computer owner and discuss further steps in the service or replacement of equipment. Such action, in the case of critical voices, may improve the work of the customer care and complaint handling department.
Why is it so important? According to the Forrester US 2022 Customer Experience Index report, as many as 19% of companies recorded a decline in the quality of customer experience last year.
Brands have recently focused so much on surviving the pandemic that they have lost their focus on the satisfaction of buyers of their products or services. Any actions that improve CX are suitable for your clients and, thus, for your business.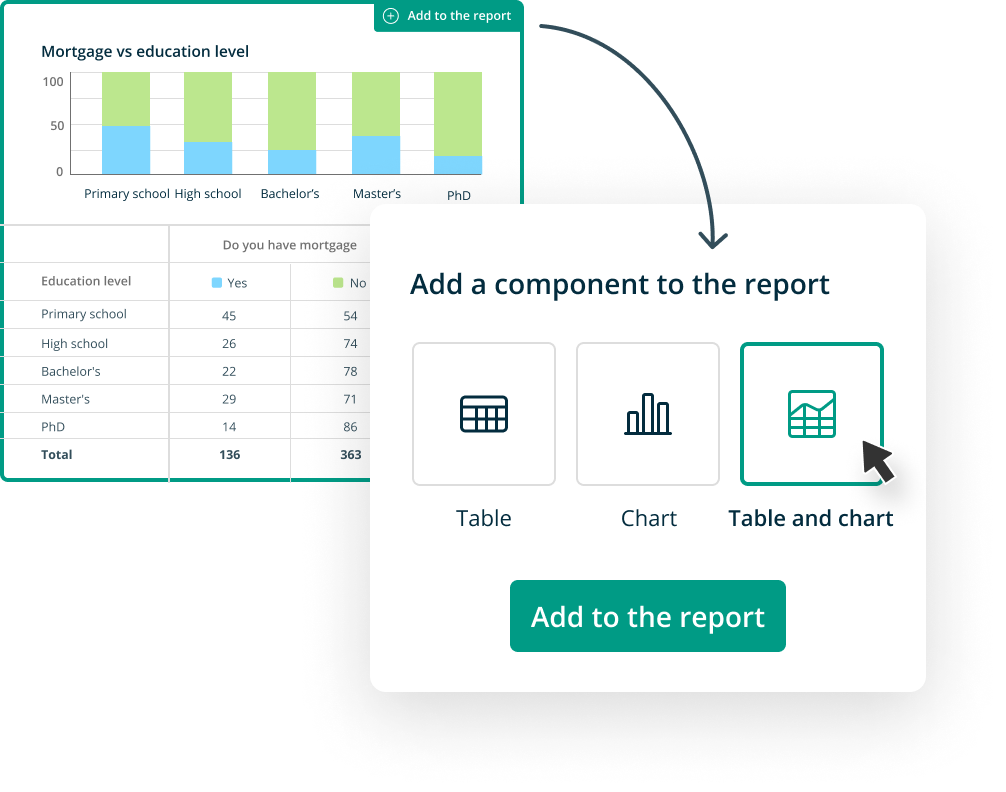 Analyze QR code surveys results with professional tools.
Collecting and Analyzing the Survey Results
The first stage of the respondent survey is the preparation and quick distribution of questionnaires via QR codes. The next one is to analyze the obtained results.
By using comprehensive online survey tools, we can collect the obtained feedback in one place, proceed to its analysis, and draw conclusions. In Startquestion, completed questionnaires go immediately to the user's account. We can export raw data (pooled results) or prepare a report (one-time or cyclical).
Notifications about negative opinions are also an exciting option. From the technical side, this requires setting an alert in the system and sending a notification to appropriate people in a specific case (e.g. rating <5 in the NPS question when measuring brand loyalty).
The advantage of this type of tool is the possibility of an elegant graphical and numerical presentation of data, any filtering and segregation of results, automation (sending surveys or sharing reports/feedback in the company) and convenience because we have everything in one place.
Try one of the best online QR survey tools for free!
Start trial period without any credit card or subscription and easily gather impactful feedback via link, social media, email, and more.
No credit card required · Cancel any time · GDRP Compilant
How to Do QR Code Surveys – sum up
We come across QR codes more and more. They are fast, intuitive and save time. It is worth testing them (combining easily pro survey tool and QR code generator into a "QR code survey generator") and implementing them in your organization if you want to efficiently ask customers, employees or users for feedback.
QR survey step by step:
Prepare of a professional questionnaire (copy survey link)
Explain in the survey invitation what it concerns and why you want to collect responses
Test and select an optimal QR code generator for your needs (paste survey link)
Create a QR code. Download or embed it
Place it where it can be easily scanned
Gather feedback, analyze data & draw conclusions
Good luck with your first QR code questionnaire!