Running training programs is a win-win situation for the employee and the employer. The organization gains an increasingly better specialist, the other side's motivation to work, and the conviction that the company cares about them. However, each training session costs time & money. How to find out if it meets expectations? In this article, I will show you how to measure training effectiveness and how to prepare a post-training evaluation survey.
Benefits of Training Evaluation Surveys
"If I can't picture it, I can't understand it." I like that quote by Albert Einstein. Therefore, I will gladly use his advice, giving voice to the numbers that work on the imagination.
Why Does a Training Program's Effectiveness Matters?
The answer is money, retention, and employee engagement.
Companies offering training programs to their employees have 24% higher profits than competitors that do not invest in staff development (SHIFT eLearning).
Every HR specialist knows how much hiring and training a new employee costs. The number goes up significantly if they leave after a few months, and we have to start the process from scratch, like Bill Murray in the classic comedy "Groundhog Day." According to Lorman, 86% of millennials will stay with their employer longer if they provide them with training and development opportunities. On that note, many leading employers choose to continuously invest in their employees' development through initiatives such as offering education stipends.
Meeting training expectations is the key to success. 92% of Axonify survey participants said that well-planned courses positively impacted their level of engagement at work.
Before we move on to sample training survey questions, let's look at the other benefits for the company that research on the overall course delivery can bring.
Assessment of Training Courses and Trainer
Regardless of the form of classes (online training, stationary course, etc.), you need to know whether the knowledge transferred is helpful at work and develops your employees. When you hire an external consulting company that highly values its services, it is essential to determine if you spend your money wisely.
Evaluation of Training Sessions in Real Time
With good training effectiveness survey questions, you can monitor employee satisfaction and training experience on an ongoing basis. If you work in a large company with an extensive training program, collect feedback and react quickly (e.g., by changing the trainer or the curriculum) if the course material fails to meet expectations or the instructor cannot establish good relations with the group.
Valuable Insights about Current & Future Training Sessions
Ask your employees what kind of training material they find interesting. It is a good idea to prepare pre-training survey questions in advance to get to know the expectations of the staff, but you can always supplement this knowledge and ask for feedback during the course. Ultimately, the most important thing is the benefit that training will bring to your employees and, as a result, your organization as well.
Tips regarding Wich Training Programs You Should Invest
With a good survey, we ask for more than just a specific training course evaluation. We gather feedback to learn about the respondents' suggestions on the proposals and changes in the training program. Instead of imposing an offer on employees (training group), it is worth finding with them and managers what will bring them the most knowledge and satisfaction.
Click on the picture to display HR survey template example:
Seven Examples of Training Effectiveness Questions
It's high time to prepare a training evaluation survey template. We already know why it is worth measuring overall training effectiveness and what are the benefits of monitoring employee satisfaction with training. Here are our recommended survey questions to ask:
Are You Satisfied with the Training Content?
Is your piece of training relevant? It is the fundamental question. If the course meets the participants' expectations and provides the knowledge they need, it is a sign that the offer is reasonable. Our tip: If the respondent answers no, ask a follow-up question to determine the reasons for the low rating.
How Would You Rate Training Process Organization?
Equally crucial as completing the knowledge gaps is professional preparation for classes. Is the training platform working flawlessly? Are there no technical issues? Are classes held on time? Does the trainer cancel training at the last minute? Such sample survey questions allow you to gain valuable feedback on the training organization.
Poor training is a financial expense (training company, trainer, or external expert), but also the allocation of valuable hours of your specialists to classes that not only do not develop them but also demotivate them.
Was There More Focus on Theory or Practice?
Another critical group of post-training evaluation questions is those about the course content. Is there a greater focus on theory than practice? Or did the instructor evenly distribute the material? It is important to compare such training objectives with the expectations of employees reported before classes start.
How Engaging the Overall Training Content Was?
Training effectiveness survey questions measure the level of knowledge provided and training methods. Most of us best remember from school years extraordinary teachers who could infect passion for the subject they taught. The same is valid for adult training. The better the content and the more engaging way of transferring knowledge, the better the course outcome.
How Would You Rate Your Trainer's Expertise?
Important training feedback concerns the trainers. Do they have enough knowledge? Can they convey it skillfully and interestingly? Did they make good contact with the group? How do you rate the trainer's communication skills? These sample questions should be included in the questionnaire, giving the company a deeper understanding of whether it employs the right professional.
Would You Like a More Interactive Piece of Training?
The same course can take different forms. Gain insights from employees on what type of classes suits them best to choose how to transfer knowledge that will bring the best results. Was the training interactive enough? Or do they prefer the more traditional type of classes?
Did the Training Cover Everything You Expected?
At the end of the survey, leave an open-ended question. Ask what was missing in training. Was the course workload & training pace acceptable? Has any part of the material that is important from the employees' point of view yet to be covered? Ask questions to develop each future training for your team best.
You can now create a training evaluation sample template from the above questions. However, we know perfectly well that every company and every training is different. Use these post-training survey questions as inspiration to create the perfect questionnaire for you.
Training Needs Analysis: Tools and Techniques to Choose From
At Startquestion, we provide our clients with ready-made solutions for conducting training evaluation surveys. However, we will not pretend that other methods of obtaining and analyzing feedback from course participants do not exist.
Here are some of them:
One on one interviews with courses participants
Insights from managers and industry experts
Focus groups. Talk to employees interested in training sessions from
Evaluation conducted by an external expert
Choose the method that best suits your organization's needs. A good solution is a mix of several approaches and a combination of the knowledge of external experts with information from employees and managers in the company.
Software for Post-Training Surveys
The easiest and fastest way to get to know and analyze course opinions is to ask participants for feedback.
Online surveys allow you to automatically send a once-prepared questionnaire, collect the results in one place and analyze them. It is a good solution if there are a lot of training courses in the company and the HR department cannot ask each participant individually about their feelings and satisfaction with the classes.
Training surveys save time and provide convenience and easy access to results and trend analysis. If you're interested in such a solution, here you will find a quick guide on how to do a survey in 12 easy steps.
Post-Training Surveys Characteristics:
Carried out ad hoc (once a training session is over)
Anonymous (unless survey respondents decide otherwise)
Short and easy to complete (for a higher response rate)
Sent on email to all training course participants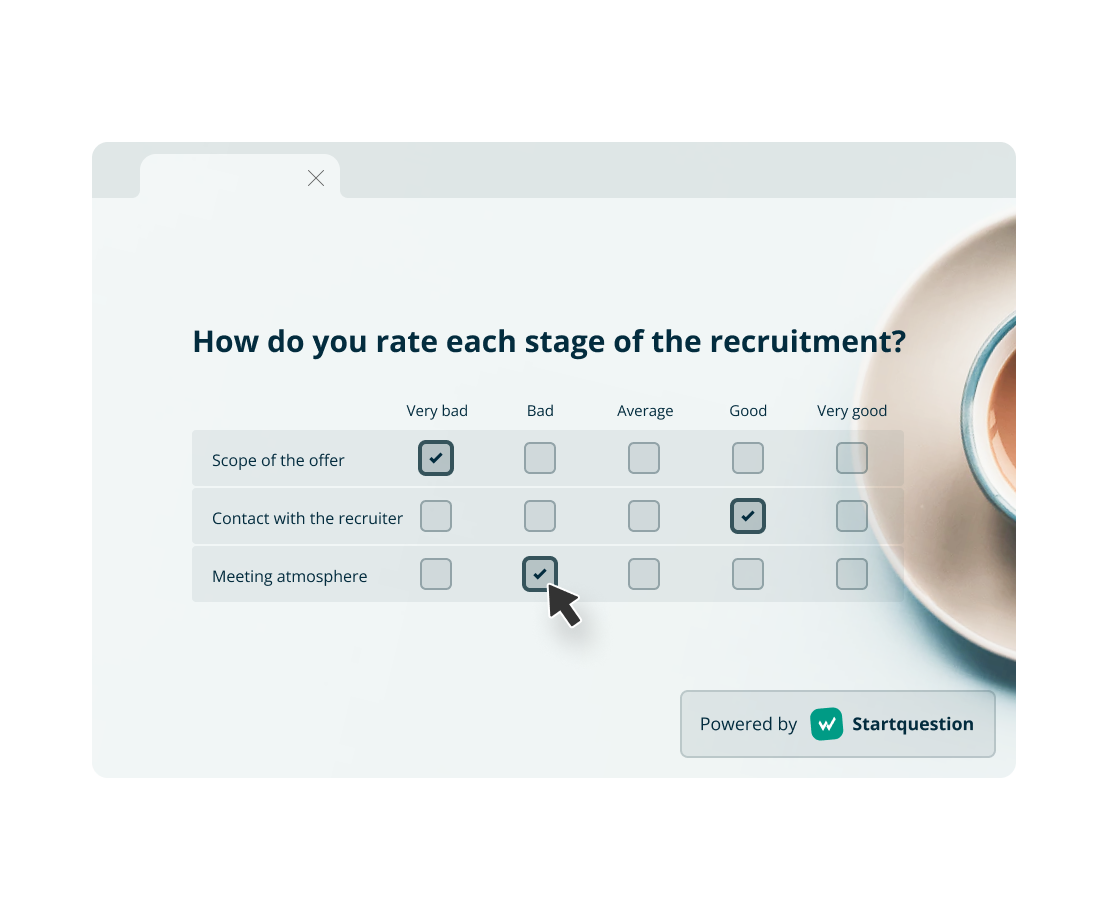 Post-training Surveys: Key Takeaways
Whichever tool you choose for this task, examining the participants' subjective reaction to training is essential.
Kirkpatrick's training effectiveness assessment concept states that poor training experiences harm employee attitudes. Training dissatisfaction affects employees' motivation to acquire knowledge and learn new skills.
What does this mean for the company? Loss of resources.
Poor training is a financial expense (training company, trainer, or external expert), but also the allocation of valuable hours of your specialists to classes that not only do not develop them but also demotivate them.
No organization can afford that, right?
So, are you…
…ready to Evaluate Your Course Content?