Microsoft Forms is a popular tool for creating simple online surveys. Who is this solution a hit for? In what cases may the functions of the Microsoft equivalent of Google Forms prove to be insufficient? When is it worth considering an alternative to Microsoft Forms and reaching for comprehensive CX and HR research platforms, such as Startquestion? In this article, we will help you make the best decision for your purposes.
Microsoft Forms – Who Is This Tool For?
The online survey creator is one of the tools available to users of the Microsoft 365 application. It is a relatively new solution compared to evergreens and well-known brand programs such as Word, Excel, PowerPoint, Outlook, Teams, or One Drive.
According to Statista, over a million companies worldwide, including nearly 146,000 only in the US, are Microsoft clients. The list does not include individual customers, among whom there are many heavy Microsoft Forms.
In one place, however, we have several tools useful in everyday office work, which is great. The downside of the solution? Just as you cannot use Excel or Word only, you cannot be a Microsoft Forms user only. Without registering an account and subscribing to Office 365, you'll get by with a taste.
Of course, this is not a problem that keeps researchers hungry for questionnaires, open-ended and matrix questions awake at night. Office 365 is a product used on a massive scale. According to Statista, over a million companies worldwide, including nearly 146,000 only in the US, are Microsoft clients. The list does not include individual customers, among whom there are many heavy Microsoft Forms users.
Globally, 46% of organizations use business solutions from Microsoft, slightly less than the market leader, i.e., Google G Suite, with 48%. Let's mention that Microsoft Forms has been designed and developed as an alternative to Google Forms, another relatively simple but viral survey creator.
When to Use Microsoft Forms:
Companies often use Microsoft Forms to conduct employee surveys, collect opinions in internal surveys (e.g., on benefits, corporate integration, or changes in the office), and for communication regarding projects and other issues important for the organization.
Other common uses of the survey builder are quizzes and forms.
Do You Need an Alternative to Microsoft Forms?
It depends.
If you want to collect a list of employees for a weekly volleyball game, do you need dispatch automation, LIVE reports, and the ability to track trends? When collecting feedback from engineers on the proposed changes in the project, do you care about personalizing the questionnaire template? Do you need advanced logic for displaying questions when preparing a primary staff satisfaction survey?
Of course not.
Imagine that you feel like having an aromatic coffee. You can easily prepare it in your own kitchen in a coffee maker or by pouring hot water over ground beans. You don't have to invest in an espresso machine baristas use to enjoy the pleasant bitterness of a small black coffee. Students know this well (who never had a substandard coffee in a dormitory, let him throw down the keyboard first) and usually send surveys for their master's theses via Google Forms.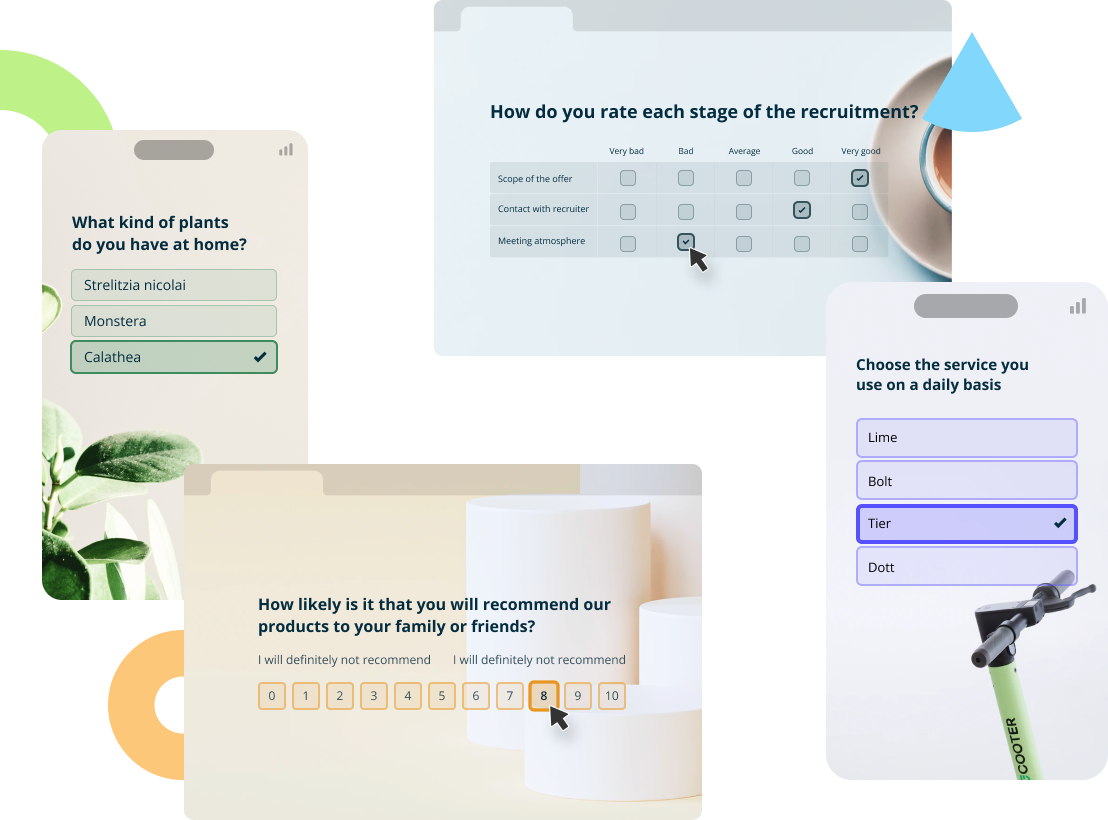 Online surveys are like coffee.
Sometimes more extensive solutions dedicated to comprehensive employee or customer research work best. It is then worth looking for an alternative to Microsoft Forms, created not as one of many applications that make users life easier but as a separate platform for carrying out a specific & compound process.
A Comprehensive Alternative to Microsoft Forms
We'd like to dedicate a separate paragraph to a detailed introduction.
We will not pretend we are the only online research platform in the world. SurveyMonkey, Qualtrics, Survio, Typeform, Survicate, QuestionPro, SurveySparrow, and Startquestion are some of the larger and smaller fish swimming in the same Survey Ocean.
How do we understand a research platform? It's a whole system necessary for complete monitoring, for example, the satisfaction of employees or customers of the organization.
The system is much more complex than a wizard for preparing and sending a survey.
Suppose you work in the HR department, and your duties include keeping your finger on the pulse of employees. You know perfectly well that distributing and completing the questionnaire is only the first step to understanding the needs of respondents and thus introducing beneficial changes in the company.
The same applies to market research and customer experience.
Choose the Best Online Research Tool
How do we choose our favorite coffee shop?
Recall the aroma of freshly ground coffee beans in your mind. Sometimes it is the good memories that make us feel good in the place. Sometimes – the taste of coffee. In this case, the selection of the ideal premises is made empirically. We will not recommend anything better to choose the optimal research tool.
First, verify if Microsoft Forms or Google Forms is sufficient for your needs. If so, the problem is solved. If not, immerse yourself in the Survey Ocean to catch the platform to listen to the voice of employees and customers that suits you best.
We will be delighted if you put Startquestion on your shortlist for testing. You can start your free trial anytime by clicking on this link.
Read on if you want to know our strengths and the answer to what we can offer beyond the capabilities of Microsoft Forms.
Verify if Microsoft Forms or Google Forms is sufficient for your needs. If so, the problem is solved. If not, immerse yourself in the Survey Ocean to catch the platform to listen to the voice of employees and customers that suits you best.
Alternative to Microsoft Forms. Why Startquestion?
It's time to get specific. It's awkward writing about the shortcomings of competitive solutions. Instead, we will focus on the positive message, listing the benefits of conducting online research with our tool.
Positive Experience of Respondents
The user is always at the center of our questionnaires. The direct client responsible for the survey implementation, and the final survey recipient, i.e., the respondent. Your client.
In recent months, we have devoted a lot of time to refining the appearance of the surveys and the comfort of completing them to give them a modern design and strengthen the positive experience of respondents.
Why? Because the completion rate depends on the well-being of people completing the survey. And the more results collected, the more valuable the conclusions. What's more, our surveys look good on desktop and mobile.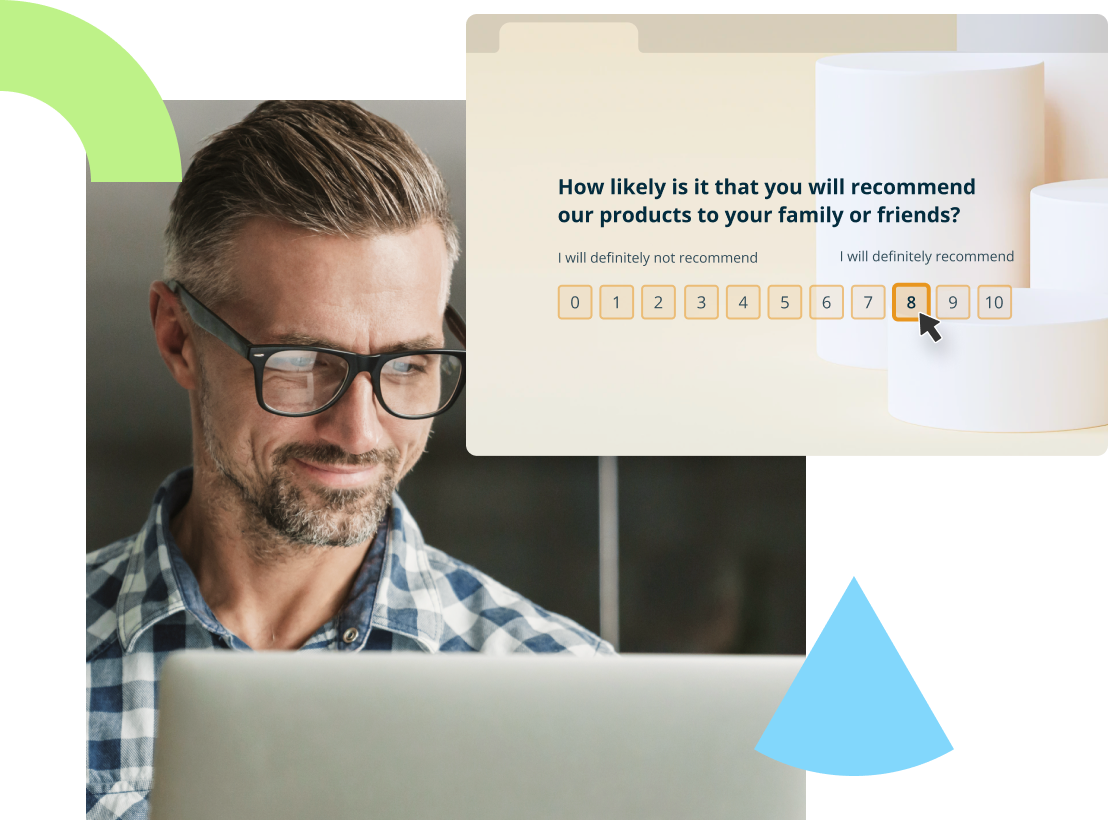 Wide Selection of Ready-Made Survey and Question Templates
We realize that time is a priceless resource. Interviews with our clients show that specialists and managers are responsible for conducting research in organizations (regardless of whether they are related to the area of HR, CX, marketing, or development work).
These people are busy. And you're one of them, don't you?
With the comfort of our users in mind, we have prepared over 150 ready-to-use surveys. Among them are questionnaires of the most popular and commonly used employee, customer, and market research, such as Net Promoter Score (NPS), Customer Effort Score (CES), customer satisfaction and journey research, Candidate Experience, Onboarding, Pulse Check, Exit Interview or training/webinar evaluation.
You can search for Microsoft Forms survey templates but we can guarantee that you will not find anything more than we offer. You'll find various survey examples here: Online survey examples.
The real magic starts here. Once you select the appropriate questionnaire in Startquestion, it will be automatically copied to your account.
Equally cool and extensive is the question section created in cooperation with research practitioners and methodologists to meet the challenges of each, even the most advanced survey.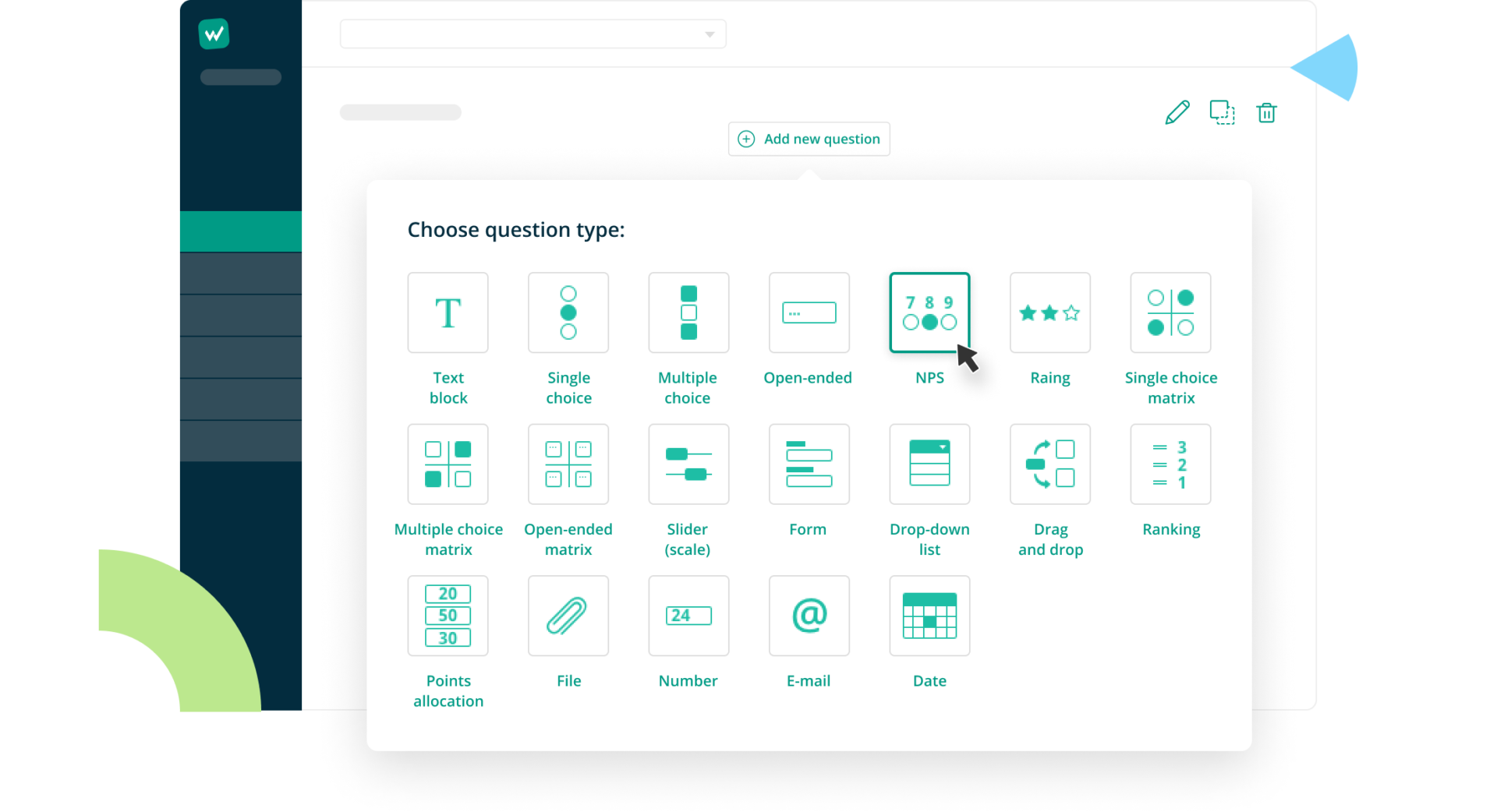 Customization & Branding
The keen eye of the respondent will quickly notice the survey prepared in Microsoft Forms or Google Forms. There's nothing wrong with it. Ultimately, it all depends on the purpose of the study and the circumstances. For master's theses or internal surveys, what matters the most is the collected feedback, right?
Sometimes, however, we would like to make our surveys more beautiful. Take care of the logo and colors of the brand, and replace the information about the software provider with the name of our own company. Make the questionnaire look not only professional but like the original work of a particular organization. With Startquestion, it is possible.
Customer Service and Quick Contact with the Company
Not all superheroes wear capes.
In our office, instead of them, they have headphones and keyboards. We rarely brag, but when we do, we talk about our Customer Support department. Not because we like this team more than the rest of our colleagues. We only quote our clients, who for years have highly appreciated their work for the speed of response, manners, please contact, and pace of making their lives easier.
Is it equally possible to communicate with the customer service department of an international technological giant? Let us leave you with the answer to this question.
Customer Success is Our Success
You will probably say that ensuring that the service works flawlessly and that problems reported by customers are dealt with promptly is a fundamental responsibility of every company.
We couldn't agree more. That is why we offer our clients much more.
In the Customer Success section, we also have modern idols, in no way inferior to those from Marvel or DC Comics. We believe that the success of each user is our joint success. We play for one goal, which is why we strongly support the development of each client.
We want not only your research to run smoothly and the feedback obtained to help you optimize the processes and activities of your company but also to share knowledge about the research you might be interested in.
Example? Let's assume you're conducting an onboarding and exit interview survey. We will be happy to show you how to extend HR research with other surveys to increase the benefits of using the Startquestion platform in your organization.
Think about it. It doesn't cost you a cent more if you're already our client, right?
Click on the image to view sample ready-made survey templates:
Integration with Other Tools
The undoubted advantage of Microsoft Forms is that the tool belongs to the Office 365 package. However, this benefit has some limitations.
We don't set boundaries. You may easily integrate Startquestion with software for HR, project management, email marketing tools, or any other you use in your organization. eRecruiter, Zapier, Salesmanago, Slack, Thulium, Freshmail, Google Analytics – these are just some of the tools that you can easily connect with ours.
To find more companies and information about webhooks and integrations, please click this link: API and integrations – Startquestion.
Logic in the Survey Questionnaire
Imagine receiving a survey from an online store asking you to rate – on a scale of 1 to 5 – satisfaction with the shoes you recently ordered. If you tick five, the store probably won't have any additional questions. What about a negative evaluation? Your insights would be meaningful for the store manager.
How to prepare such a survey?
By displaying questions based on respondents' answers. If the respondent marks a low rating, i.e., meets the conditions specified by us, you can ask an in-depth question for justification. In our panel, you will do it quickly and intuitively.
Why does logic matter?
Because it allows you to create better surveys. If you display everyone the same deepening questions, you will annoy some respondents, risking collecting lower-quality data.
Segmentation of respondents (based on the answers provided), logic, and personalization allow you to create advanced surveys that will meet the expectations of even the most demanding researchers.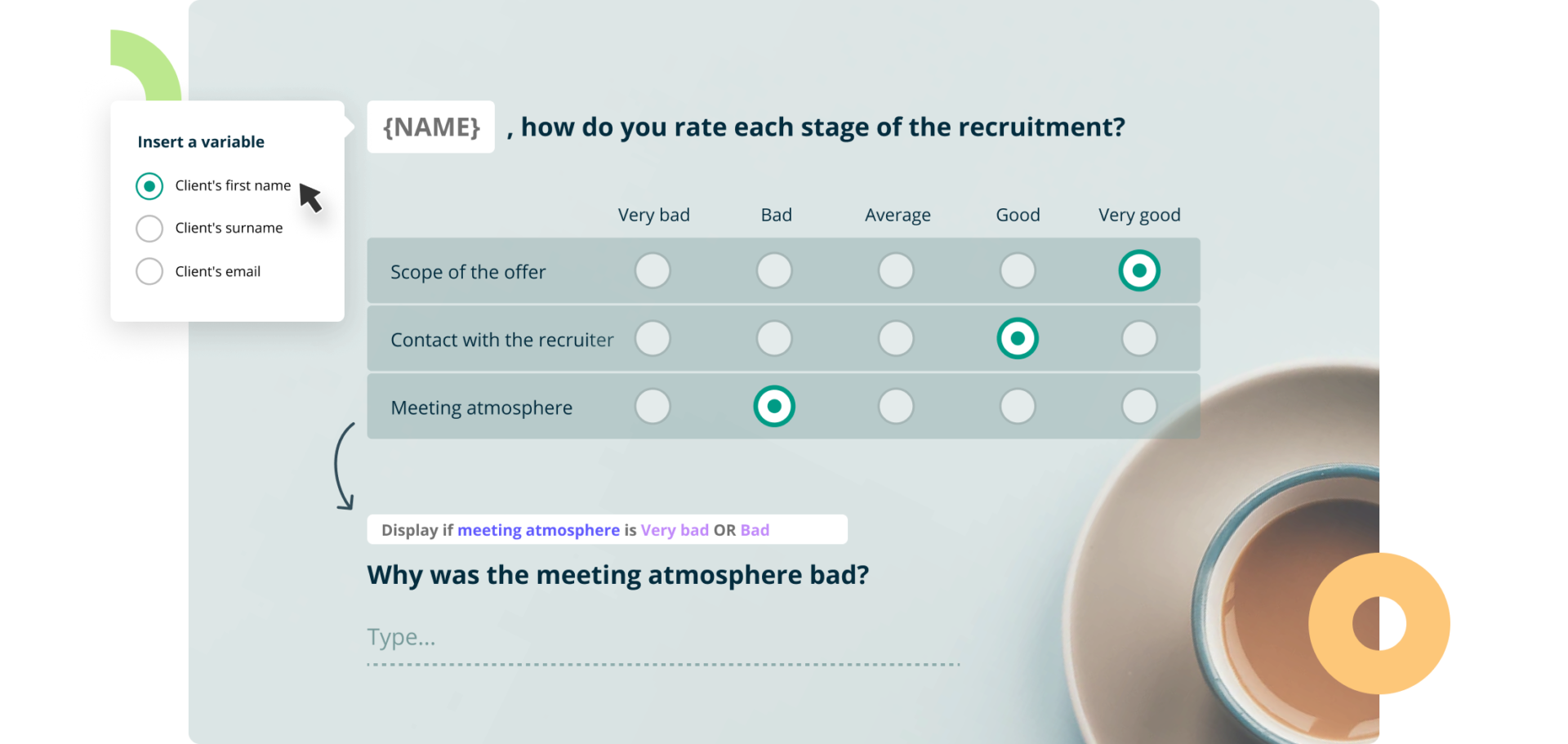 Trend Analysis, Live Reports & Knowledge Sharing
We have already mentioned that the preparation and distribution of the survey is just an introduction to a promising study of employees or customers. What you do with the results is equally or even more critical than collecting feedback. But pasting raw data into Excel to prepare a presentation for the board sounds time-consuming.
There's an alternative solution.
Real-time data monitoring using LIVE reports, custom dashboards, trend analysis, one-click download of reports in a convenient format (PDF, XLSX, PPTX), elegant and legible tables and charts, advanced filtering of results, creating rankings are some of the numerous analytical functions available on the Startquestion platform.
In addition to the LIVE report, which allows you to quickly share current survey results with interested people in the organization, it is also possible to export results, set alerts (e.g., in the case of a negative opinion, Customer Support can take action immediately) or transfer the results to a specific, integrated tool (e.g., messenger used in the company).
Each integration aims to automate the processes of collecting and developing feedback. They will work equally well when sending survey results and setting their sending, e.g., dripping NPS survey or other cyclical questionnaires sent to respondents at the appropriate, defined moment (e.g., transaction evaluation right after the purchase).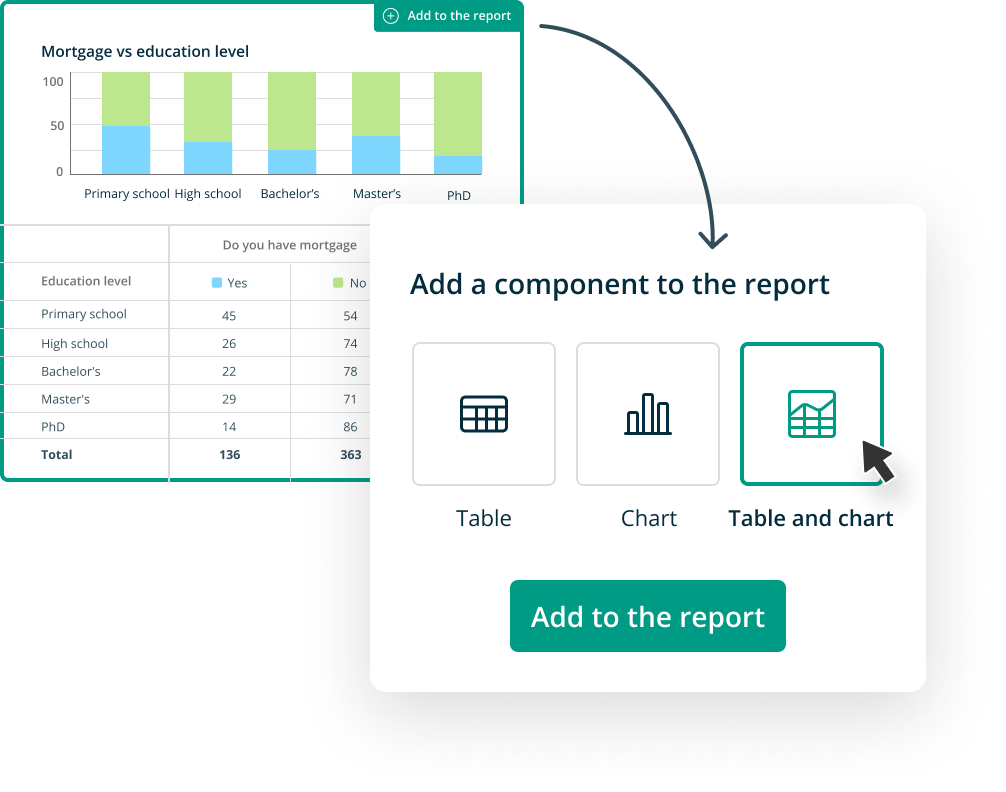 Comprehensive Tool for Conducting Research
It's been mentioned a few times already, but what does it mean in practice?
Meet Clara, an HR specialist. Clara wants to regularly measure the satisfaction and commitment of employees in the organization. An excellent tool for such a task is the pulse check survey, a short questionnaire randomly checking job satisfaction and staff morale.
Will Microsoft Forms allow weekly or less frequent feedback collection? Yes. But a comprehensive tool for conducting HR research will allow for much more. Sending automation, personalized questionnaires, collecting feedback in one place, monitoring trends, and ensuring the anonymity of respondents are all advantages of such a solution.
It helps Clara save a lot of time, doesn't it?
Test an Alternative to Microsoft Forms
We'll be completely honest with you. Google Forms and Microsoft Forms are very cool tools. Like half the world, we use other popular applications from two giants of the technology industry because they help us cope with everyday life.
Will they help you create online surveys? To some extent – absolutely.
However, sometimes you might need a more advanced tool designed to conduct employee or customer research from idea to implementation and analysis of results.
In that case, we invite you to test the Startquestion platform.