Long, short, daily, weekly, all company or just two people… that's all team meetings. We all know them and for most of us, it's a part of everyday work. We all know also that sometimes team meetings can go wrong. We are not awful pessimists here – we just know that meetings are about people and people make mistakes. It's natural and there is nothing wrong with it. What can be wrong is accepting this without trying to improve or eliminate mistakes. Avoid it, start collecting meeting feedback.
That's why we are here. The website You are currently on is Startquestion – an online survey software company. As survey freaks, we are using online surveys (and encouraging others to do it) for almost everything. We believe and most importantly – have proof based on our customers' successes, that surveys can do more than getting quick feedback from customers and employees – they can simply make your work much easier and much more efficient.
That's why in this article we will show you how easy it is to ask for feedback automatically after team meetings and share the results with your team. The best part is that You don't have to maintain the process. Prepare the survey once and… just let it be.
Meeting feedback – why we started to get feedback from employees
For online survey software, the decision to ask for feedback from employees after meeting in our company wasn't anything extraordinary. We use online surveys to help almost all our internal processes so one day we've just decided to start a dedicated survey after team meetings. Why? With over 20 people working with us (remotely and in the office) right now these whole team meetings got more and more complicated and expensive. So like every other reasonable company, we wouldn't want to waste time on unproductive and poor quality meetings.
We decided to start big – every 2 weeks we have a meeting in which all the company is participating. After each of these meetings we started sending a survey on email.
How does the meeting feedback survey look like?
It's simple. As we all know, short surveys are the best way to achieve a high repose rate. That's why our meeting feedback questionnaire has only a few, simple questions. We started with a general one: How do you rate today's Team Meeting?
It sounds obvious, but it's for sure the most important question from all. It simply shows respondents' general feelings about each meeting. It should be the same (content of question and scale) for all your meeting feedback surveys – only then you can get a trend line after a few weeks of ongoing process.
There are a few more standard questions You can use in a meeting feedback survey. Depending on how your meetings are organised, you can ask the same as we on Startquestion. First, we ask about general feedback. Than our respondents can share more specific feedback – direct comments about each department.
In our case both questions above are optional – employees are not obligated to answer. Thanks to this only employees who are really interested in providing details will participate. The others can simply skip the question.
From our experience we can say that even if the question is not mandatory, a lot of respondents decided to answer. Why? Because online surveys are a much easier way to share your thoughts and feelings than, for example, direct conversation with your manager. People feel anonymous and in general are much more open. Also they answer the survey in the convenient time, so they can really think about what they want to share and provide very valid feedback. The other positive side of optional questions is that it helps you get a high response rate.
Here we present other examples of questions You can use in meeting feedback survey:
What was, in Your opinion, the most interesting part of the meeting?
Is there something You would like to change in the future?
How would you rate technical aspects of the meeting: sound / video quality, internet connection etc.
Who was the best speaker in this meeting?
Would you like to present Your own topic next time? What will it be about?
Meeting feedback survey template – save your time and start employee survey immediately
Even though we gave You lots of examples of questions You can use in your survey, we have something more. It's a ready to use, professional meeting feedback survey template, which looks like this: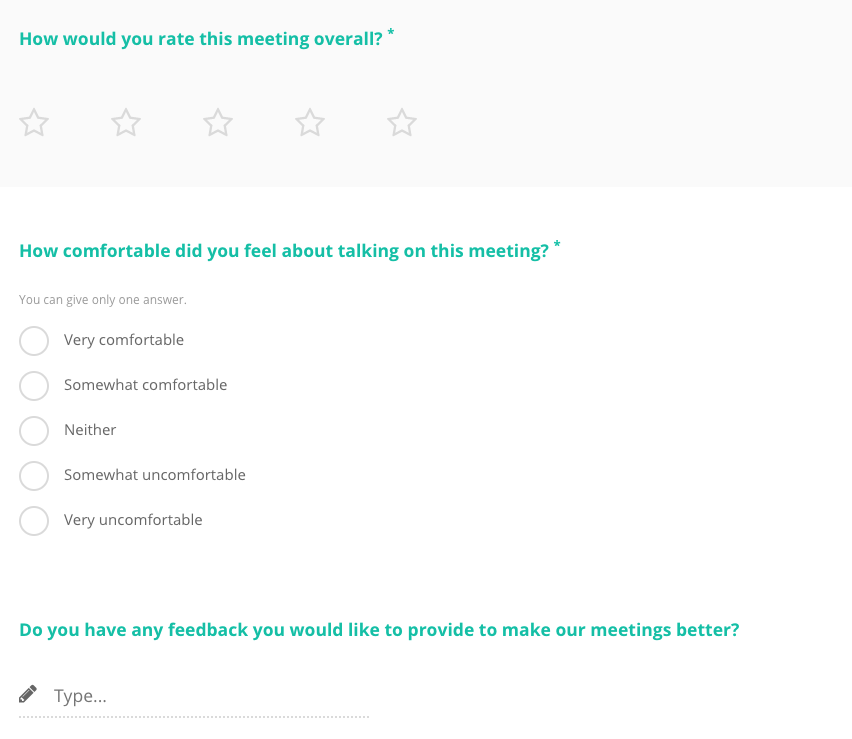 Thank to this survey template You can start your research immediately – just prepare a list with all employee email addresses and use our automatic survey distribution which allows you simply upload the contact list prepared for example in Excel or Google Sheets and set up all distribution with few clicks.
Remember that meeting feedback questionnaire just like every of our survey example you can easily tailor to your needs by, for example:
adding new questions or erasing some from the survey template,
change the content of questions and answers,
change the look of the questionnaire – add your logo, change font, use different skin etc.
You don't want to get another thing to do? Discover the magic of automated surveys
It is very possible that You like the idea, but… you don't want to take on another repetitive task to add to your pile of responsibilities. We've got and we have very good news for you! As it was mentioned in the beginning, our meeting feedback surveys are automated. It works like autopilot – surveys are being sent to your employees' emails with a handy email survey automation made by Zapier and Google Calendar.
Zapier + Google Calendar + Startquestion – how to make it work?
Even if it sounds complicated it really is not. First of all, Do You know Zapier? It's a platform which allows you to integrate any software together without coding. It basically means you can connect your favourite tools with each other, without any help from IT department or specialist knowledge.
This is how it looks on Zapier:
OK, we are connecting our tools in Zapier and… what? What is the output?
The results of meeting feedback survey – how to analyse them and make your team meetings better
When You connect a survey prepared on Startquestion with Google Calendar via Zapier, after each team meeting your employees will get the survey on their email. And You will also get something – an access to a really big amount of data. But getting feedback is only the first stage. The most important thing is what You will really change based on this information.
Based on experience of our own team and our customers' histories we advise You to use this features while analysing the results of meeting feedback survey:
Filters
This is the most basic tool which can help you get a more clear view on aggregated results, especially when You're conducting the survey in big companies, with many employees and regular meetings. You can create as many filters as You want – remember however that they should be well-thought and help you to make the results more clean instead of even more complicated. The most practical types of filter You can use in meeting feedback survey results analysis are:
employees data, such as: department, position, city they are working in, seniority, supervisors name,
role in the meeting (f.ex. presenter, participant, head)
home office or regular work.
You can read more about how to use filters to analyse survey results in our User Guide.
Cross tables
They are simply the most advanced filters, but instead of focusing on one aspect, cross tables help you to observe the relationship between the two questions asked in the meeting feedback survey. So instead of creating a few filters, sometimes it is easier to make one cross table to cover the same problem. Cross tables can help You get instant answer for the questions like:
Do people who connect to meetings from homes have higher or lower satisfaction level than those in the office?
Is the low overall assessment of the meeting connected with seniority or position?
Do people judge better or worse their own team members?
Trends
We recommend you conduct feedback meeting surveys after every team meeting, and we advise you to do it regularly. You know already it's not hard, because all the processes can be 100% automated.
If you do so, You are getting access to the perfect tool of data analysing – trends. It's always better show than only talk, that's why we present the sample trending line after a few month of the process of automated surveys after meeting at Startquestion:
Let's look what we can find out from these results. Did You notice the gap on 07/2021? You are probably wondering what happened then. We also did. Luckily, Startquestion allows You to filter out the data in a particular period to find out what was the problem. In this case it was nothing unusual – the reason for the lower score was… frustration due to technical issues in the conference meeting. Everybody had to wait like 15 minutes to get a good connection. No wonder they were frustrated, right?
What did we do? First, we made a plan to buy professional conference room software and this month we bought it. Now, after the next meeting we can see on the trend line if it solved a problem or we should try something else.
If you want to discover more possibilities of using trends in survey results analysing visit our User Guide.
Rankings
This is the cherry on the cake when it comes to meeting feedback results analysing. Imagine that You have a lot of survey results and You conduct this survey for months. Knowing not only general feelings about how the team meeting are rated, using rankings You can easily find out, for example:
Which team or department has the highest notes?
Who is the best speaker?
What topics are the most popular?
Thanks to this You can prepare awards for the best team and reward those people who are prepared the best and gave the most from itselfs during the meetings. Rankings of the best speakers can help You choose the best people for public speaking, for example during conferences or meeting with customers. And remember – there are only a few ideas, what stops You is basically… Your imagination.
Team meetings feedback – what is your idea?
Do You think the process we described above can help you improve your team meetings? Maybe You have some other brilliant thoughts? Please don't hesitate to contact us! You can also try out our tool for free for 14 days and decide if it's tailored for your needs. For all employee surveys You can use our professional survey templates, which are making the process much quicker and easier.
And if You are interested in knowing more about how to use automated surveys to improve your team meetings, please check out our weekly survey webinar where we handle zapier automation topics regarding data collection / feedback processes.