Do you want to collect opinions on how customers perceive your company, the products you offer or the services you provide? Of course, you do, after all, you have opened an article talking about Customer Experience Survey (CX survey). The purpose of collecting these opinions is probably to increase customer satisfaction and customer loyalty, and thus – to increase profits and have a successful business. 
Customer Experience Survey Company – try Startquestion for free!
Start trial period without any credit card or subscription and easily gather impactful feedback via link, social media, email, and more.
No credit card required · Cancel any time · GDRP Compilant
An online survey can really help you achieve these goals. But on one condition – it will be a real and well-thought-out customer experience survey, but not just any survey. Therefore, in this article, we have compiled some tips on what steps should be taken when designing and distributing CX surveys to get the maximum benefit from them.
In the article by our CEO and CX specialist, Piotr Sadowski for Freshmail, we read: if you don't know what to change, you won't be able to improve. For this reason, analyse your transactions, because only on the basis of feedback obtained by effective surveys from customers can you change for the better. 
The success of the customer survey can be described in one sentence: the right questions, sent to the right people at the right time. That's all. How to achieve that? Read on to find out more.
Before you start: what should precede a CX survey?
Customer Experience Surveys are an important contact channel that allows your customers to be heard in an organized and thoughtful manner. But just listening is not enough. The transformation of raw data obtained in the customer satisfaction surveys into accurate conclusions, and then the actions that have a chance to change your relationship with customers for the better will also be required here. 
For this to happen, before you start to gather data and analyze feedback from the customer, you need to effectively communicate this intention within the organization. Your intentions and goals that you want to achieve by using customer surveys must be clear both inside and outside the company. To do that:
establish a close cooperation with people who have direct contact with customers (the so-called frontline employees, e.g. from the support department or the Customer Service Office – they know a lot about meeting customer expectations),
talk to the people customers interact with – their experience and work relationships can help you ask better customer experience survey questions or choose the way of distributing the survey that is right for your clients,
create internal research rules and communicate them across the company – explain the purpose of the survey and how the results will be used. 
Perfect Customer Experience Survey in 5 steps (checklist)
Here is a list of the customer surveys best practices so you can be sure that your customer survey meets the highest CX standards:
1. Clearly-defined GOAL
You've probably heard it many times before, but a clear goal is an absolute must focollecting customer experience data. Without a well-defined goal, your survey:
it is more difficult to understand – both for customers and inside the organization,
it is more difficult to analyse, because its structure does not try to prove or disprove any thesis,
may contain contradictions or suggest answers, which may compromise the reliability of the test results.
How to set such a goal? It is best to start from the end, which is what you plan to do with the survey results. Before you start collecting feedback, first, ask yourself what you need to know and why, and more specifically – what decisions and actions will be influenced by the results obtained? Answering these basic questions will allow you to make wise, targeted decisions throughout the research process.
Sample CX survey goals:
Discovering the sources of problems in Customer Service,
Customer Sentiment,
Measurement of customer satisfaction with a service (Customer Satisfaction Score),
Customer satisfaction with a specific transaction (or its stages),
Assessing the work of a Customer Service Department (e.g. Customer Effort Score CES),
Customer Loyalty (Net Promoter Score).
2. Well-thought-out structure of the survey
Within this point, you need to pay particular attention to:
Type of survey – transactional and relational study
The first decision you need to make is to choose the type of the study to measure Customer Experience (CX).. Will it be a relational study, a transactional study, or maybe a combination of both? 
Let's focus on relational study. The relational survey aims to find out what your customers think about your business in the most general sense. This type of survey should be conducted at regular intervals (e.g. annually or quarterly). Thanks to relational surveys:
you will discover overall level of customer loyalty and satisfaction,
you will learn how they perceive your brand,
you will be able to compare the level of satisfaction (or e.g. NPS test result) with internal and external key performance indicators (KPIs),
you will identify business areas and touchpoints that require more attention or improvement.
The transactional survey, on the other hand, will come in handy when you are looking for detailed information to optimize specific processes or interactions with customers (like repeat purchase, or customer issues with product or service). This is a study of the touchpoints throughout customer lifecycle during their Customer Journey with your company. The difference in the relational survey is that only a fragment of reality is examined, related to a specific situation/interaction. Transactional surveys will help you with the following:
identifying strengths and weaknesses in dealing with customers,
creating and tracking individual KPIs for different teams
getting useful information about a specific transaction.
Survey length
If the survey is too long, the quality of the responses you receive may not be satisfactory. In worse case, when it comes to time-consuming surveys, you may face the risk of the survey being abandoned in the middle of the fill. So what should be the length of the survey? In the case of a relational survey, participation in it should take 5-10 minutes, and in the case of a transactional survey, participation in it should take much less – up to 5 minutes. Do not forget to notify your customers about the length of the survey already at
the introduction to the online survey.
Question types
Customer experience survey company (online survey software), such as Startquestion, give you a broad spectrum of choice when it comes to the type of questions used in the survey. The CX survey questions should be well thought out – taking into account, on the one hand, the convenience of completing it, and on the other, the maximum amount of information you want to get from customers. Among the recommended question types in customer surveys we can list the following:
Assessment questions with answers presented on a scale (binary scale questions, or likert scale questions): 
For example: "On a scale of 1 to 5/from I strongly agree to strongly disagree, to what extent do you agree with the following statements…" Or:
These questions are familiar and easy to answer. At the same time, they are valuable to you because they give you simple, quantitative results, making them a great way to collect feedback and measure customer attitudes and opinions. Be sure to use the same scale throughout your survey to avoid confusing respondents.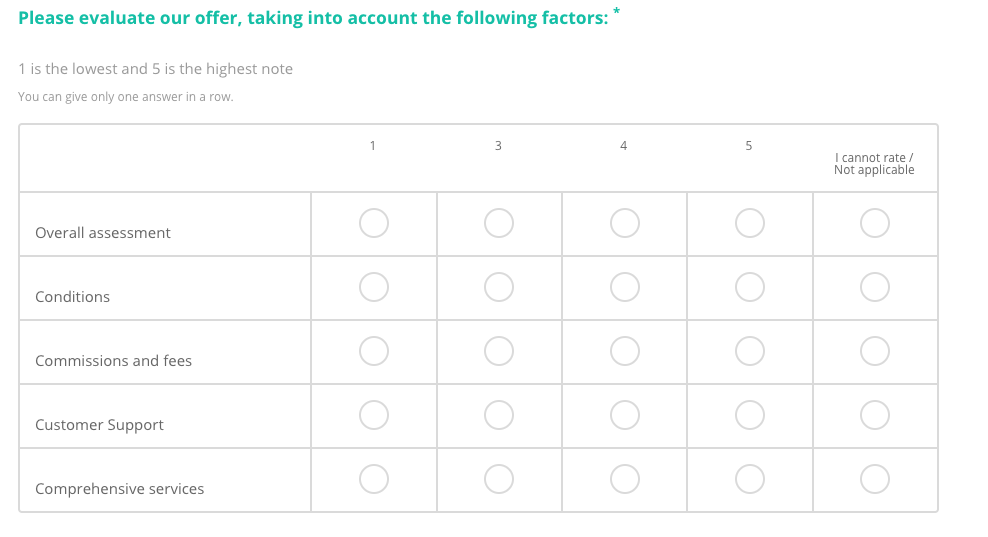 Single-choice and multiple-choice questions – the classic of online surveys. These questions are easy to use, intuitive to complete, and easy to analyse.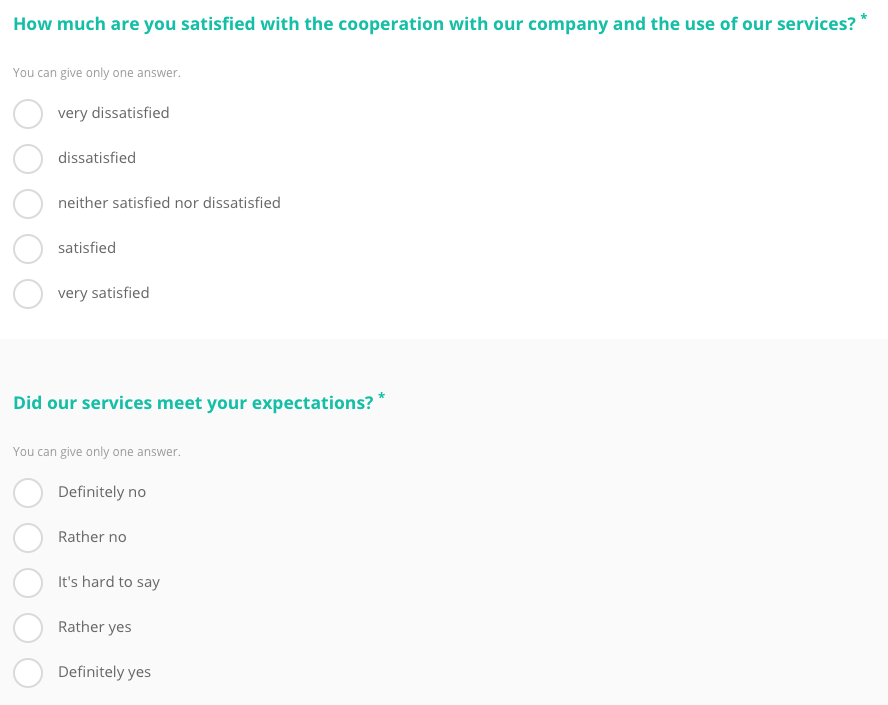 Open ended question. Here. however, you have to put more effort into creating them. Design them to obtain detailed and really meaningful answers. These questions give respondents the opportunity to express their views without being limited to a fixed choice. They are a great way to collect qualitative data. However, be careful – your survey cannot contain too many of them, as it may influence survey response rates. Why? Because each open ended response takes time.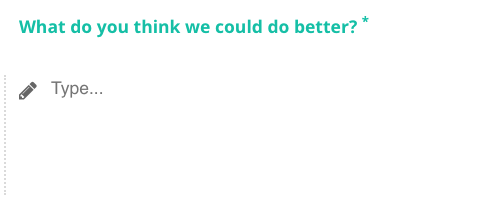 To make the survey as relevant and short as possible, you need to limit its length and include only those questions that are necessary. When creating the questionnaire, remember the purpose of the survey: collect valuable information only.
Closing the customer's voice into a loop
You should give your customers the opportunity to deepen their responses in answer options and continue talking to your business – especially if the survey reveals that their customer experiences with your business are negative. Returning to the customer who left feedback asking for its cause or feedback that something specific has changed based on their statements is called closing the loop. Such activities show that you are genuinely interested in understanding the needs, concerns and feedback of your customers. Of course – this is not an easy task and requires more time and effort, but at the stage of creating the survey, it is best to plan the mechanisms of closing the contact in a loop. 
Testing the survey
Before you send the survey to your customers, conduct an online survey test. The main focus here is whether:
the questionnaire is displayed correctly on all devices (including mobile),
there are no errors or typos in the customer experience survey questions and answers,
the appearance of the survey is consistent with the image of your company,
the questionnaire contains information about the purpose, length and author of the survey.
3. Determining the survey audience – customers
The next step is to identify who your target audience is (survey respondents). While you may be tempted to reach out to anyone you can, the best polls will be carefully targeted and adjusted to your specific purpose. Here are the questions to consider when defining your target audience:
Who can provide the feedback you need to complete the survey purpose? (new customers, current customer base?)
How strong are your relationships with this audience? 
What is the best way to reach more customers to ensure a high response rate?
Do you have the contact details necessary to send the survey to customers from the target audience?
What do you already know about those customers? Do you already have survey-relevant information that you don't need to request again (this will reduce the length of the survey)?
In the case of B2C companies, the matter is simple, but in surveys conducted in B2B organizations, it is important to first define exactly who you call the customer. Sending a relational survey in a B2B scenario usually means sending surveys to multiple employees rather than one account holder. With that in mind, make sure you ask poll the relevant contacts who can answer your questions and can really establish a relationship with your business.
With the help of a transactional survey, it is easy to define the audience. These are all those customers who have experienced targeted interaction with your brand or company. The challenge is to reach your customers through the right channel at the right time to ensure a high response rate.
4. Right time
Time is perhaps the most important factor in the success or failure of customer experience surveys. Relationship studies can be submitted at any time, but if they include detailed questions about a specific experience (like CES survey), it is important for customers to complete the survey when not too much time has passed since that particular interaction. In such a case, the customer will remember as much as possible from their experience and will be able to leave really valuable feedback. 
Note:
Are you unable to contact customers directly at the selected moment? Use every opportunity to ask your customers questions. Send surveys after shopping, after contacting the Customer Service Department, or when presenting a new offer or extending a contract.
Time of customer relational study and the target group
The day and even time of sending a CX survey has a big impact on the response rate. On which days and at what times will customers visit you (shop, website) most often? Can you find out from previous surveys? Before you post your survey, gather this information and plan your survey time wisely.
In addition to these external conditions, it is also important that the timing of the survey is consistent with internal processes. The results have to be obtained on time to influence important decisions and actions.
Transactional surveys should be carried out as soon as possible after a specific interaction. By including surveys in the right places on the customer journey, you have access to current, reliable and specific opinions. The longer you wait to gather feedback, the less credible and useful it will be. This, in turn, also negatively affects the response rate.
Note: don't overdo it! Avoid sending transactional surveys to the same customers too often. A customer who contacts you often doesn't want to be bombarded with surveys every time.
5. Exceptional Customer Experience – Conclusions and actions
Each of the previous steps we described is of great importance. But … if you don't take action and, after gathering the survey results, you don't use your valuable insights and information, all your efforts will be wasted. That's why we've put together some tips for you on how to seamlessly move from data to action.
How to manage negative customer feedback?
If customers have expressed dissatisfaction, you need to find out why. Ask open-ended questions to find out the source of negative feedback. If the survey is anonymous, give customers answer choices to agree to provide additional feedback when requested by the company. Customers should feel that they are really making a difference, and the survey is a great opportunity to prove this fact to them. Also keep in mind that negative opinions should be taken seriously inside the organization – put them into groups about specific issues, people or processes and use them in problem solving.
How to manage positive customer feedback?
Act on positive feedback and try to not only meet but exceed customer expectations. Loyal and satisfied customers are hard to acquire but… easy to lose. Therefore, you should do everything in your power to maintain a good relationship with them. It is also worth returning with feedback to customers who praise your company, employees and activities. Thank them for positive reviews and build an even more positive impression.
Create CX survey in few minutes with a ready-made template
A good customer survey checklist isn't short, is it? That is why it is worth choosing tools that will make it possible to minimize the effort and time needed to create the perfect CX survey for any touchpoint in customer journeys.
The experts from Startquestion prepared ready-made survey templates, such as: customer satisfaction CSAT survey, Relational NPS, CES survey, or Sales Contact Form. They will help you create a good questionnaire, adapting the ready template to the specifics of your company.
Create a free account on the Startquestion platform – create CX surveys for free for 14 days and try out all the possibilities of our system.