A healthy and trustworthy relationship is key to every successful B2B cooperation. How to build one? By taking care of your customer experience at each stage of your partnership. You don't need a magic wand to do so. Customer journey surveys will give you all the insights necessary to make the right business decisions. With the right tools and ready-to-use free survey templates, you can measure each customer's experience and analyze it right away.
Hello! I'm glad you visited our blog. Let me start by introducing ourselves. In brief, Startquestion is software for online surveys. We specialize in creating, conducting, and analyzing multiple types of questionnaires, forms, and even knowledge tests. Since the goal is to help our clients gather all the feedback they desire, we don't want to keep this expertise to ourselves. Sure, there are a lot of ways to generate leads and make clients happy. We believe customer journey surveys are perfect for this task.
In this article, we will show you why.
Do You Have to Measure Customer Experience?
Human beings are not robots. We all have emotions. And based on them, we make everyday life decisions. The same is true in business. Customer Experience (CX) is all about emotions clients experience in contact with a product or service. They can be both positive and negative. The latter can be a disaster for your business relations if you don't recognize and fix them on time. Just take a look at those numbers:
According to PricewaterhouseCoopers insights, one-third of devoted customers will leave your brand and move to competition just after one bad experience.
Frustration doesn't like silence. UXCam highlights that one in eight unsatisfied customers will tell about their bad experience to fifteen or more colleagues. When happy, they will inform about half of them.
On the other hand, barely a handful of unhappy customers in a hundred will complain to you that something is wrong. They'll leave without a word. If you don't ask them first, you'll lose them.
Do You Have to Measure Customer Experience? The answer is YES. No matter if your business profile is B2C or B2B. Depending on the scale of the business, a sudden churn of just a couple of unsatisfied customers may significantly impact your financial liquidity.
Ouch! You don't even want to think about it. No business can afford it, and therefore, no one can ignore the voice of their partners and customers. The good news is, it's not as hard as you may think. With Customer Journey Surveys, it's possible to collect priceless feedback regularly, analyze it, and make the right business decisions.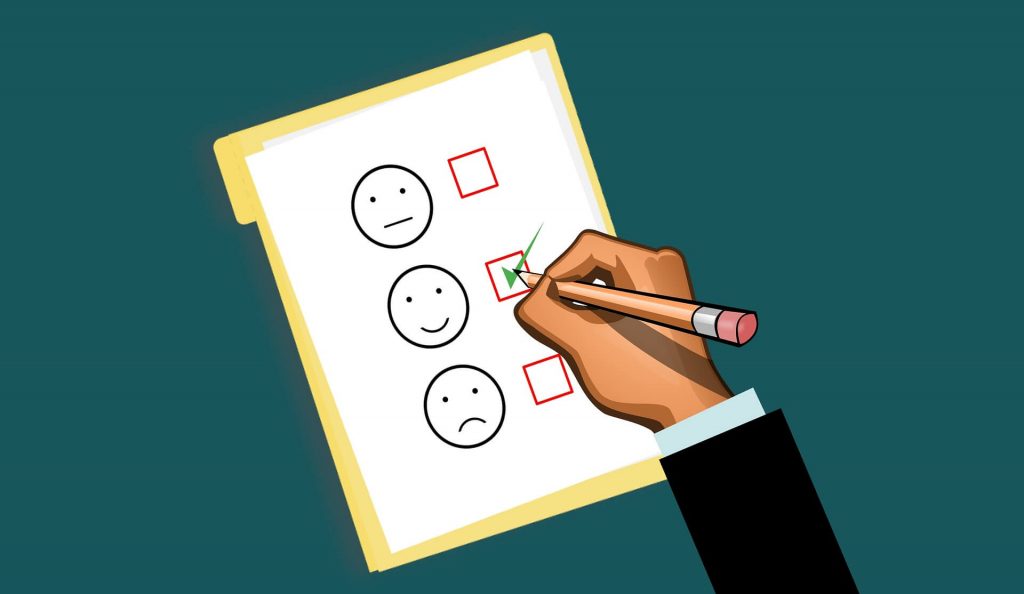 Ask the right customer journey questions to collect feedback.
What Are Customer Journey Surveys?
A business relationship with a customer is like a journey. From the organizational side, it requires good preparation, execution of the plan, and taking care of the client's well-being from the first to the last stage of the trip. We want healthy business relationships to last long. So let's make sure that the customer journey comfort is as high as possible.
Contact with the client begins long before the contract is signed. Let's refer to tourism again. First, the interested client browses our catalog or website and later decides whether to contact us or not. Working on lead generation, we can support our activities with online surveys. If a customer visits our website, find out what his expectations are. Ask to subscribe to the newsletter, offer a discount for desired customer behavior.
Customer Journey Surveys are online questionnaires designed to measure and analyze the voice of your customers concerning their satisfaction, loyalty, the effort needed to finalize a transaction (e.g., buy your product or select & pay for a service), and many more.
When a potential lead becomes our new client, a crucial stage of our business relationship begins. It's a priceless time to measure customer experience. What to ask our customers? There are probably as many good answers as types of business activities. In this article, we'll focus on the most important surveys. During the next couple of minutes, you'll know how to measure and analyze customer satisfaction (CSAT), customer effort (CES), and customer loyalty (NPS). Finally, we'll get a glimpse into the causes of the client's churn and try to figure out what to do to maintain the customer experience at the highest level during all customer lifecycle.
For each customer journey survey, we have prepared a free template to use in your work. You will also find links to previous articles from the Startquestion blog, which can deepen your knowledge and make measuring customer lifetime value great again. Ready? Take a cup of your favorite coffee and enjoy!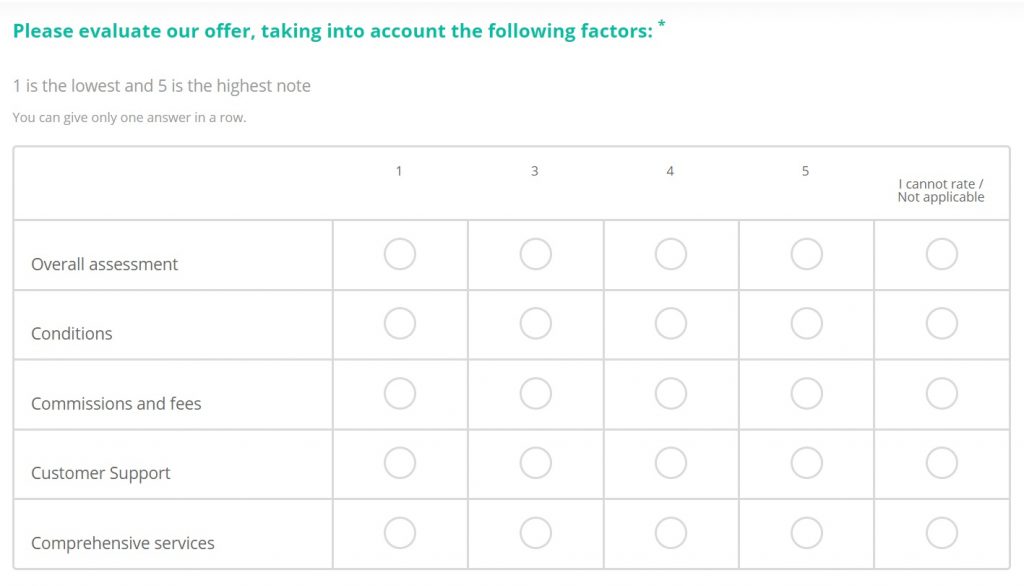 With Customer Journey Surveys you will know what clients think about you.
How to Increase Lead Generation with Website Survey?
As you know, there are many techniques and tools for lead generation. A simple and effective one (in terms of customer journey surveys) – is a widget. Long story short, it's a questionnaire displayed on a website. It's a minimally invasive way to gather potential customer feedback from the site's users.
A widget is a form of website survey. You probably came across some of those, with questions displayed in a small window at the bottom of the page. It's ok both for short and longer surveys. For the latter, you may use a survey on website to invite respondents to it.
Measure User & Customer Experience with Website Survey:
Easy to set up. In Startquestion, you can configure everything on your own. No coding or tech-ninja skills of your IT department are required to do so.
Fast to launch. You don't need to collect a database of respondents and obtain approvals to start. Just ask users of your website customer journey questions.
High effectiveness and completion ratio.
Plenty of targeting possibilities. You can display widgets only to users who meet specific criteria.
With website surveys such as a widget, we can analyze customer experience regarding our products or services. For lead generation purposes, we may ask users to subscribe to the newsletter or provide them with extra content (case studies, ebooks, webinars) in return for registration in our database. Remember: When asking users to leave an email address or other contact details, be sure to comply with the GDPR.
How to Conduct Website Surveys (Widgets). Links & Tips
Check out the most popular widget applications
How to create the first widget in Startquestion?
All you need to know about widget display rules
Website Surveys. Start capturing feedback now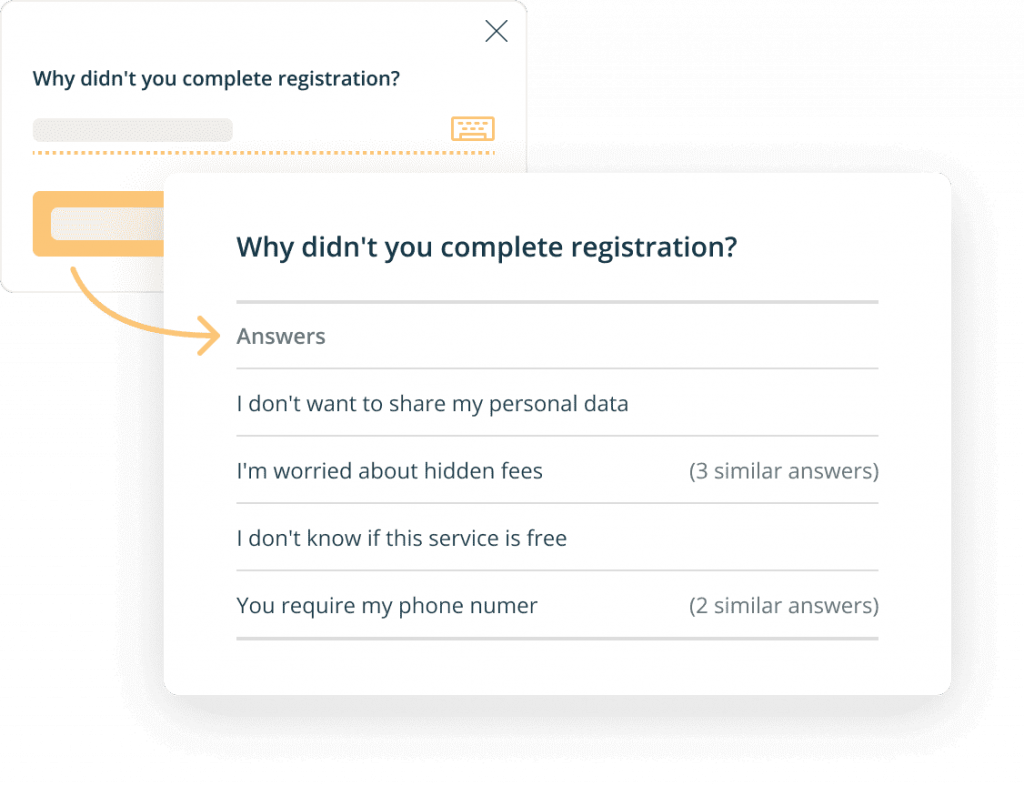 Net Promoter Score. What is NPS?
Lead generation worked. A new client onboard is always good news, but it can't make us rest on our laurels. On the contrary, it's just the beginning of your joint journey. You want your customer to stay with you as long as possible and build a fruitful business relationship for both parties. How to achieve it? By keeping your finger on the client's pulse. It means asking the right customer journey questions.
The first survey designed to help achieve this goal is the Net Promoter Score (NPS). It measures customer loyalty with a simple question: How likely is it that you would recommend our company/product/service to a friend or colleague?
Respondents answer on a scale, marking their feelings from zero (I will definitely not recommend) to ten (I will definitely recommend).
Depending on the answer given, the respondents divide into Detractors (0-6), Passives (7-8), and Promoters (9-10). Then the NPS score is calculated. To do so, the percentage of Detractors is deducted from the percentage of Promoters. The result may vary between -100 and +100. The better the customers think about the company, the higher the NPS score.
Ask Right Customer Journey Question with NPS:
This survey should be short and quick to complete.
Conduct NPS cyclical to monitor how customers' loyalty changes.
If you send more questionnaires to your clients, you can add NPS to another short form, or send it individually.
However, don't send NPS too often. Once a quarter is fine.
Important: To collect effective customer feedback, conduct the NPS survey regularly. To draw valuable conclusions, act cyclically. In the case of a significant number of customers, you can conduct the survey every few days (sending the questionnaire to different recipients), monitoring NPS in real-time. React immediately. Reach out to detractors, talk to them about the causes of low scores, and take corrective actions.
How to Conduct Net Promoter Score Survey (NPS). Links & Tips
Get inspired by the ready to use NPS Survey template
Seven mistakes in NPS questions. How to avoid them?
Take a look at the SaaS company NPS Survey template
How to increase customer loyalty in three steps
Net Promoter Score question.
CSAT (Customer Satisfaction Score). How to Start?
You don't want your customers to feel like Mick Jagger. Clients who can't get no satisfaction leave and move to the competition. Even though we all love the Rolling Stones, the last thing you want is your customers singing one of their bangers because of your poor performance.
How to prevent it? By sending an adequate Customer Journey Questionnaire to measure customer needs. The one designed to measure the level of satisfaction is CSAT. Customer Satisfaction Score is an easy and versatile form. CSAT is used to determine whether your product, service, single transaction, or staff behavior in contact with the specific client meets customer expectations. All you need to do to figure out what your customers think about your company is to ask them. What customer journey questions you should ask? Well, it depends. CSAT has no strict rules. The approach depends on the kind of information you want to obtain with the survey.
Why CSAT Is One of the Best Customer Journey Surveys?
Simplicity. Customer Satisfaction Survey requires just three main things: addressing correct questions, sending questionnaires to your customers according to the schedule, and interpreting the results.
Versatility. With a little help from just one tool, you can measure customer satisfaction of your services, products, customer service, or any other area of the company's operations you'd like to give a closer look.
Adaptability. CSAT has got multiple application possibilities. This kind of survey will be a helpful and effective analytical solution no matter what is your industry or the size of the company.
Flexibility. Like with love, it's hard to find one definition of satisfaction with which we all agree. That's why in business it's wise to gather and analyze different types of customer feedback. With CSAT you can ask your clients for their opinion after contact with customer service, IT department, after completing a transaction, etc.
Customization. Online surveys software gives you an opportunity to design personalized questionnaires, ask only the right questions for a given customer, and later on report and analyze the results in a clear way.
There is one strict rule you must follow in the survey process to make the result significant. CSAT works well only when you measure customer satisfaction quickly after a given contact with your organization. For instance, asking about customer service quality or onboarding a new client a week later wouldn't be a good idea to get meaningful feedback. Studies such as CSAT answers a question: What do our customers feel at the moment? To measure loyalty or long-term business relations, you need other surveys – like NPS.
How to Conduct Customer Satisfaction Score (CSAT). Links & Tips
Ready to use Customer Satisfaction Survey template
Is your customer happy? Find it out with online surveys
Free Satisfaction and Service Quality Survey template
How to improve metrics with Customer Journey Surveys
Customer Satisfaction Score sample question.
CES (Customer Effort Score). Learn More About This Method
Let's start this one from numbers. According to Siegel+Gale studies, nearly two-thirds of consumers are more likely to choose a brand that offers simpler experiences. HubSpot research shows that 93% of people are willing to stick to the company if their customer service works flawlessly. Wunderman Thompson states that for 42% of customers seamless experience is what they expect the most from a brand.
What does it mean? Clients don't like effort.
One of the most important customer journey surveys measures how much effort a client has to put into a given process. This survey is called Customer Effort Score (CES), and the key recommendation of this questionnaire is that you have to make your customer's life as easy as possible. Due to the CES methodology, the most significant touchpoint of the entire customer journey is purchase finalization. The authors of CES studied to see how much effort this activity requires from customers.
Findings: customer loyalty tends to increase when the process runs smoothly.
Why CES Is One of the Best Customer Journey Surveys?
It provides priceless insights concerning customer expectations.
With CES results you can optimize your CX and customer service work.
It's a quick way to diagnose and eliminate the weak sides of the process.
CES can give you clues on training for the front-line employees.
Remember: Customer satisfaction surveys like CES should be conducted immediately after the customer finalizes the transaction. It's the only way to receive meaningful data.
Measure customer's journey with online surveys.
Customer Journey Questionnaire. Key Facts About CES
Concentrate on the core question/statement, e.g.
To what extent do you agree with the following statement: Company X has done everything to make it easier for me to order the product/use the service.
Ask your customers to rate the degree to which they agree with the question/statement on a scale from one to five.
Transform the CES questionnaire to the communication standards of your company or a specific situation. Sometimes it's good to use ready-made templates, sometimes it's better to just get inspired by them.
Always analyze the results. Take the necessary steps to reduce the effort of your customers.
How to Conduct Customer Effort Score (CES). Links & Tips
Ready to use CES template. Get inspired or try it now
What is the relationship between effort and customer loyalty?
Free customer survey checklist. What it must contain?
Customer feedback. How to achieve a high response rate
CES survey sample question.
Customer Exit Survey. How to Start?
No matter how hard you try, your customers will leave over time. Even the most loyal ones will sooner or later choose the competition's offer or terminate the cooperation for another reason. Sorry folks, that's just how the customer lifecycle works. Nothing lasts forever except the Rolling Stones evergreens.
However, some business relationships end too suddenly. You can avoid a certain percentage of clients' churn. How? Identify and resolve their problems earlier. All surveys presented already are tools for optimizing customer satisfaction. And satisfied clients stay with the brand longer. When the customer journey is over (no matter why), ask them one more time for valuable feedback.
Customer Exit Survey loves timing. You should send it when the client unsubscribes or terminates the contract. Ask for a few sentences of clarification. Explain that those priceless insights will help you understand their customer experience and fix your mistakes in the future. It's probably the last opportunity to persuade your customer to stay with your organization.
All You Need to Know About Customer Exit Survey
It answers a key question: Why do clients leave?
With a well-prepared questionnaire, you can find out what exactly caused the customers' decision.
Provides data for the analysis of many areas of the company's activity (offer, communication with the client, help center, etc.).
Act quickly and react to customers' problems. Remember, that it's much easier to keep your current client (before the customer lifecycle ends) than get a new one.
Measuring customer churn and gathering feedback from leaving customers is a must. Even though this questionnaire is the last one on the customer journey surveys list, it is as crucial as all the others.
Add some analytical skills to good customer journey questions and turn past mistakes into tomorrow's success.
How to Conduct Customer Exit Survey. Links & Tips
Get inspired by ready to use Customer Exit Survey
Understand customer loyalty with the Apostle model
Start researching customer churn with the Startquestion platform
Try Suggestion Box for a deeper understanding of your customers

Customer Exit Survey sample question.
Key Takeaways from Customer Journey Surveys
In previous decades, brands attracted customers by price and quality of their products & services. Today, they need to do much more. In B2C relations, it will be, for example, communication and compliance of the organization's views with the client's opinion of environmental problems or the situation of employees in third world countries. Probably on the top of the list, there's client satisfaction; and all the measures organizations take to meet their expectation of each stage of the customer journey.
Customer Journey Surveys. Seven Values for the Company:
Analyze each survey data & quickly identify reasons that lower customer satisfaction
Build customer centric culture (employee engagement from the sales team to the call center members), respond fast to their needs
Increase in customer satisfaction (CSAT) and loyalty (NPS)
Improving the quality of offered products and services thanks to customer votes
The ability to retain customers and stay ahead of the competition
Higher standards of customer service adapted to the needs of the market
Constant analysis of trends and keeping your finger on the pulse of customers
The first step to understanding customer needs is always the same. Ask the right survey questions at the right time. Customers want to feel that they are vital to the organization. If they have problems, they want you to identify and address them. No matter at which stage of the customer journey they are. That's why all the surveys mentioned above are so important for customer relationships. In the hands of a professional marketer, they may help your business relations thrive. Good luck!
Ready to test Customer Journey Surveys?