The recruitment process is a perfect time to gather feedback. Both potential employees and the employer can obtain priceless insights. Regardless of the result, job seekers should receive valuable data about their competencies and suitability for the role. For HR specialists, it is a chance to collect unique feedback about the company from the candidates. If you want to know how to create a Candidate Experience Survey, you will find all the necessary information in this article. We will also provide you with a ready-to-use free template and show how such questionnaires may work with Zapier integrations to automate the recruiting process.
What Is the Candidate Experience? Why Is It Important?
I've loved video games since I was a child. I like the sports ones the most. I have a favorite series of soccer games from one producer. Not only do I regularly buy new games for myself, but I am also a little brand ambassador. I recommend their products to my friends; I invite them to play together, sometimes I give them games as gifts for various occasions.
Suppose that my favorite games producer published a job advertisement. It suited my experience and skills perfectly, so I decided to apply. Who wouldn't want to work in a place that brings back so many good memories, right? Unfortunately, my enthusiasm decreased with each passing day. I waited a long time for contact, and the conversation with the recruiter was strange as if it concerned a completely different position. Moreover, I didn't know how many recruitment stages were ahead of me. The only assurance was that my CV was good and that someone would inform me about the next steps.
It never happened.
Even though I have never applied to a video game company, I have had some terrible recruitments of this kind. Probably you too. According to the Talent Board studies, nearly 70% of candidates don't get feedback after being rejected during the screening or interview process. One in two job seekers receives no information after those recruitment stages. Like they never participated in the process.
Suppose my story is true. Would I continue to play these games? Probably so. Would I have an equally positive opinion of its producer? Hell no!
Each experience with a brand, both positive and negative, is based on emotions. It applies not only to customer experience but also to the labor market. Candidate experience is the set of experiences that a potential employee of an organization has experienced in relations with it over the years. Therefore, every opportunity to build a positive experience with our brand is priceless.

With the right candidate experience survey questions, you can get great insights from job seekers.
Candidate Experience Survey Questions. How to Prepare Interview Feedback Form?
Before we discuss how to correctly conduct a valuable candidate survey, let's summarize what is most important in the hiring process.
How to Create a Great Candidate Experience
HR professionals and hiring managers advise to be honest and to the point. Treat people with respect. Inform them about the rejection and explain the reasons standing behind your decision. Being nice pays off. Plus, just because you won't hire that person today doesn't mean you won't do it in six months or more. In addition, let's leave such an impression that the candidate will remember the contact with the brand well.
Those are the common tips concerning your approach during the hiring process. Now, let's concentrate on gathering feedback from job seekers.
Interview Feedback Form. Who May Complete The Survey?
Let's think for a moment about who to invite to complete the survey? Do we want to invite only new hires? No. Because this way, we will probably learn nothing more than a handful of praise. Let's ask rejected candidates only? This solution, too, can only yield extreme answers.
So what to do? The best idea is to send a Candidate Experience Survey to all job seekers applying for a role in our company. Writing both to employed and rejected (at various stages of recruitment) candidates will provide us with reliable results. It also increases the research sample.
We can send the link to the interview feedback form to the e-mail address provided by the candidate for recruitment. We can attach the survey to the information on the recruitment results. Tip: If you expect valuable feedback from applicants, take some time to explain why you rejected them first.

What Is the Best Time For the Candidate Experience Survey?
In all online employee surveys, timing is the key to obtaining a satisfactory response rate and reliable results. When we buy a book in an online bookstore, the purchase process is best assessed right after its finalization, when we remember how much effort the entire operation cost us.
The situation is similar in the case of candidate surveys. We need to perfectly hit the point where the job seeker has the most to say about the process and is willing to share his insights.
What does this mean in practice? It is not worth sending the questionnaire before the recruitment is over. As mentioned above, you can include a survey in the recruitment results, which may affect your response rate positively. On the other hand, disappointed candidates may need a few days to cool down.
We recommend waiting for 24-48 hours. After a few days, every opinion should be balanced and not determined by emotions. Tip: Inform your candidates about the research at the very beginning of the hiring process, so they'll not consider your email as spam.
Best Candidate Experience Survey Questions to Ask
Before you start asking survey questions, explain why you do so. Information about the purpose of the survey should be short. Write how you will use feedback to improve HR processes within your organization. 
At the end of this article, we will provide you with a completely free and ready-to-use questionnaire template prepared by our experts. However, there's no one pattern for all candidate experience surveys. You can create one on your own (for instance, with Net Promoter Score methodology). Here are some questions you may like to ask the job seekers:
To what extent do you think the job description included in the overlapped work offer with the information provided during the recruitment meeting?
How friendly/helpful were the recruiters?
To what extent were explanations of the scope of duties and tasks which should be performed during recruitment understandable?
How fast was the recruitment result known to you?
To what extent the hiring process needs to be changed/improved?
Tip: Assure the candidate that the survey is anonymous. Conduct research regularly to find out how changes in the recruitment process affect its quality. Perform what you preach. Make changes in the process based on valuable feedback from job seekers.

Assure the candidate that their participation is anonymous before you ask them survey questions.
Hiring Surveys in Practice. Startquestion integrations in Zapier
In this paragraph, we would like to show you how you can automate the hiring process in your company. There's a handy tool called Zapier. Maybe you've heard about it. Long story short, it's a no-code automation platform to manage repetitive tasks, with plenty of software to integrate. One of them is Startquestion.
If you'd like to read more to understand how it works, here's a link to our blog post about the best Zapier integrations for online surveys software. Below you will find a visual example of how it may work with Greenhouse – a tool designed to improve the hiring process.
For the purpose of this article, we've chosen from the wide range of automation those simplifying the recruitment process. There are plenty of ways of hiring people. You can do it on your own with the HR department in the company; you can outsource this job to a recruiting agency or use smart software that will help you make the right decisions.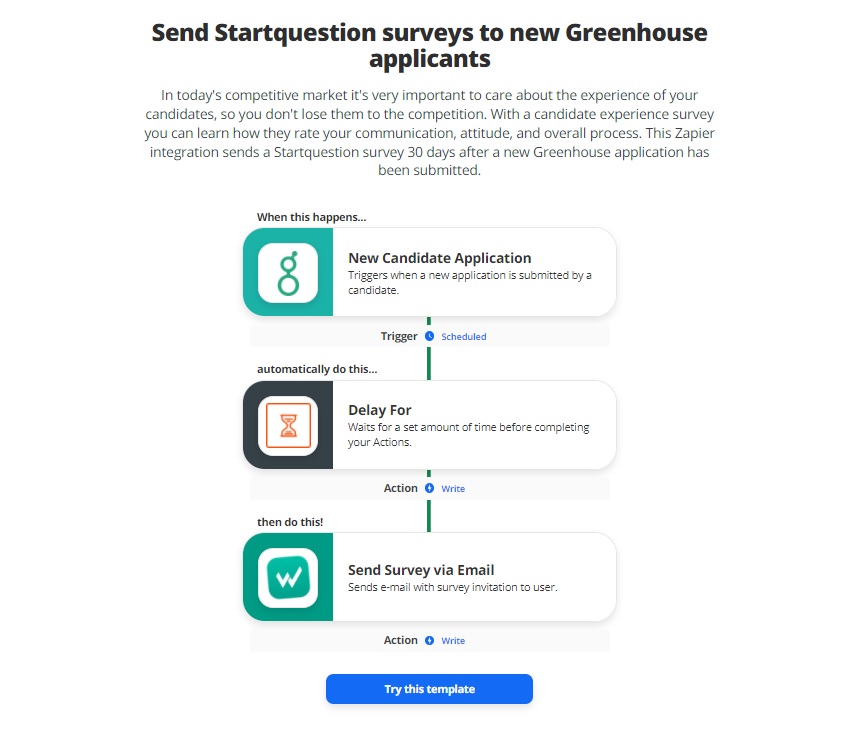 An example of what Zapier integration for recruitment purposes may look like.
No matter what you choose, it's possible to set up an integration that will send in due time candidate experience surveys to job seekers once their recruitment is over. We've divided a couple of proposed integrations based on the phase of the hiring process.
Candidate Experience Survey. Startquestion & Interviewer.AI Integration
With the use of artificial intelligence, Interviewer.AI analyzes the most significant factors of potential candidates (both psychological and technical). After that, it suggests who to invite to the next recruitment stage (video interview). Zapier integration allows you to automatically send Startquestion hiring questionnaires to candidates after they are hired or rejected.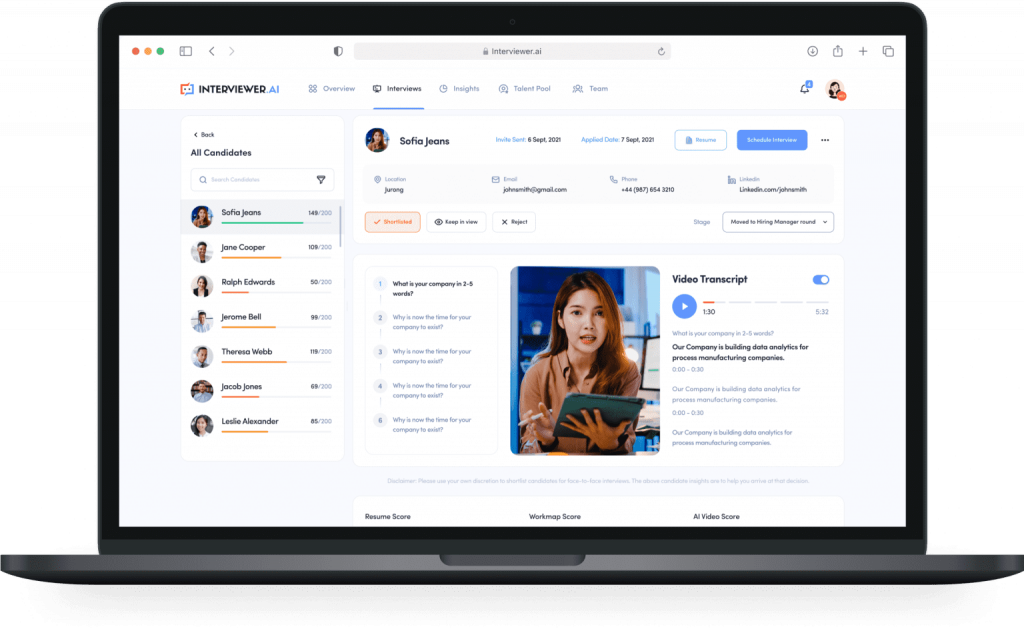 Source: Interviewer.AI website.
Experience of Rejected Candidates. Startquestion & TRAFFIT Integration
Even though a candidate experience survey should be sent to all participants of the recruitment, it's good to check out how the rejected candidates feel. As we know, one bad experience with the company may change their mind about it. Ask for their feedback and opportunities to improve HR processes. We have a proper integration for that in Zapier with TRAFFIT. It's a cloud-based recruiting software with plenty of tools for recruitment specialists. Add online surveys to your work to get the most from each hiring process.

Source: TRAFFIT website.
Hear to the Voice of the New Hired. Startquestion & Factorial Integration
Newly hired can also provide you with valuable feedback. It may be too optimistic, but it's a good time to explain how much the culture of feedback within your organization is. Show at the very beginning to your new employees that they may tell you the truth without any consequences. In Zapier, you can use Startquestion integration with Factorial to get those insights. Factorial is a professional tool for HR processes automation, offering time management, talent management, and legal & financial solutions.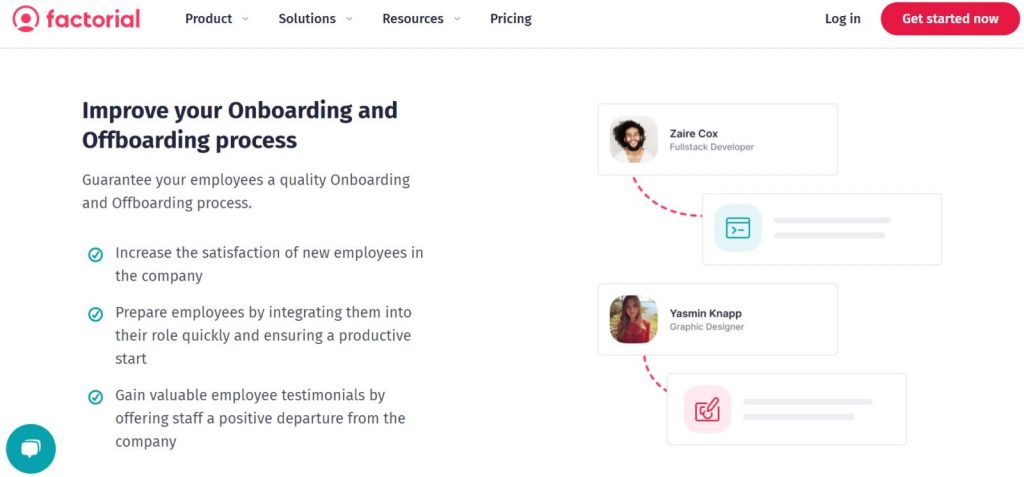 Source: Factorial website.
Onboarding Experience Survey. Startquestion & Bamboo HR Integration
Don't stop asking your employees for feedback. Candidate experience is just the first of many opportunities to measure potential employee satisfaction. The next one, very important, is the onboarding experience survey. A very helpful tool for improving HR processes, boosting talent retention, and increasing newly hired employees satisfaction. If you are looking for a handy integration for online surveys and HR software, try our Zap with Bamboo HR, an all-in-one HR software made to make small and medium business's life easier.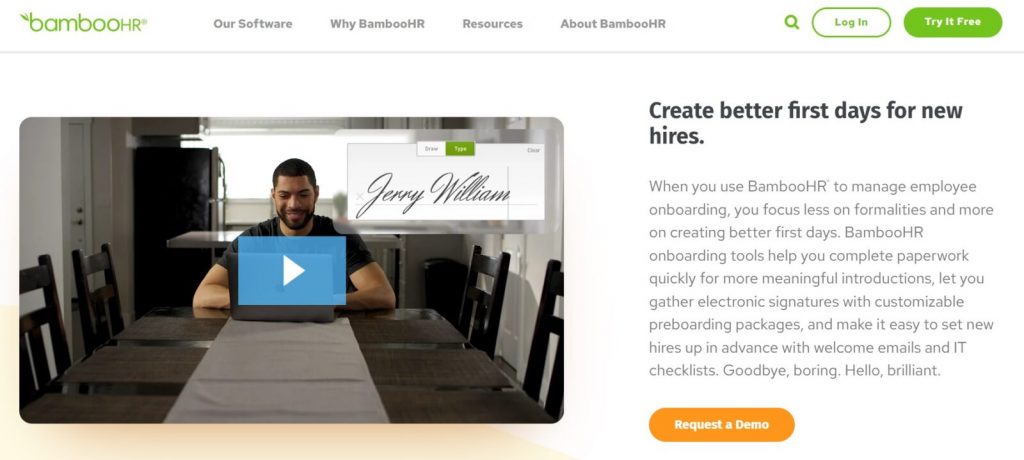 Source: Bamboo HR website.
The list of possible integrations in Zapier with Startquestion is much longer. In the HR talent and recruitment category of apps, you can pair as right away also with Hibob, Tanda, People HR, Namely, Deputy, or Lanteria HR. Do you use another software? No problem! Make any kind of integration convenient to you.
In Startquestion we believe that listening to your staff is an ongoing process. Here you can read about every possible way of gathering employee feedback from recruitment to partying ways with the organization. Of course, you can use online surveys with many other HR tools and in more traditional HR processes. Tip: No matter what your recruitment process looks like, don't waste a chance to collect valuable feedback about your company.
Candidate Experience Survey Template [Free Questionnaire]
Time for the promised reward. Here's a link to a Candidate Experience Survey Free Template prepared by our HR experts. It's ready-to-use, with an email pattern for your job seekers. We hope it will provide you with valuable insights. If you have one more spare minute, here's what we'd like you to remember after reading that blog post.
Collecting Feedback From Candidates – Key Takeaways:
Negative opinions of rejected candidates have an impact on brand awareness. Hear them out. Give rejected candidates feedback before they poorly portray your employer brand on social media.
Draw conclusions from the obtained feedback. In the dynamically changing labor market, HR processes require constant adjustments. Gathering insights should be a part of your company values.
Do you remember the story about the video game producer? 83% of candidates say negative recruiting experiences affect their brand rating, significantly lowering it. Don't let that happen.
Candidates who have received feedback on the recruitment results are 3.5 times more likely to apply to the same company in the future than those who did not receive this information.
Optimize hiring process and make the most for your company with Candidate Experience Survey Questions.
Ready for More Employee Surveys?